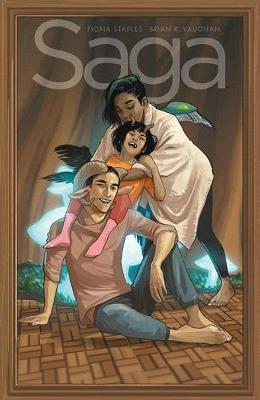 Goodreads | Amazon US | Barnes & Noble | Book Depository
Vol. 1 ★★★★
Vol. 2 ★★★★
Vol. 3 ★★★★★
Vol. 4 ★★★★
Vol. 5 ★★★★★
Vol. 6 ★★★★★
Vol. 7 ★★★★★
Vol. 8 ★★★★
"War can't be ended any more than the rain."
This is for sure the most emotionally driven volume of Saga yet, which is really saying something considering everything that has happened over the course of all of these issues. I can't help being invested with each and every character, but this volume just hurts. Especially not knowing when Volume 10 will be released because the creators are taking a break. But this addition to the story was a masterpiece, a painful masterpiece, but a masterpiece nonetheless.
I've always said that it is completely genius to have this story be told with Hazel as the narrator, and Volume 9 really showcases that. Just seeing this baby, this toddler, this little girl, be forced to grow up in a world where hatred is bred. While also always being forced to live on the run, while being forced to grow up faster than anyone in the galaxy, while realizing that no one you love is ever safe. My heart breaks for Hazel and heals for Hazel every single page. And I truly think she is one of the best protagonists, of any story, of all time.
As always, Saga is a dark story that has very adult, NSFW content! So, please use caution! Content and trigger warnings for slavery, fatphobic comments, death, murder, talk of past child abuse, and sexual content.
As always, I'm now going to break down each chapter (single issue) in this bind-up. I mostly do this so I can go back and refresh what has happened in which specific issue. There will be SPOILERS, so please do not continue if you have not read this graphic-novel or the ones leading up to this volume!
"It takes someone you love to break your heart."
➽ CHAPTER 49
Ianthe has The Will and has forced him into slavery, while looking for Hazel. Petrichor and Prince Robot are officially a thing, and it's the best. We get to see Upsher and Doff again, and they are still working on news stories, even off the grid with the gang. They are all on Jetsam, which what appears to be a planet with an abandoned amusement park. And Ghüs is the new babysitter.
➽ CHAPTER 50
Oh boy, sexy times! Ianthe makes "The Help" kill. Squire, Prince Robot's son, doesn't want a new body or to leave with Petri and Prince Robot, after they tell their story.
➽ CHAPTER 51
Marko is writing a secret book, that I'm sure is going to have a profound impact in the next volume. Doff is killed, but The Will is finally free, even if all he can see is rage and vengeance for The Stalk.
➽ CHAPTER 52
Squire runs away, but soon runs into Ianthe. Meanwhile, Prince Robot and The Will meet up.
➽ CHAPTER 53
Everyone is dying, The Will appears to have killed Prince Robot. Ianthe is hurt, but Alana is shot. Everything is falling apart.
➽ CHAPTER 54
Marko and the Will have a fight scene to top all other fight scenes. And at the end, it appears that Marko dies. Friends, I don't even have words. Only tears.
"At least I get to grow old."
I truly believe that Saga is truly a once in a lifetime series, and this last installment has really left me speechless. This is just such a profound staple in not only graphic novels, but in the entire reading community. There is a reason so many people love this series, and it really proves over and over that no one is safe, nothing is safe, but the story always gets better and better. Okay, I'm off to go cry some more.
Instagram | Bloglovin' | Twitter | Tumblr | Goodreads | Twitch | Wishlist | Youtube