Goodreads | Amazon US | Barnes & Noble | Book Depository
"It's about second chances, Neil. Second, third, fourth, whatever, as long as you get at least one more than what anyone else wanted to give you."
First and foremost, I want to thank May for giving me the emotional support I needed while reading this book:
Secondly, holy shit, I didn't think I'd actually like this. What even is my life? Friends, I couldn't put this down. I read it in 24 hours and no regrets were had. This was way darker than I expected, but I became so damn invested in this main character and I honestly fell in love with him and his story from day one. I know this is a bit of a polarizing read, but if you enjoyed Fence and The Wicker King then I think this story is for sure worth a try for you! Especially since it's free on Amazon US!
Basically, this is a story about a boy that has been on the run practically his entire life. Neil is currently living in a small town in Arizona, trying to stay on the down low, but he can't stay away from his one love; Exy, which is a sport that is sort of a mix of Lacrosse and Soccer. But Neil is homeless, able to fit all his possessions in a duffel bag and is currently sneaking into his school's gym to sleep. But his Exy coach notices where he has been sleeping, but he also notices the pure talent that Neil harnesses on the Exy field and sends a video to possible college recruiters.
And the Foxes from Palmetto State University's Exy team like what they see when they come and recruit Neil. PSU is a newly reformed and up-and-coming team, who are known for taking in kids who normally don't get second chances, but they are even more hyped this upcoming season because they now have Kevin Day (AKA: The Son of Exy) playing for them. Neil knows the smartest move is to stay out of the spotlight, but he is so very tired of running, especially running from the only thing that brings him happiness.
But friends, I fell in love with these players so damn quickly:
➽ Neil Josten – Ready to fight for and protect at all costs.
➽ Andrew Minyard – Still sus and I'm still not sold on.
➽ Aaron Minyard – No opinion yet, but I know all my friends hate.
➽ Allison Reynolds – Badass princess that I stan.
➽ Nicky Hemmick – The actual best.
➽ Seth Gordon – My fucking face when.
➽ Renee Walker – My chill pacifist who I already adore completely.
➽ Matt Boyd – My heartwarming pure boy.
➽ Dan Wilds – My actual queen.
➽ Kevin Day – My actual king. My favorite Fox. Also, the thing I am most invested with in this entire story is him and Riko and everything that went down and everything that is going to go down.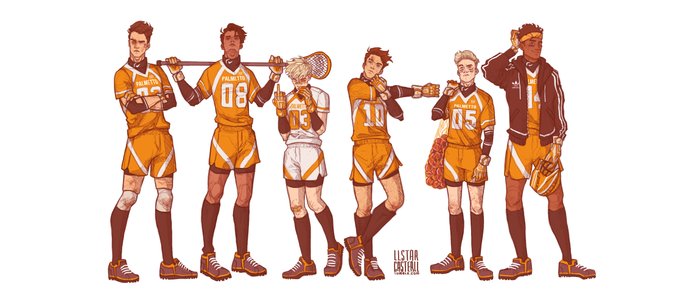 (Breathtaking art by llstarcasterll!)
But besides these foxes, who I mostly adore, my favorite part of this book was just seeing Neil tired of feeling like he didn't have a home, and finally not only accepting that fact, but willing to finally carve out something for himself, completely and utterly unapologetically. Again, I'm not saying that what Neil is doing is the healthiest of circumstances, but seeing him realize that he is worthy of a home, of a family, and of love, was just so damn beautiful. And I know that this is just going to increase during the next two books!
"Hope was a dangerous, disquieting thing, but he thought perhaps he liked it."
Overall, I just really couldn't put this down. This is for sure a very character driven book. And I'll be the first to say that these characters are for sure mostly morally grey and they do a lot of sus shit. But… my love for Kevin and Neil just overpowered all the other questionable teammates. But I'll talk to you all later, because I am immediately picking up The Raven King!
Instagram | Bloglovin' | Twitter | Tumblr | Goodreads | Twitch | Wishlist | Youtube
Content and trigger warnings for a lot of drug use, talk of overdosing, underage drinking, loss of a loved one, talk of suicide, mention of cutting, drugging someone, jokes about rape, physical abuse, talk of past parental abuse, ableist insults, homophobic slurs (the f word), and use of the r word.
🦊 Also, this film adaption fan-cast by Jamieson added ten years to my life.