Top Ten Tuesday was created by The Broke and the Bookish in June of 2010 and was moved to That Artsy Reader Girl in January of 2018!
Buckle up, friends! Because I could have made a list of 50+ ships that sail in the angsty waters of my heart every single day! But in honor of Valentine's Day, I'm going to list my favorite OTPs of all time in order from least favorite favorite to most favorite favorite! (Also! Ships can sometimes be spoilery! So please use caution! Especially if you have not read Godsgrave by Jay Kristoff!) 💕
---
➽ Kvothe and Denna


(Art by Dan Dos Santos!)
"Go out in the early days of winter, after the first cold snap of the season. Find a pool of water with a sheet of ice across the top, still fresh and new and clear as glass. Near the shore the ice will hold you. Slide out farther. Farther. Eventually you'll find the place where the surface just barely bears your weight. There you will feel what I felt. The ice splinters under your feet. Look down and you can see the white cracks darting through the ice like mad, elaborate spiderwebs. It is perfectly silent, but you can feel the sudden sharp vibrations through the bottoms of your feet. That is what happened when Denna smiled at me."

Starting out with the angstiest of them all! And the Kingkiller Chronicle ending is going to probably be the death on me, please I just can't with these two.
---
➽ Helen Blackthorn and Aline Penhallow


(Art by Rikki the Artist!)
"You can. You can do anything."
The Asian girl gets the fae girl of her dreams, and my heart has never been more full. The blessings. The true blessings. Praise Cassie Clare.
---
➽ Mia and Ash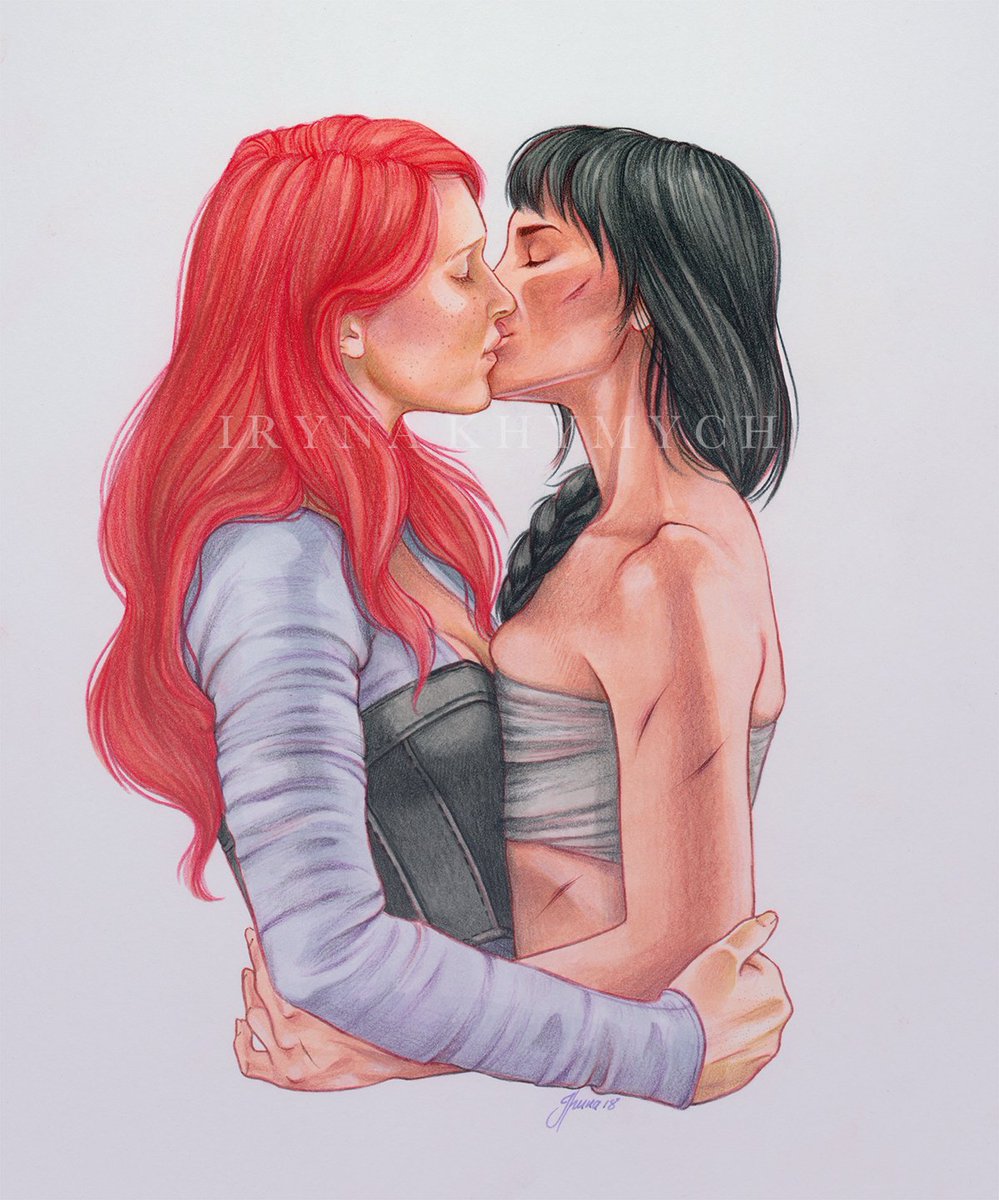 (Art by Iryna Khymych!)
"What's the map of?" "It provides detailed directions to the Empire of None of Your Fucking Concern." 
Best enemies to lovers of my life.
---
➽ Mark, Kieran, and Christina


(Art by Loweana!)
"Few of us are lucky enough ever to know the whole truth about anything." 
I know! I know! But… You all, I read twenty things by Cassie Clare last year, and I honestly am the biggest garbage fire over her characters. I'm so sorry. But I would honestly die for these three and their happiness!
---
➽ Evelyn and Celia


(Art by layaart!)
"Please never forget that the sun rises and sets with your smile."

Wow, I'm actually crying on my keyboard.
---
➽ Emma Carstairs and Julian Blackthorn


(Art by Loweana!)
"I breathe when you breathe, I bleed when you bleed, I'm yours and you're mine, you've always been mine, and I have always, always belonged to you!"

Cassie Clare has so many good ships! I couldn't resist! But Emma and Julian are truly my favorite ship of all the Shadowhunters. I love them both so much, and I love their love for each other. They are so selfless, so pure, and just make me so damn happy.
---
➽ Lei and Wren


(Art by monolime!)
"Her kisses heal the parts of me that the King broke. They tell me: You are strong, Lei. You are beautiful. You are mine. And, always, most important: You are yours."

This couple means the entire world to me, and they deserve only the best things in life. My favorite f/f ship of all eternity.
---
➽ Lazlo and Sarai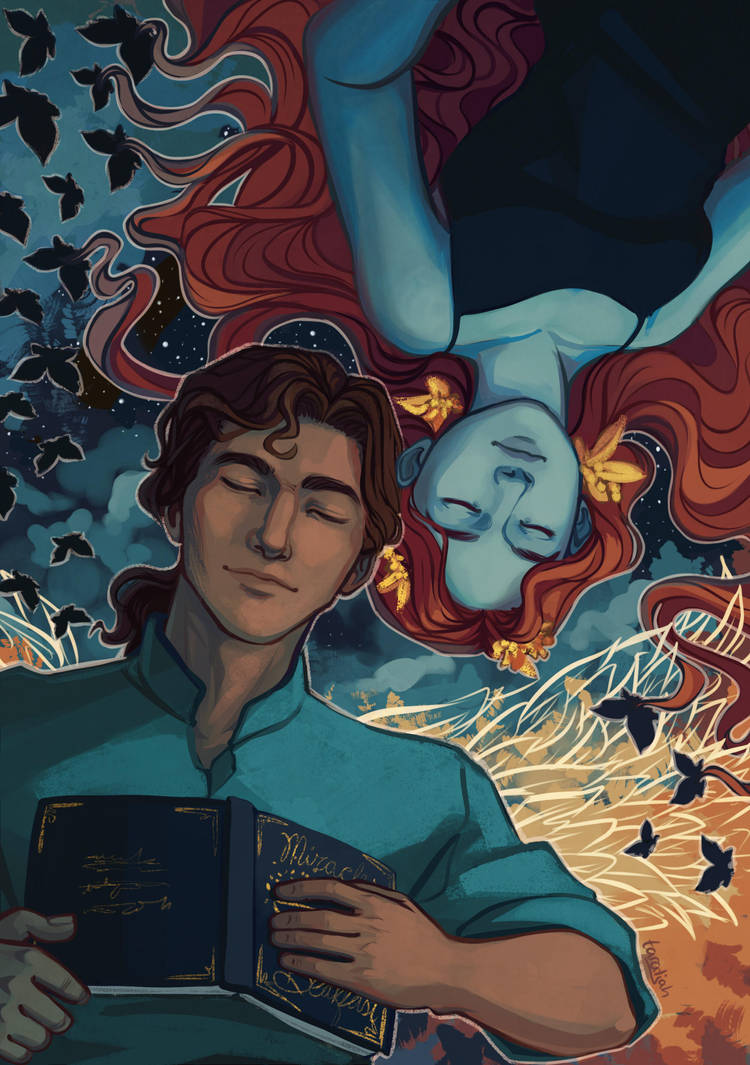 (Art by taratjah!)
"He reached for her hand and caught it—lightly—and held it. It was small, smooth, and very real. Up in the citadel, Sarai gasped. She felt the warmth of his skin on hers. A blaze of connection—or collision , as though they had long been wandering in the same labyrinth and had finally rounded the corner that would bring them face-to-face. It was a feeling of being lost and alone and then suddenly neither." 
Friends, I can't even weave words to begin to let you know how much these dreamer babies mean to me. But the answer is everything. Everything.
---
➽ Cardan and Jude


(Art by MelieScribbles!)
"You are my dearest punishment."
You wanna know what pan culture is? Falling in love with Jude and Cardan every other page. I want nothing more than to be in a polyamorous relationship with them.
---
➽ Inej Ghafa and Kaz Brekker


(Art by xla-hainex!)
"I would have come for you. And if I couldn't walk, I'd crawl to you…" 
Not only are Kaz and Inej my favorite OTP of all time, but this is actually my favorite fan art of all time, too. The actual blessings. From the one liners to armor and crawling, to the stitching, to the hand holding, your girl is weak. My all time favorite literary couple and I honestly can't think about them without crying. Perfection. True perfection.
---

Okay, now I'm equal parts a swooning and crying mess! But I hope you all enjoyed! Please let me know if we have any of the same ships! Or tell me a ship that I don't have listed here! I'm all about that angst, friends! Happy reading! 💕
Instagram | Bloglovin' | Twitter | Tumblr | Goodreads | Twitch | Wishlist | Youtube