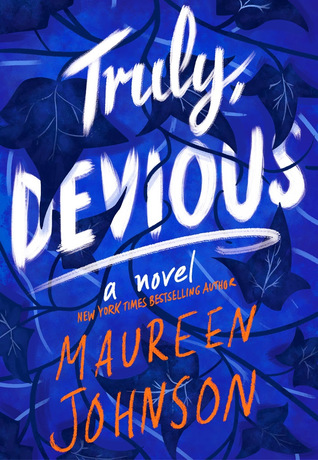 Goodreads | Amazon US | Barnes & Noble | Book Depository
"A girl from Pittsburgh came to Ellingham Academy and she wanted to see a dead body. She got her wish."
Friends, you'd think a book that is centered around two different murders would be a lot more exciting and enjoyable to read. I know I sound harsh already, but I just really thought I was going to love this one. But I truly only ended up loving the atmosphere of the setting and the amazing anxiety rep. That's it.
This story stars a young girl named Stevie, who just got invited to attend Ellingham Academy, a very prestigious, private school for the most gifted of children. Stevie has dreamed of being a detective her entire life and feels like this is going to be an amazing new adventure for her, because Ellingham Academy is also well known for a murder mystery that happened years and year ago, which was never solved, and one body was never found. The only thing that was found was a letter signed truly devious, which also quickly was destroyed.
Stevie thinks it will be so much fun to investigate the school (which is built into the side of a mountain, like, so freaking cool) but another murder soon happens to a person that she recently befriended. Now, she feels like she must get to the bottom of both of these mysteries, and she's uncovering more and more secrets that were supposed to be kept hidden.
"Schools may be famous for many things: academics, graduates, sports teams. They are not supposed to be famous for murders."
Trust me, I made that synopsis sound way cooler than the actual book. Stevie is a cool character though, and I liked seeing her dynamic with her very conservative parents, when she is in a much more liberal mindset. And as I mentioned in the opening paragraph, Stevie has many anxiety and panic attacks throughout this story, and I honestly have never read a more realistic portrayal of how my attacks actually feel and I am still in awe of it. Like, I completely believe that this has to be an ownvoices portrayal, because it was so expertly crafted.
But another fun thing about this book is that we get to see Stevie interact with all the other kids at this private school, and they are all truly possible suspects. Yet, the reader will also be left guessing how this new murder will correlate with the one from the past that was never truly solved.
"When you have enough power and money, you can dictate the meanings of words."
Going into this, everyone told me that the ending was going to kill me and probably make me the third victim of this tale, but honestly? It just annoyed me. Like, it was so far out there that I was just left completely flabbergasted. Especially after Stevie's discovery prior to that wild ending. I don't know, I just felt like it actually ended up leaving a bad taste in my mouth, and for sure didn't make me excited to pick up the next one.
Overall, this just wasn't for me. But please take my review with a grain of salt, because almost everyone I know loves and adores this story. I also think a big reason why this might not have been a hit for me is also because I had just read A Study in Charlotte and completely fallen in love with that contemporary murder mystery. Maybe I was subconsciously comparing the two? I don't know, but I just didn't love this one, friends, even though I really wish that I would have!
Instagram | Bloglovin' | Twitter | Tumblr | Goodreads | Twitch | Wishlist | Youtube
Content and trigger warnings for underage drinking, panic attacks, murder, and use of the word cr*zy.
Buddy Read with Alexa, Khouloud, Caidyn, Amy & Heather! ❤