Goodreads | Amazon US | Barnes & Noble | Book Depository
"I've hidden my love for a woman for fifty years"
Wow, I loved this second chance romance so much. It was sweet, and heartwarming, but so real, and so heartbreaking. I laughed, I cried, I wanted more. Seriously, I'm so dang happy that I picked this up.
This story is told in flashbacks from present day to 1963, where we see two young girls discovering their sexuality. Hazel is at the bingo hall when she lays eyes on the new girl, Mari, for the very first time. Both come from strict and religious homes, but Mari's homelife is far less supportive. And because of the 60s being a product of its time, they are never allowed to be together. That is, until they meet back up at a bingo hall, fifty years later.
"Since when is it a sin to be in love?"
But both Hazel and Mari have families and are leading lives where people depend on them. But neither is truly happy, or at least they know that they could be happier, if they were willing to take a risk. This story really is about how life is short, but no matter how short it is it will always be worth listening to your heart and trying to live the life that you want to live.
I do want to touch on a few other things that I truly loved about this graphic novel. First this is ownvoices, Tee Franklin is black and queer! Next, Hazel says the word pan on page! Hazel is also plus-sized! And I really loved the normalization of talking to a psychiatrist! This story just had so much good in it, and it truly touched me so very much.
Overall, this was just exactly what I wanted. It was equal parts heartwarming and heartbreaking, and just made me really appreciate the life I am able to live in 2019. Not saying that 2019 is perfect, but it's better than the 60s and easier to surround myself with people who love and support me. I completely recommend this graphic novel with my whole heart. The art is perfect, the story is awe-inspiring, and the characters are truly unforgettable.
Oh, and this panel? Added five years to my life: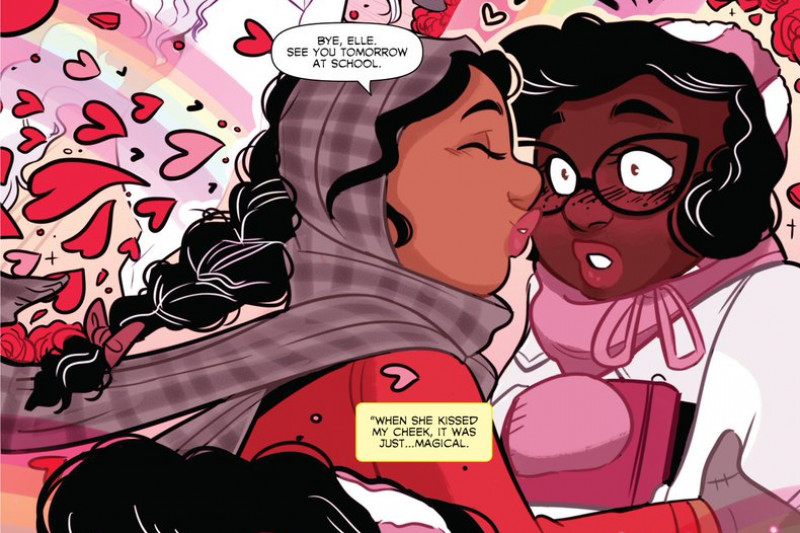 Instagram | Bloglovin' | Twitter | Tumblr | Goodreads | Twitch | Wishlist | Youtube
Content and trigger warnings for homophobia, grey area cheating, and talk of illness/loss of a loved one.
❤ I also read this for Contemporary-a-thon!