Goodreads | Amazon US | Barnes & Noble | Book Depository
"Here, our story begins…"
I read the entire A Darker Shade of Magic trilogy, and I ended up giving them all three stars. I am absolutely obsessed with Victoria's mind and worlds, and her characters are truly some of the best I've read, but the plot and events always held me back from completely loving them. But when I found out we were going to get to learn more about Rhy's father (adoptive father of Kell) and the events that lead him to being King, I knew I couldn't resist. But here I am, still surprised that I ended up giving the prequel graphic novel series start three stars.
Maxim Maresh is only a prince in this brand-new graphic novel series, but he is the sole heir and the king in waiting in Red London. Yet, he wants to be so much more than that, and he wants to prove that he will be capable and earn his rightful place as king one day. Maxim and his family are also people of color, with obvious dark brown skin, but it is never stated what ethnicity in this made up alternate historical London. And he has earned himself the title of The Steel Prince because of his magical affinity with steel.
But in this bind-up, Maxim gets involved with pirates, and magical tournaments, and figuring out who he wants to be. Yet, this first volume barely mentions the parallel Londons, which (to me) is the coolest part of this world, completely. And then with this elaborate magic system finally being visualized, it just felt clunky, and like it missed the mark completely on something that could have been groundbreaking.
"You fight like a royal. Like the weapons are made of wood. Like no one means to hurt you. But this is not London, your highness."
But my biggest problem with this graphic novel was honestly the art. Trust me, it kills me to say this, but I just never grew to like the style of this book. And especially with something as cool as the world of ADSOM, I feel like an artist really could have turned this into one of the most aesthetically pleasing series of all time, especially with red, grey, black, and white having such a pivotal role in this world. But I don't have an art degree, so don't listen to me. I'm just stating what I would have liked more for this story! The artist is still very talented. And if this is your favorite art style of all time? You are valid.
I still really enjoyed this bind-up and I can't wait to see where the story goes next. I hope we get to see more cameos of characters we love, too! And if you are already a fan of VE Schwab and this breathtaking world, I bet you will absolutely love this addition! Content and trigger warnings violence, blood, and torture.
Okay, so like with every graphic novel that I review, I always do a breakdown on what happens briefly in each individual issue. So, the next portion of this review will have SPOILERS! Obviously, I won't give away anything too pivotal, but I will talk about some of the themes that each issue had inside.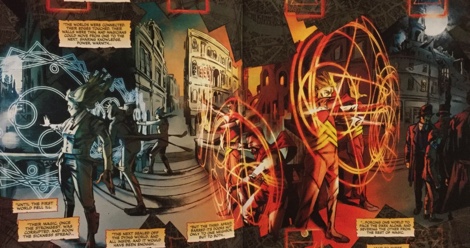 ➽ ISSUE ONE:
We get to meet Maxim, the prince and sole heir to the throne. We also get to meet the king, and his dad, Nokil. And we also get our first glimpse at Maxim wanting to be more than the prince in waiting, and he wants to prove himself and his fighting abilities.
➽ ISSUE TWO:
We are introduced to Arisa, the pirate queen, and we get to learn about a tournament where the winner will fight her to prove themselves worthy. Also, we get to see the Black Torch, and you know my pub loving heart was so dang happy.
➽ ISSUE THREE:
Isra, the pirate queen's niece, and Maxim are both battling in the tournament where we see so many different magic abilities, and we learn there are no rules and anything goes.
➽ ISSUE FOUR:
Things do not go Maxim's way, but he is rescued. Then, after, he receives a letter from his father, asking him to come. But he declines because he still has so much more to learn.
Instagram | Bloglovin' | Twitter | Tumblr | Goodreads | Twitch | Wishlist | Youtube