Goodreads | Amazon US | Barnes & Noble | Book Depository
ARC given to me by my kind friend – Lilly at Lair of Books!
"If you fall to him the war will be lost. You have to live, Nadya."
I'm going to be really honest with you all; I feel like Wicked Saints is the book of my heart. From the lyrical writing, to the cold atmosphere, to the beautiful themes, to the characters that I'd already be willing to give my life for; this book just felt like it was written for me. This debut fantasy, all about blood magic and a cleric who can speak to all the gods (be still, my wishful D&D heart), blew me and my expectations out of the water.
The author very much pulls from Russian and Polish inspiration and we get to see two countries, the Russian inspired Kalyazin, and the Polish inspired Tranavia. There is also the desert lands of Akola, which we meet a few characters from, but I think the land will be explored much more in later books! But we quickly see how differently the first two places view religion, and how both nations are willing to do whatever it takes in the name of their beliefs. These two countries are warring, and the author never shies away from that, but they are also beautifully woven together to create such an immersive and captivating world and setting.
"Cannons only meant one thing: blood magic. And blood magic meant Tranavians."
But this tale starts out with a girl who has lived and hidden within the protection of a monastery's walls her entire life. She has a power unlike any other, and it is her people's hope to not only restore the faith of the gods, but bring them back into power. Yet, there are people who are willing to do anything to make sure the gods and their religion(s) stay silenced forever. And one night, the girl's monastery is brutally attacked, and she and her friend barely escape with their lives, while everyone else stayed back to ensure they could run away. Yet, the war commander prince notices that this girl is not among the dead. The girl, desperate to live and to not have the gods be silenced, is willing to do anything it takes to live. Even if that means getting help from a powerful rebel mage, who is harboring many secrets of his own.
"The girl, the monster, and the prince…"
➽ Nadya – The cleric who can speak to all of the gods.
➽ Malachiasz – A blood mage, who believes he is a monster.
➽ Serefin – Bisexual icon. Also, a blood mage prince of one of the most powerful realms in this world, but the king is trying to ensure that no one can contest his power, while also wanting to use his son as a martial pawn. He also has a visual impairment and is unable to see out of one of his eyes.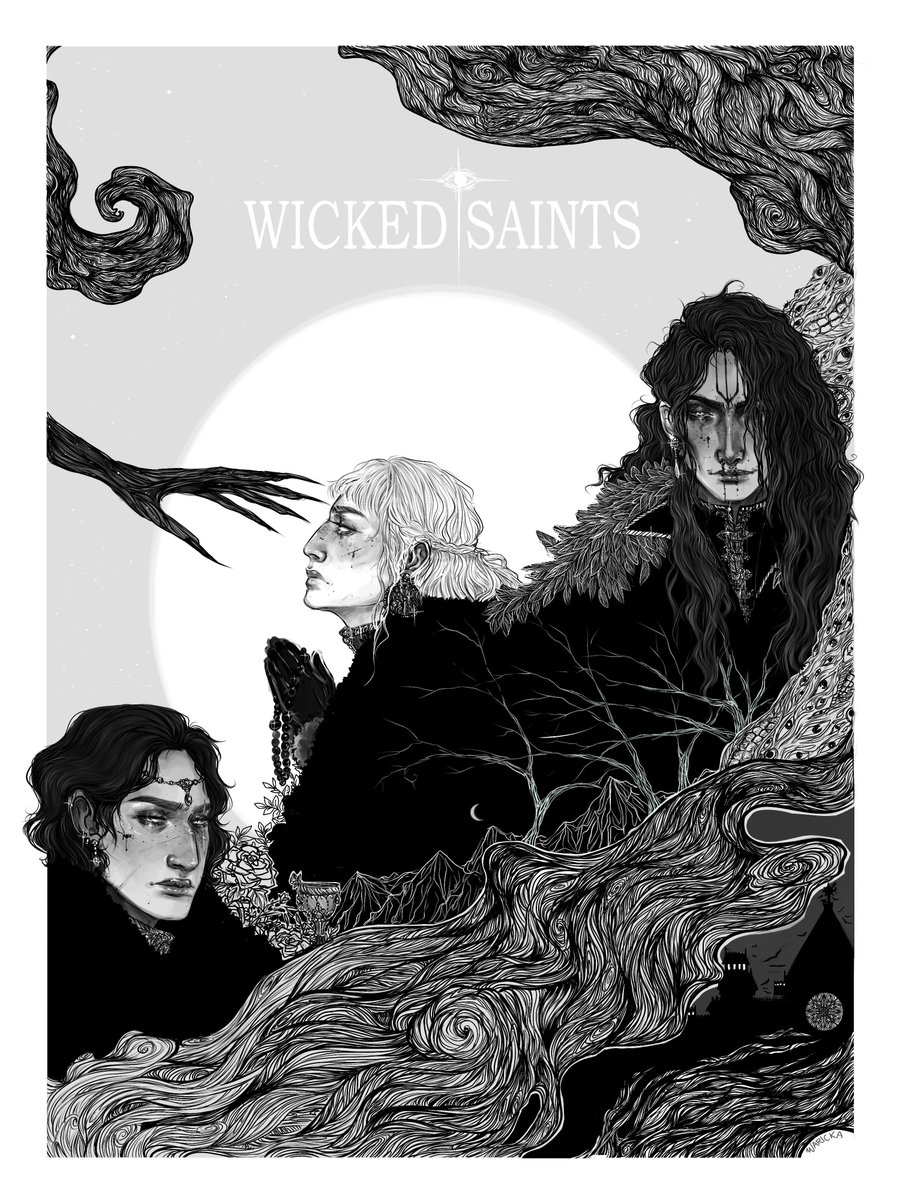 (Breathtaking art by Therese at warickaart!)
And all three of these characters? As morally grey as they come. And they all equally stole my heart. Okay, maybe I have a little bit of a soft spot for Serefin, but I can't help it, okay? But there is more disability and sexual representation with some of the side characters, and many characters of color. I am truly in love with all the side characters, and I can't wait to see them develop even more, but Ostyia was easily my favorite and the author confirmed she is a tiny murder lesbian, and I've never read anything so perfect in all my life.
Okay, I'm going to spend a little more time talking about Nadya because I truly was obsessed with how the author crafted religion and the saints in this book. First off, I'm Catholic, so you know that I fuck hard with saints, anyways. But, on the opposite end of the spectrum, I have played probably over a hundred D&D campaigns in my life, and I swear to all the gods that I have probably rolled a cleric at least 50 of those campaigns. Seriously, teenage Melanie (and her Pathfinder loving friends) was obsessed with Sarenrae. But reading a book about a cleric who could speak to ALL the gods, and harness their powers if they allowed it? I am quaking. Also, the banter between Nadya and all the different gods, all of whom have very different personalities, was probably my favorite element of the entire book.
Again, this is a very dark book and I implore you to read my trigger and content warnings listed down below if you are on the fence if you are in the right headspace or not. But one of the major magic systems in this book is blood magic, where people will use their own blood (most of the time, freshly cut) and merge it with pages of a spell book to be able to wield their prepared spells and harness their magic. I loved this. I loved this so much. It is something that I feel you see so much in D&D and videogames, but never in literature and I really think it was expertly done and completely made the book for me.
I feel like I should talk about the romance, since I see many early reviewers not loving it as much as I seemed to. I always thought Nadya was the star of this book, regardless of who she was developing feelings for. I mean, you all know I always fall in love with the one the main character doesn't pick, so there is that, but I still loved the romance in this book. Also, I kind of hinted a bit about this in the character breakdowns, but when Serefin was following the king's wishes to find a marriage? I was invested, friends. Too invested, probably. But during all the situations, the angst almost killed me, in the best way possible, and I can't wait to see where the author takes everything in book two. It was the perfect slow burn feeling, while giving us so many breadcrumbs that all tasted delicious.
Overall, this book just had too many things in my personal wheelhouse for me not to completely fall in love with it. I mean, I originally heard this pitched as "a gothic Joan of Arc" and I knew from that moment my life was going to be changed. I think Emily A. Duncan has really crafted such a unique story, and such a beautiful debut and start of a series. I can't wait to see what comes next, especially because the end of this book truly slayed me and every emotion I have ever had.
Instagram | Bloglovin' | Twitter | Tumblr | Goodreads | Twitch | Wishlist | Youtube
The quotes above were taken from an ARC and are subject to change upon publication.
Content and Trigger Warnings for self-harm (both as a magic system, and talk of self-harm in the past), torture, parental abuse, abandonment, abduction, a lot of alcohol consumption (maybe addiction), gore, violence, and war themes.
Buddy read with Jocelyn at Yogi with a Book! ❤