Hey, friends! I know my Spring was rather wild due to traveling, but I hope my Summer is a little more relaxed, with a lot more reading getting done! Hopefully, you know that I am cohosting a readathon, called Summerathon, that starts tomorrow! And that hopefully doesn't feel too exclusionary for my Southern Hemisphere friends (seriously, please join us)! I am really going to try to incorporate all the ARCs that I can into this TBR, because I very much need to read them and I have some pretty exciting ARCs that fit a little too perfectly for some of these challenges! 🌞
---
1. A Beachy Read:
this can be either a book set at the beach or just a book think would be perfect to read on the beach or poolside.


No Judgments (Little Bridge Island #1) by Meg Cabot
Okay, this one is a little bit of a stretch, but it totally counts, because the main character is going to the Florida Keys to spend some time by herself after she loses someone who she was close with. So, obviously there are going to be beaches! But… in this book she is trying to rescue animals before maybe evacuating because of a very dangerous hurricane! So… this is going to be a unique twist on a beachy read! But I'm here for it!
---
2. Sunrise colors on the cover:
pink, orange, yellow, purple, blue…really, there are so many directions to go for this.


With the Fire on High by Elizabeth Acevedo
(Buddy read with Jocelyn!)
I mean, I truly don't think that there is a better book to use for colors of a sunrise, but I am extra excited to read this one because so many of my dear friends have absolutely loved it! I am beyond hyped, truly!
---
3. Book with a roadtrip, traveling, or vacation


10 Blind Dates by Ashley Elston
A Christmas read in June? Why not. It's honestly my brand's type of chaos. I am honestly only reading this one because I want to send it off to a dear friend upon finishing, because it is one of her favorite authors of all-time! But this honestly seems like it's going to be the perfect contemporary, and I'm so very excited!
---
4. Book set in the summer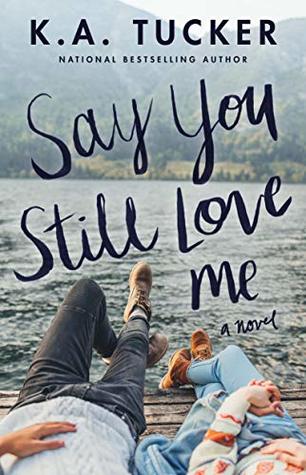 Say You Still Love Me by K.A. Tucker
(Buddy read with Amy, Jen, & Heather)
Okay, I know this one has flashbacks to the main characters' summer camp counseling days! So, I might be stretching this one a little bit, but I knew I had to incorporate this book somehow into my TBR!
---
5. Food on the cover (Or drink! Make it your own!)


Well Met by Jen DeLuca
(Buddy read with Alexa & Riley!)
There is totally a wine goblet and a turkey leg on this cover! Right? Right! This book actually works for a lot of prompts because it is a book set in the summer time at a Renaissance Faire! I also think it's kind of enemies to lovers, where the people don't like each other out of the faire, but the characters they play inside the grounds really like each other? And that sounds so unique and I am so ready for it!
---
6. Drink your favorite summertime drink while reading!
Okay, you all know I don't really drink that much! And obviously this prompt doesn't have to be alcoholic in the slightest! But I think I'm going to try something new, or create something new, during my Summerathon Reading Vlog! So keep an eye out!
---
Bonus!

I am also in SUCH a graphic novel mood, currently! And, let's be real, this TBR isn't near queer enough for a June readathon! So, I hope to get to one or all three of these during this readathon week, too! And I'm so excited! 💖
---
Okay, that's my TBR! Let me know if you are participating and, if so, what you are reading! Also, make sure you follow the instagram and twitter and use #summerathon so we can see and boost your photos, TBRs, and wrap ups! Happy reading, loves!
Instagram | Bloglovin' | Twitter | Tumblr | Goodreads | Twitch | Wishlist | Youtube
---
THE DATES:
June 21 – June 27
---
THE HOSTS:
Amy @ A Court of Crowns and Quills