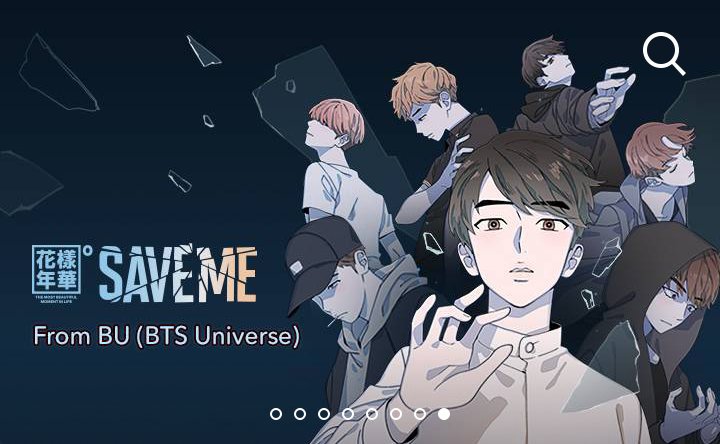 "No matter how many times I tried, I could never save all of them on my own."
Save Me (The Most Beautiful Moment in Life 0) is a graphic work story all about BTS's BU (Bangtan Universe), which is an alternative universe in which BTS was never formed, even though the seven members all went to school together and were close friends. Yet, when this webtoon starts out, they are all very distanced from one another. You can read this for free HERE!
Also, I very much recommend watching the music videos for I NEED U, Run, and Epilogue: Young Forever, where you will see this story come to life before your eyes. There are so many more easter eggs and so many more music videos, but I personally feel like these are the three most important to watch before or after you read this webtoon! But please know that this is a very dark story, with very dark themes and elements! So, please make sure you are in a safe headspace! And just in case, I'm going to link my content and trigger warnings at the start of this review, so you can use caution reading this review as well!
Content and Trigger Warnings: suicide, murder, death, abuse, overdosing, forced institutionalization, depression depiction, grief depiction, trauma depiction, abandonment, and loss of a loved one.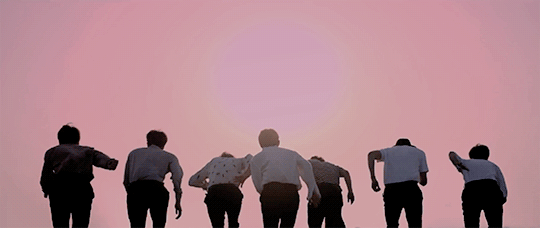 Jin is the star of this story, because he has the ability to travel back in time and is hoping that he can make things right. Jin lost touch with everyone when he studied abroad, but now he is back and a dream where all his friends are at the bottom of the ocean is haunting him. Now, he is waking up every day on April 11th, trying to remember what he experienced, and trying to come up with how he can save himself and his six lost friends from terrible fates.
➽ Seokjin (석진) – Wakes up, missing his old friends and wondering about their whereabouts, when he slowly finds out that terrible things have happened to them all. He might have the power to save them all, but he need the help from them all to keep them safe.
➽ Namjoon (남준) – Works at a gas station but is being detained for assaulting a driver.
➽ Yoongi (윤기) – Is trying to commit suicide, after the death of his mother in a fire.
➽ Hoseok (호석) – Abandoned by his mother for some time now and is now hospitalized and diagnosed with Munchausen syndrome.
➽ Jimin (지민) – Also living in the hospital, feeling abandoned by his family, and struggling with very serious depression and suicidal thoughts.
➽ Taehyung (태형) – Is being jailed by the police for murdering his father, who was abusive to he and his sister.
➽ Jungkook (정국) – Looks like he was trying to commit suicide walking into traffic.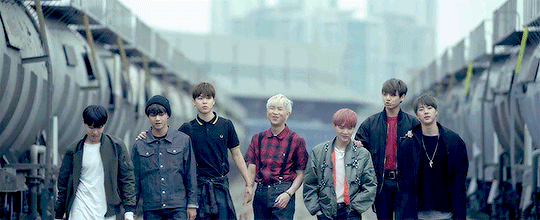 Art is breathtaking. Truly. And I read this on my iPad and the seamless flow of the story just scrolling down felt therapeutic. Really. I truly think this tale is wonderfully crafted, and this is coming from someone that doesn't really like "Groundhogs Day" storylines where a character is forced to start a day over again and again. But Bless April 11th, and bless Kim Seokjin, because this was one of the most captivating things I've read all year.
The story is truly hard to read in the best way possible. ARMY loves BTS so much, that just seeing these heartbreaking alternative timelines is hard. But BTS is always so aware of their power and their platform, I think that they are bringing awareness to so many peoples actual realities.
Also, just picturing a world without BTS? I don't want to know her. BTS is such a bright light in this trashfire world we live in. And just thinking about the generations of kids and teens listening to BTS and their message and how much positive and happy energy they are rippling through this world for lifetimes to come. I'm weeping speechlessly. And then picturing all the kids and teens of color who are growing up and seeing these seven members take over the world with their light and positivity? Giving them the confidence to do the very same, unapologetically? Wow, the actual true blessings. BTS is a gift to this world, and I'm forever thankful I'm living in it to experience it.
And as always, BTS and their genuine love for each other always shines through. These humans just truly love each other unconditionally and they value their friendship so very much. I truly think that is what the heart of this story is about; friendship, and all the immeasurable things these seven humans are willing to do for it. And the answer? It's anything. They will do anything for their friendship.
Overall, this story just means a lot to me. You all know how hard I have fallen down the BTS rabbit hole this summer, and there is no coming back, friends. I can't believe all the beautiful content that BTS (and bighit) gives us, and this alternative universe story is for also a highlight, as heartbreaking and heart-wrenching as it is. I for sure recommend this to any BTS fan out there, just please use caution because of all the triggers and the dark material. I purple you, friends. Happy reading.
Instagram | Bloglovin' | Twitter | Tumblr | Goodreads | Twitch | Wishlist | Youtube