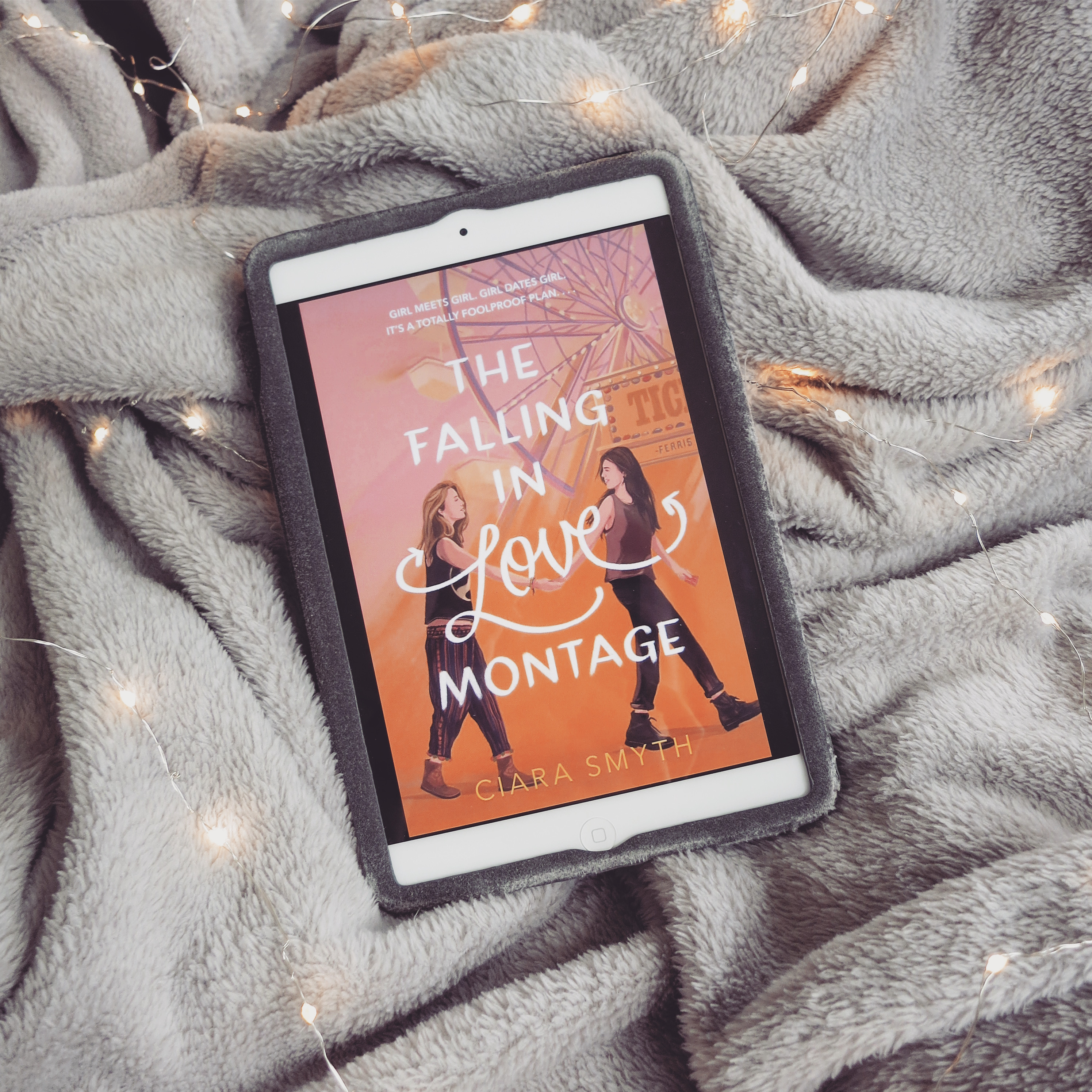 Goodreads | Amazon US | B&N | Book Depository 
ARC provided by the publisher via Edelweiss
"History is who we are. The past shapes us. Even the parts you can't remember."
The Falling in Love Montage is a book that I picked up because of the f/f romance but I ended up loving for the family aspect.
At the center of the story is the protagonist Saoirse, who, after the break-up from her girlfriend, decides she no longer wants to be in a serious relationship. She comes up with this rule to only make out with straight girls because that doesn't even give it the possibility of there being more (she has a clear rule to not do it for a dude's attention, in case you are worried about that though).
Along comes Ruby, a girl that Saoirse is more than willing to make an exception for, knowing there is a time limit to it, with Ruby only being in town for the summer. Saoirse comes up with rules for this relationship too in order to not make it anything serious but as you can imagine, trying to recreate a movie's "falling in love montage" doesn't go well if what you want to do is NOT fall in love.
"See, the thing about the falling in love montage, is that when it's over, the characters have fallen in love.
The romantic storyline wasn't necessarily a weak point of the book but to me personally the aspect that stood out the least. Honestly, it was really more a way for the character to learn about herself and what she wants in life. And I don't mean that in a bad way or like the love interest was the one who made the character change herself.
But what Saoirse really needed at this point in her life, was just to fall for someone and realizing that feeling deeply for someone and being with someone doesn't mean that it has to be forever in order to make an impact or be of importance. I personally liked that portrayal because I think in YA we often have the feeling that a book needs to end with this feeling of forever for the romantic relationship in order for the book to have a happy ending and I just don't think that's true. So this definitely felt refreshing in a lot of ways.
My favourite aspect of this entire novel was the family dynamics though and the storyline about Saoirse's mum having dementia, plus the element of Saoirse being at risk to have dementia herself. I loved Saoirse's complicated relationship with her dad and his girlfriend. I thought that the way the author wrote this aspect was incredibly well done because as a reader you could very much see where Saoirse's dad came from with the decisions that he made and the way he behaved in general, while also understanding Saoirse's upset at it. It was a well balanced and nuanced portrayal of such a complicated issue.
I also liked when we got to the actual bottom of Saoirse's anti-relationship rules, which is not so much the heartbreak but more so her potentially having dementia and forgetting everything, so that in her eyes basically nothing seems worth it. This aspect is surely not easy to write about but again, the author offered a really well balanced portrayal of this too.
I think that Saoirse's development throughout this novel in general was very strong and the story leaves you with a feeling of hopefulness, especially about how things don't always have to be forever in order to be meaningful and worth it.
"How about life's too short to be second-guessing yourself the whole way? You can only go with what you feel right now and if you feel like it might make you happy, even for a while, jump in with both feet, girl, and get wet."
Another aspect that I loved a lot was the friendship between Saoirse and Oliver, who is Ruby's cousin. I feel like this was one of the most well written friendships, in general but especially between a guy and a girl. Their dialogues just seemed very natural and I liked that they were just teasing each other and still it was easy to tell, that they genuinely liked each other a lot. Their platonic chemistry was truly a pleasure to read about.
"Sometimes life knows what you need better than you do."
Overall, I enjoyed this novel very much. I think all the aspects are well done and it is very refreshing in a lot of its execution of different aspects. If you are looking for a Contemporary with a f/f romance (plus points for lesbian being used on page) that offers a really interesting family relationship, I would absolutely recommend this novel.
Trigger and Content Warning for mention of assisted suicide and dementia.
Goodreads | Instagram | Booktube Channel | Twitter



✨ Lea posts a review on Meltotheany every Friday! Read more of her reviews HERE! ✨
(but this is her first review on the blog and it feels extra special)