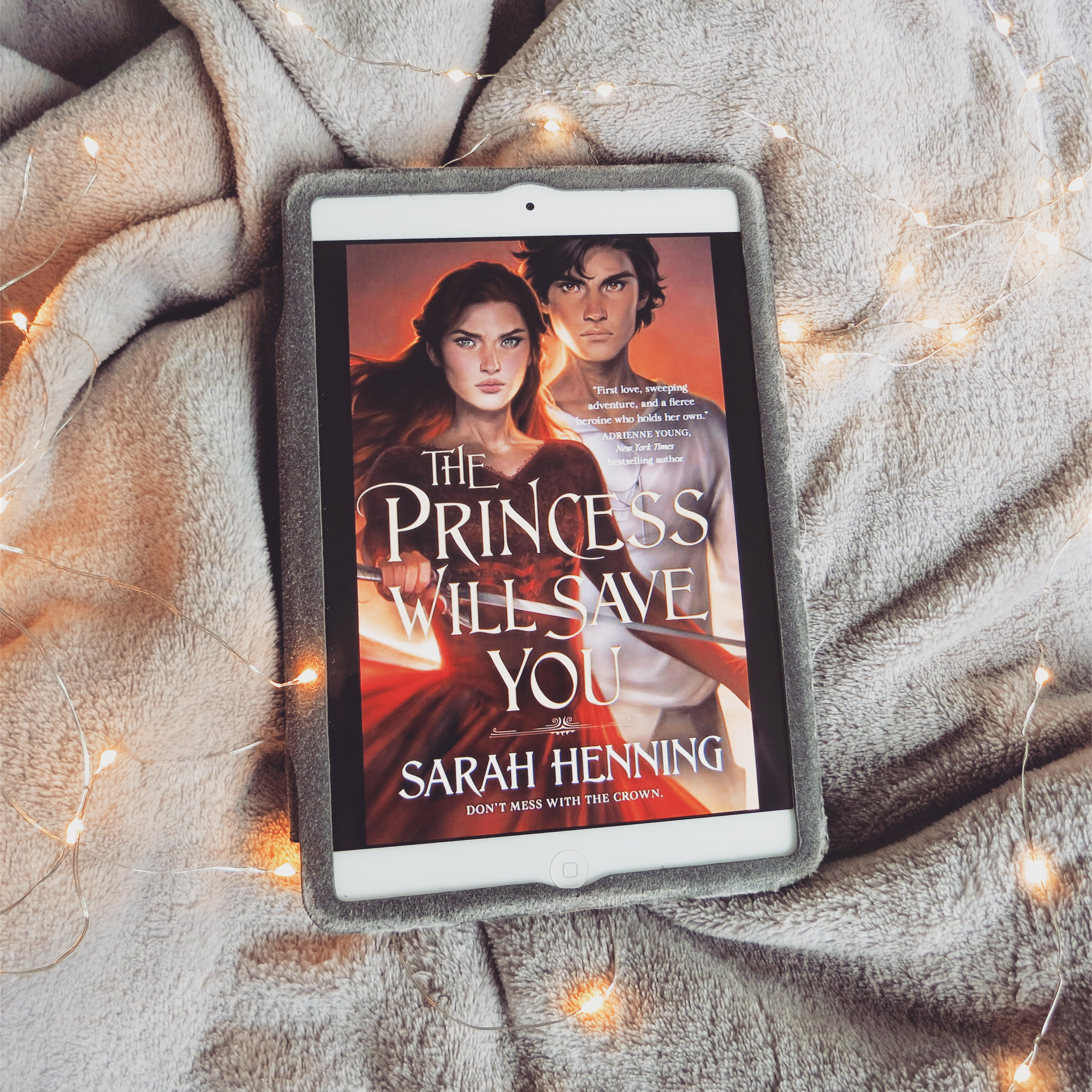 Goodreads | Amazon US | B&N | Book Depository | IndieBound | BookShop
ARC provided by the publisher via Edelweiss
"True love is already yours. True love is the most powerful force on this earth—we just forget it because those with power here deal in fear rather than love."
The Princess Will Save You is a YA Fantasy that, while feeling very familiar in a lot of ways, is quite a refreshing take on the genre.
I absolutely loved Sarah Henning's debut novel, Sea Witch. It was one of my favourite books of 2018, and so I was very excited to read a new book by this author and I did not end up being disappointed.
The book follows princess Amarande after the death of her father and her being coerced into a political marriage. When someone kidnaps the stable boy, Luca, who she has a relationship with that clearly exceeds that of a platonic friendship, she goes after the kidnappers to save Luca herself.
"My father's blood flows in my veins—that's what is so precious to this kingdom. To this line. To these contracts. I have that blood—what does it matter if I'm a girl? What's more important? The blood or the law?"
Immediately in the beginning of the book you can tell that Amarande is an incredibly strong character, who is ready to fight for her own rights. While she might've grown up as a princess, she was also trained in fighting and has no issues standing up for herself, both physically and verbally.
I feel like often in Fiction, people wanna make it seem like female characters can't be in love and pursue their love interest, while still being strong and independent women. I feel like this book really tried to turn this "trope" on its head by making the princess the one who rescues her love interest. She takes matters into her own hands in many ways and while she describes Luca as her one weakness, in many ways her love for him is also what makes her strong and I very much enjoyed that.
Amarande is a nuanced and multi-faceted character. While she was trained in combat her whole life, it was also still clear that she grew up with many privileges and as a sheltered princess who never actually had to fight for her life. I liked that we got to see her as someone who would do so much to protect herself and the people she loves, while also still being overwhelmed with being put into a literal life or death situation.
Amarande also goes through some really interesting character development throughout the book which has me particularly excited for the sequel and also seeing her character deal with the aftermath of everything that happened within this first book.
"The princess swallowed and shut her eyes for a moment. She was not helpless. It was not hopeless. Again, her father came to her. A warrior made is a warrior alive. The tenet was an obtuse one, but said plain, the meaning was: Use what you have to your advantage to survive. "
Overall this novel was absolutely screaming girl power and I enjoyed the focus of this story so much. Even though this Fantasy world is definitely a patriarchal society and a big chunk of this book is Amarande being on a journey to save Luca by herself, this book is still filled with amazing female characters that we will hopefully see so much more of in the sequel.
While people might expect this book to have a big focus on the romantic aspect, it honestly doesn't. As mentioned before, the princess's motive throughout the story is her love towards Luca but the romantic storyline in and of itself is kept quite brief as the development of the romantic feelings between the two characters has already happened way before this book. Really, it is an open secret that these two characters have feelings for each other and they're both quite aware of it too. So we have a few, short romantic scenes, but really, it takes a back seat to everything else.
That makes the book also refreshingly void of angst. I definitely love me some good angst if it is well done but in this story, where the focus is on so many other things, I really enjoyed that the author decided to actually make the romantic aspect of this story one that is uncomplicated… especially considering the circumstances around them are complicated enough.
"That feeling in her heart was back, as if it were made of wax, melting into nothing within her chest. Her Luca. Amarande kissed him then—forehead first, then the bridge of his nose, the tops of his cheeks. "
There was also a small part about consent and how it can be a complicated situation with the power dynamics that exist between a princess and a stable boy. The princess has a point where she questions her behavior towards Luca and while it was only a short section, I appreciated that this was brought up because it is something that I rarely see portrayed for relationships like this.
This also had one of the most exciting epilogues that I have ever read in my life and this definitely affected my enjoyment of the story in a very positive way. It was truly fascinating to me because there were some unanswered questions throughout the story that got answered in the epilogue but it also unfolded a storyline that has me shaking in my boots for the sequel. If I could, I would pick it up right now!
But thankfully it is not the kind of ending that leaves you completely hanging, fearing for a character's life or the future of an entire kingdom. The ending feels immensely satisfying, both with how this particular story arc ends but also with it leaving you wanting more and being excited for all the possibilities of the sequel.
"She wouldn't cheapen what he was worth to her. He was worth literally everything she'd been through thus far, plus what was to come, and more—diamonds, battle, the political ramifications. Everything. "
So overall, I had a really good time reading this book. I think it definitely had its slow parts but I wouldn't say that that was necessarily something negative within this book at all. I just think the author took her time with certain things and rightfully so, as it does pay off.
I would definitely recommend this book for anybody that enjoys YA Fantasy in general but especially for fans of books like Graceling or The Kiss of Deception.
Trigger and Content Warnings for sexual harassment, trafficking, vomiting, violence, blood, torture and forced marriage.
Goodreads | Instagram | Booktube Channel | Twitter
✨ Lea posts a review on Meltotheany every Friday! Read more of her reviews HERE! ✨