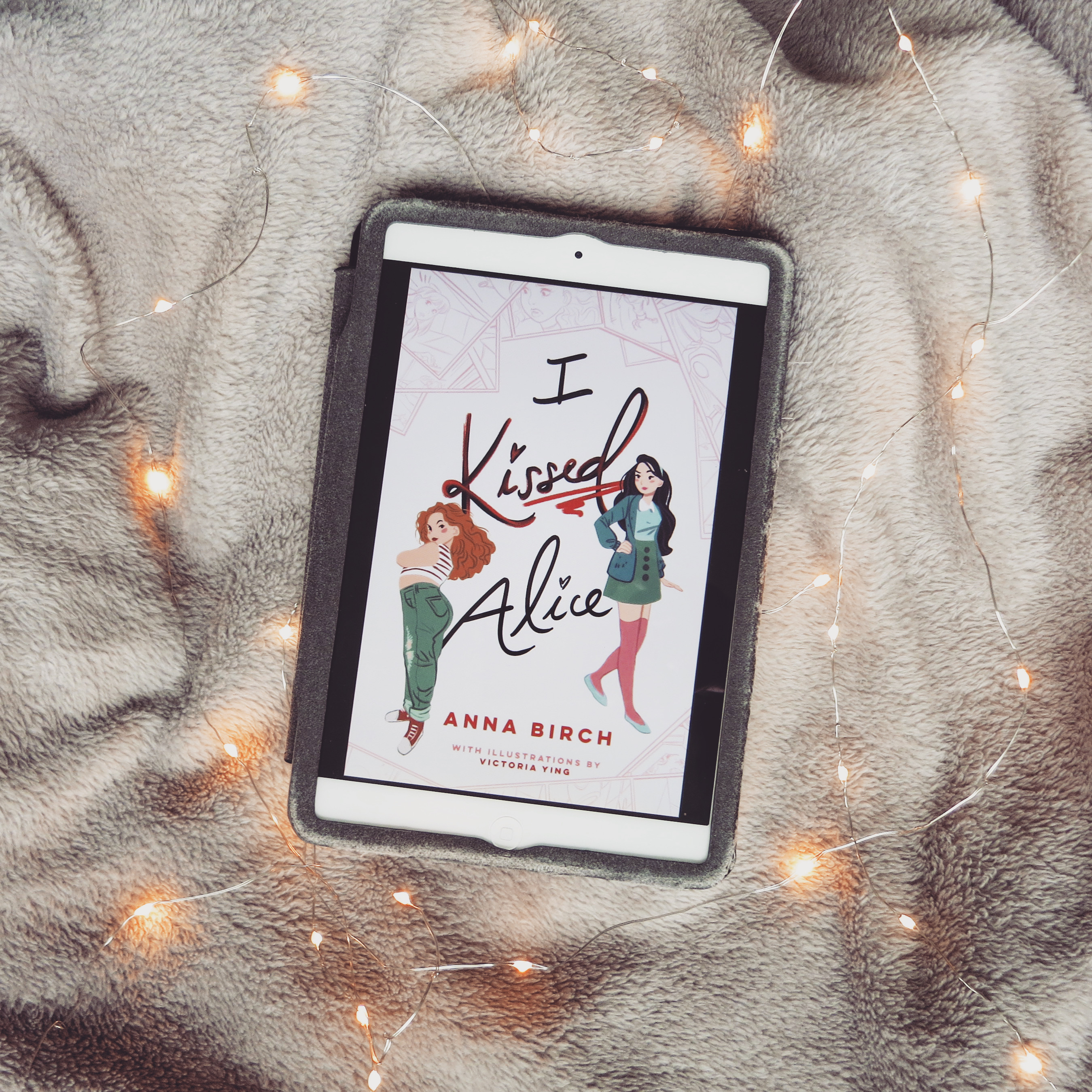 Goodreads | Amazon US | B&N | Book Depository | IndieBound | Bookshop
ARC provided by the publisher via Edelweiss
"She says she sees this version of Alice in me and reminds me almost daily that being brave simply means doing the hard thing—even if you're terrified."
I Kissed Alice is a YA Contemporary that I think will be incredibly divisive but that I loved so very much for its flawed and unlikeable characters and portrayal of the complexity of friendship.
I'm not gonna lie, this is one of those reviews that I'm almost dreading to write a little bit. I just think this book is going to have a lot of mixed reactions and will definitely not be for everyone but I personally loved every bit of it and I found myself relating to a lot of the inner monologue. I think this book offers a very realistic look at friendships and honestly it's one of those books that I wish I would've had as a teen for many, many reasons.
Don't be misled by the cover or the synopsis the publisher has provided. This book is not a fluffy sapphic rom-com whatsoever. This book is hard-hitting and emotional, filled with incredibly flawed, downright unlikeable characters. It's honestly a book that turns most other YA Contemporaries completely on their head, where we get a cute falling in love story all throughout the book and then just a little bit of a fall towards the end, so we feel like the happily every after is especially rewarding.
This book is just one big fall. It starts out kinda messy and then it just gets messier as we go.
Our two main characters, Iliana and Rhodes, constantly fight with each other. This is not just some cute teasing, where you can see that they actually have feelings for each other. These characters are very mean to each other and the reason why they are is not only because they are competitors for a scholarship but because they have the same best friend, Sarah, and constantly fight for her attention or being "the better friend". There are lots of things as to why the characters treat each other the way that they do but the synopsis is definitely quite misleading by just making it about the competition.
"My conversation with Mom a few nights ago hangs over my head, an entire childhood of Sarah standing too close to the blast zone while I pack dynamite into the crevices of each wall that has stood in the way of getting what I want. She has always been in the position to lose something where I've stood to gain."
Really, the biggest theme of this book is jealousy, in all its ugly forms, and how messy and confusing friendships and feelings can be.
There is not only the element of Iliana and Rhodes not treating each other well. In their constant competition with each other, they also often make Sarah a tool to prove who is the better person or friend, more than ACTUALLY being a good friend. But Sarah is not any better. She, too, takes advantage of her friendship with the two, sometimes acting especially close with one of them to make the other jealous. You get what I mean when I say this is all very MESSY?!
But I would refrain from criticizing this book for portraying "girl hate", as the motives for these behaviours become very clear throughout the book and it is much more complex than just that. I think this is exactly where this book stands out when it comes to the way the friendships are portrayed. There is depth to the dislike between these characters, which is something a lot of other YA books cannot offer because their focus simply lies somewhere else.
"No, I want to scream back to myself. Cheshire is the realest thing I have right now. Cheshire is real. What we have is real. And yet. The whispering continues. Anxiety doesn't care about the laws of the universe. All it takes is one singular seed of fear and all bets are off."
Honestly this book is really the hate to love trope in its truest form and maybe the only reason it works (although it still won't work for many people) is that Iliana and Rhodes have an anonymous online relationship. They never really define what they are but it is clear from a lot of their texts but especially their thoughts that they both are not only in love with each other but want to be with each other too. You have to judge and see for yourself if you find this aspect realistic, especially considering that it is anonymous, and we obviously see how much they despise each other in real life, but I was feeling pretty soft about this aspect of the story.
I also loved the webcomic that the two write together. It is a fanfiction of Alice in Wonderland and it mirrors the relationship between the two perfectly and beautifully. Sadly we only get to see a little part of it and I honestly wish we had gotten more, especially as it includes beautiful illustrations by Victoria Ying!
"All I want is to curl up next to Cheshire and listen to all of her theorizing face-to-face, find some kind of a keyhole I could squeeze through into another life and another world where anonymity and distance doesn't separate us. Sometimes I'm afraid that all she sees of me is a computer screen—to me she's real, and she's perfect. She's all I've ever wanted."
In the book we read from both Iliana's and Rhodes's perspective and I will say that I found their voices kinda hard to distinguish, to the point where there was one chapter in which I thought I was reading from the other POV. That's definitely the biggest flaw with the writing for me personally. Iliana and Rhodes are two very different characters and that's easy to tell from the story in general but their voices read very similarly and the tone of this book stayed the same all throughout, which was a little bit of a bummer but obviously didn't really influence my overall love for the book.
Both the main characters are obviously queer. Iliana identifies as bisexual and is also fat. Rhodes does not use any label. Sarah is also queer but uses no label.
We also have Rhodes dealing with both depression and anxiety and going to therapy. I feel like there are little YA books that actually feature characters going to therapy within the book and us experiencing the sessions along with them and I immensely appreciated the inclusion of this aspect, although I can't quite make up my mind on if I found the therapy sessions well done.
"I've been stretched about as far as I can go, and the only thing left is for me to snap."
This book also puts an emphasis on falling out of love with your passion, which is a topic that I always appreciate deeply. Rhodes has trouble drawing for school and for the scholarship competition and the drawing for the webcomic and working together on it with Cheshire (Iliana's online persona) is the only thing that still brings Rhodes joy.
But this novel also shines a light on privilege. It is a message that is subtly woven into the pages of this book but it is there. It shows how certain privileges do not only give you advantages in life but also that growing up with these privileges will give you a different perspective on a lot of things.
"According to Sarah, Iliana left Victory Hills High School like she leaves everything else: scorched earth, dousing every bridge with gasoline and dropping matches on her way out. Sarah told me once that she doesn't know which came first: Iliana hating, or being hated."
Especially in Rhodes's chapters we also have some very interesting family dynamics. Rhodes has a really lovely relationship with her brother, Griffin, that I loved reading about. Maybe Griffin is actually the most likeable character in this entire book but it was especially wonderful to see their relationship and the way they unconditionally love each other, which felt especially comforting when everything else in this book feels so conditional, unsure and complicated.
Rhodes's mother also plays a big part in this novel and is a good example for how a perfect looking, wealthy family, doesn't necessarily have to be all that. Rhodes's mum has a drinking problem and definitely acts questionable in a lot of ways.
On the other hand, Iliana's mum positively stands out in this book, even though we don't get to see that much of her. I loved seeing the very different relationships both of these girls have with their mothers.
"I gave her what she needed—space—and I turned my heart toward the very specific pain of getting used to the idea of what life will look like now without the person who filled it with color."
As for the ending and if I ended up finding all of it believable? I honestly don't know. But I'm still just head over heels in love with this story and the brutally honest way in which these characters were portrayed.
I think that this book is, if anything, brave. It depicts all the aspects in such a real way and it just doesn't hold back in order to bring comfort to the reader and I liked that so much.
I think what eventually fully won me over, to the point where I could wholeheartedly give this 5 stars, is that at the end of this novel the characters have all gone through a lot of character development but they are still far from being perfect people.
They recognize their mistakes and fucked up behavior, they cut ties with some people and don't just act like none of the things that have been said or done have never happened. I think the ending of this novel has a good balance between being hopeful, while still being realistic and that is something I very much appreciate.
"She walks past Sarah and me without another word, a girl who struck a match and doesn't wait around to watch the entire world catch fire."
Overall, I honestly have no idea if I would recommend this book. It is a study in flawed characters and I know it won't be an enjoyable reading experience for everyone.
But for me personally, reading this book was a rewarding experience that emotionally captivated me on every page. I definitely recommend giving this a chance but don't say I didn't warn you if you don't like it.
Trigger and content warnings for depression, anxiety, alcohol abuse (off-page, side character), cheating (off-page, side character).
Goodreads | Instagram | Booktube Channel | Twitter
✨ Lea posts a review on Meltotheany every Friday! Read more of her reviews HERE! ✨