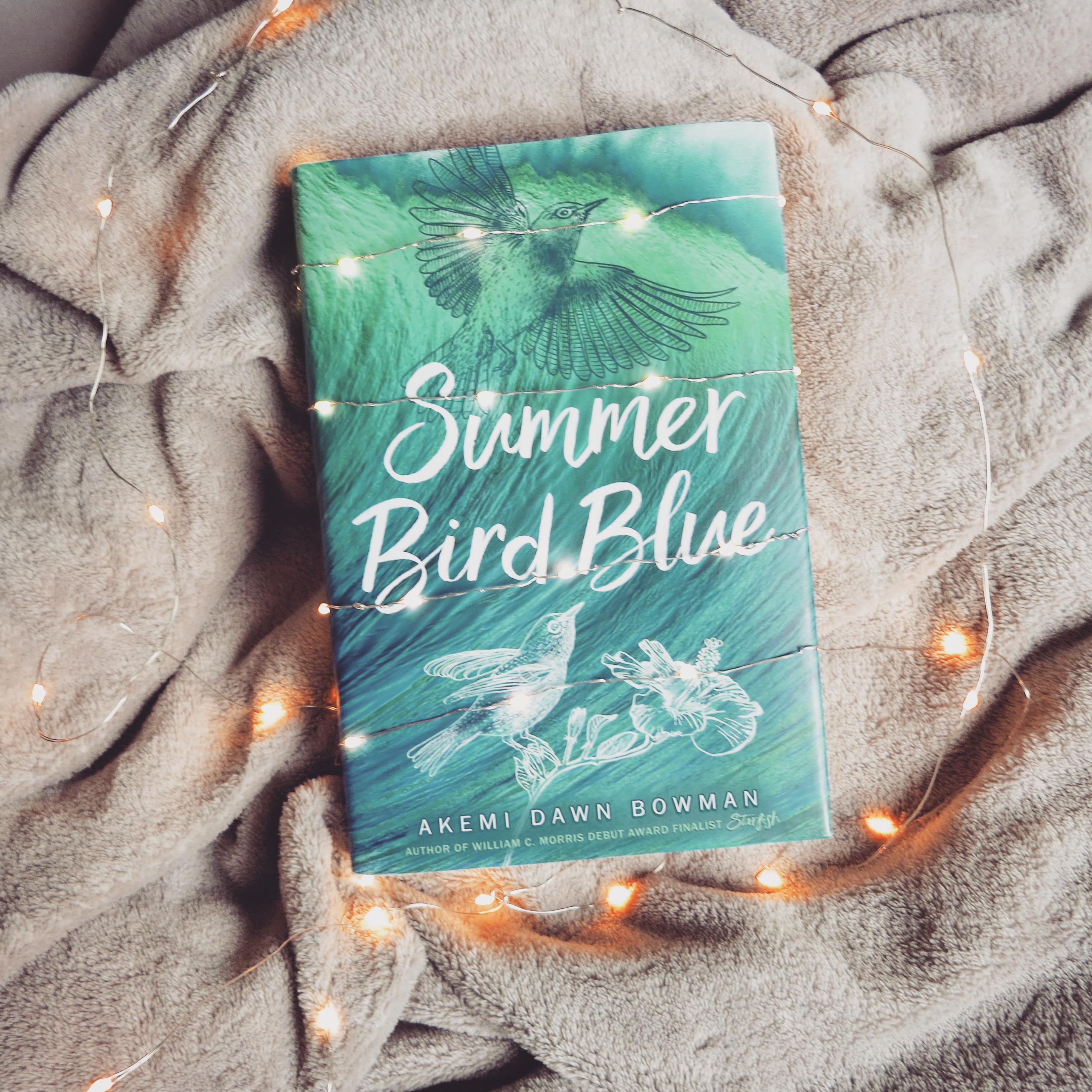 Goodreads | Amazon US | B&N | Book Depository | IndieBound | Bookshop
"Because to Lea and me, music wasn't only about sounds. Music was scenery and smells and tastes and magic, too. But it doesn't feel like magic anymore – it feels like I'm being haunted."
Summer Bird Blue is an intense Contemporary novel that deals with grief in a way that I have never come across before.
At the center of this novel Rumi, who, after losing her sister Lea in a car accident, gets sent away to live with her aunt in Hawaii, while her mum deals with her own grief.
We follow Rumi as she tries to process this loss, feeling abandoned by her mother and trying to find her way back into writing music, which was a hobby that she shared with and deeply connects to her sister.
Before I get into my thoughts and feelings on this book, I wanna talk about the representation. The main character, Rumi, is multiracial (Hawaiian, Japanese and white). There's a lot of biracial side- and minor characters and many of them speak Hawaii Pidgin English.
This book also features some amazing questioning rep. The way Rumi describes being unsure about her romantic and sexual orientation, about not feeling comfortable with even the idea of labels, about being so sure how she feels but becoming insecure about it when everyone tells you that's not how it's supposed to be, about being scared that you settle on a label and then you realize it doesn't quite fit or things have changed.. it all truly blew my mind. Eventually Rumi plays with both the asexual and aromantic label and she is definitely a-spec but it feels like she never quite wants to settle on any labels.
It was so very easy to relate to Rumi and I think that many people who have struggled with their identity will. As someone who has been questioning and struggling with orientation well into my twenties, this is some of the best questioning rep I have EVER read. Akemi Dawn Bowman absolutely nailed it.
"I'm not comfortable with the labels, because labels feel so final. Like I have to make up my mind right this second. Like I have to be sure of myself as everyone else seems to be."
The writing is beautiful and fascinating in every aspect. I have never in my life seen grief described this way. The imagery, the metaphors, the similes.. it made the pain and the anger so vivid and relatable. Whether you've ever lost someone so close to you or not, Rumi's pain grabs every little bit of you and does not let go. I would almost say be careful going into this if you experienced a loss just recently. It is already a tough read as it is!
The music aspect spoke to my heart and soul and is something that I just felt a very personal connection to. I don't really have a person that connects me to music as Rumi is connected to Lea through it, but I still could really relate to so many thoughts about music, about the songwriting process and about how much music can heal but also hurt and trigger negative emotions. The intense way Rumi feels about music and what it means to her, before and after the accident, is pouring out of these pages.
"Because music is a carnival at night, lit up by a thousand stars and bursting with luminescent colors and magical illusions. Music is magic and lightning and fireworks."
I loved that as an adult I could read this novel and understand Rumi's mum while still also very much understanding where Rumi's anger towards her is coming from and how justified it is. I appreciated that this was a novel, where, eventually, the two found their way back together, but I never felt like this novel was trying super hard to excuse her mum's behaviour.
Everything, every emotion Rumi had about her mother and the way she behaved during the grieving process, was valid, even after they talked and Rumi's mum gave a good explanation and it was portrayed like that too. This book does not invalidate Rumi's feelings or even the way Rumi behaved towards her mother and I feel like this is just generally something that YA, as it's mostly written by adults, often gets so wrong. It is a genre about the lives and feelings of teens and an adult's "redemption" does not necessarily need to be part of that.
And honestly, if you're an adult and you cannot handle Rumi's behaviour, I seriously think it is time for you to reflect on how you read Young Adult novels because it is NOT written for you.
"My shoulders shake like there's an earthquake in my core. Every inch of me tenses up like I'm bracing for the room to split apart – for the earthquake inside me to be real. I imagine the room exploding to bits, with pieces of drywall and tile flying in every direction and the tremor of the earthquake breaking the building in half."
There's also so many amazing friendships featured in this novel. I always love when a book displays different kinds of friendships and how some friends are the ones you laugh with and others are ones you cry with and some are ones you have adventures with. Sometimes friends are all of those things but I just like when it is recognized in YA that a friendship with a certain person can be especially benefiting for one aspect.
Especially the way that the friendship between Kai and Rumi, a surfer boy she gets to know in Hawaii, is written, is super special. Not only does it portray a "friendship crush" incredibly well, this friendship is also taken seriously as an important relationship in their lives, while being non-romantic and confined to a time and place. It is so special to read about a friendship like this.
On top of that Kai has romantic feelings for Rumi and this book shows that when two people really mean something to each other, you can still work on that friendship and stay good friends, even with one person having romantic feelings. This certainly doesn't work for everyone and you have to figure things out on the long run but I loved seeing this portrayed as something that is absolutely possible!
There's also the amazing friendship Rumi has with an elderly man, Mr. Watanabe. This might have been my favourite relationship in this whole novel. I was so emotionally involved in this development and the way these people were there for each other and meant so much to each other's lives, while barely even acknowledging that. You could feel the impact these two had on each other and I thought that this was an incredibly special relationship.
"I don't know how something as beautiful and important as music could suddenly feel so empty and cruel. Music used to be life and hope and everything happy. Now it's full of ghosts."
Overall Summer Bird Blue is an amazing novel, that deals with loss and grief, friendship and family, hurting and healing and figuring your identity out on top of all that. It feels like Akemi Dawn Bowman lay her soul bare. To me, this is an absolutely remarkable novel.
Trigger and Content Warnings for loss of a loved one, car accident, depression, violence.
Goodreads | Instagram | Booktube Channel | Twitter
✨ Lea posts a review on Meltotheany every Friday! Read more of her reviews HERE! ✨