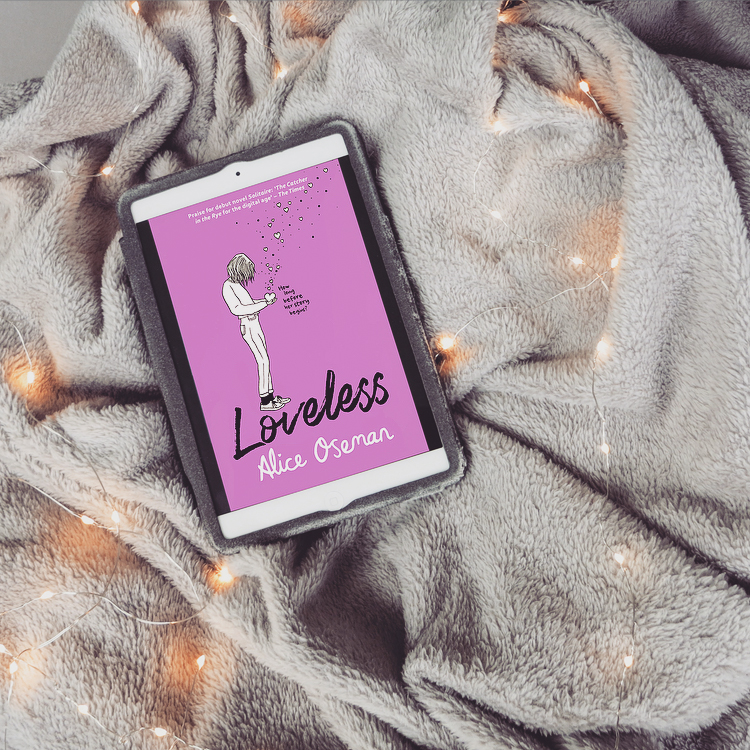 Goodreads | Book Depository
Before I go into any of this review, let me say that I am very aware that this book has made so many people feel incredibly seen, for many for the first time, and I am so very happy about that. But I want to share my personal experience and perspective as honestly as possible and I do not like to hold back when I think something is genuinely doing more harm than good. I not only found many things portrayed in it not well represented whatsoever but this book was really hurtful to me personally in the way that it portrayed one experience as THE aromantic asexual experience. And I hope that this community can respect my opinion without me disclosing my own orientation.
Also this will have mild spoilers, so I can actually go into detail.
Loveless tried to do a lot of good but ended up just being harmful, hurtful and offensive, invalidating literally everyone that doesn't have the exact same experience as the main character.
This is one of those books that shows that ownvoices does not necessarily mean a book can do no harm or has perfect representation. This book would've immensely benefited from having sensitivity readers for the other identities portrayed AND for the aroace representation too, especially as aromantic and asexual is such a huge spectrum.
I think that a lot of the questionable things in this book could've been avoided by having gone through a sensitivity read by someone who, for example, is asexual but not sex-repulsed.
And by that I do not mean that this book needed to be relatable to everybody on the aroace spectrum but the least it could've done is make more of an effort to explain the differences and not invalidate everybody who is anywhere else on the spectrum. This identity gets explained literally once and when the main character, Georgia, actually does some research herself, she quickly logs off because she finds it too overwhelming. And while that is valid, is it just not enough for a book like this.
Georgia is clearly sex-repulsed but the word does not get used on-page ONCE and I just think that this is a problem. A sex-repulsed experience exists but it is not THE aroace experience, even tough this book sadly ends up portraying it like that.
And I get that this is a story focused on figuring your sexuality out but it really took 45% for us to get to that ONE explanation of what asexual and aromantic means. Basically no one had ever heard of this term before, except Georgia, who didn't know what it was, even though she clearly spends a lot of time on the internet (and NOT the straight corners of it). It quite frankly seemed very convenient but made all of this unbelievable.
And what would've been so wrong with the character understanding these words earlier in the story but still coming to terms with the fact that that is how she feels and identifies? Instead we have to go through this character bulldozing her way through literally everybody else's feelings, experiences and identities in order to figure this out.
But this book does not only have an aroace coming out story. It also has the storyline of Rooney, Georgia's roommate, who she becomes friends with very quickly, figuring out she is pansexual. And we get so little pansexual representation in books, that it's especially harmful when the little rep we do have perpetuates a harmful stereotype like it does in this case.
This character is portrayed as someone who seems very sex positive but throughout this book we find out that she basically only slept with people as a coping mechanism for her feelings and emotions that she doesn't want to deal with. And I am not saying that this experience can't be valid but, first of all, this book really needed this perspective of sex being something that many people do enjoy and can do without any commitment, and, again, all of this just perpetuated an already harmful stereotype without ever talking about it.
And with an identity that is so little represented, when you want to feature a full coming out story of a character (even if it is a side-character), you need to do a better job at explaining what pansexuality actually means, ESPECIALLY if you also constantly put pan and bi in the same bracket. We never once got an explanation of what pansexuality actually means or what the difference between bi and pan is. Quote: "She said she just doesn't think she really has a gender preference and that felt like the right word for her!!!!" That is not enough if you feature a pansexual coming-out story so prominently.
And do not even get me started on when Georgia said "stop erasing my identity" in a conversation with Rooney about falling in love, when she could've brought up a very legit discussion on aromanticism or the difference between romantic and sexual attraction to her. Instead, she treats Rooney in the dismissive way she was so tired of being treated by everyone else.
I even would've found it completely valid to have this portrayed as an experience that is realizing "oh wait, this is not how everybody else feels?" instead of a "finding people you relate to"-experience, but the main character's thoughts towards everybody else were constantly shaming them. It is okay to be sex-repulsed but you can't place that on everyone else when sex is such a natural part of many people's lives and something that they enjoy.
You cannot yell at and shame your friend, who you know has a lot of sex and just shared personal things with you, like what gender she fantasizes having sex with while she masturbates. Quote: "'This has to be a fucking joke,' I blurted. Rooney paused. 'What?' I sat up, pushing the covers off my body. 'Everyone has to be fucking JOKING.' 'What d'you–' 'People are really out there just … thinking about having sex all the time and they can't even help it?' I spluttered. 'People have dreams about it because they want it that much? How the–I'm losing it. I thought all the movies were exaggerating, but you're all really out there just craving genitals and embarrassment. This has to be some kind of huge joke.'"
Also I wonder how a book that focuses so heavily on sexuality, has a super prominent non-binary side character AND a character that comes out as pansexual, could still READ SO BINARY! No one ever ACTUALLY acknowledged the existence of there being more than two genders.
And the fact that Sunil, the one non-binary character, wears a pin that says "he/they" but never once gets addressed with they/them pronouns, not even by their BEST FRIEND, is on another level too. Why introduce them using they/them pronouns when you are not going to use it? Genuinely makes me wonder who edited this book too.
There is a lot to say on how the people of colour get treated in this book as well. Like for example the way that Sunil, who is Indian, is only there to do all kinds of (emotional) labour for the main character. Or how Goergia's best friend, Pip, who is Latinx, is portrayed like a stereotype. Or how terribly Georgia treats her throughout this entire book. Or how she says "I would choose to be gay" to her face after they just had a talk about how it hasn't been easy for Pip to be a Latina and lesbian.. seriously, I could go on and on and on. I would encourage you all to check out Maëlys's review, if you haven't already, because she talks about this (and many other things too) in great detail.
And while the book definitely tried to put out the message that platonic love can be just as or even more valuable than romantic love, it just missed the mark. This is a message that I always find so important and absolutely love seeing portrayed in books but here it was almost like Georgia felt superior and like she was the only who could truly and fully love someone platonically because she would never develop romantic feelings or sexual attraction.
This book could've used this opportunity to talk about the existence of platonic relationships and how there are people who live as non-romantic couples.. instead it just ended in this weird triangle situation with Georgia, Rooney and Pip, introducing no boundaries whatsoever, and I cannot even get into the mess that all of that was.
And the fact that Rooney having been in a toxic relationship is getting used as an opportunity to say that platonic relationships are better than romantic relationships, is something I can't even begin to unpack either.
I could write many more paragraphs for many more hours on this book, for example about the time when Georgia just picks up her roommate's phone without her consent and the roommate is just like "okay no prob". Or when the lesbian character is the one who says "how do you know you won't find someone one day?", so Georgia gets to be the one to say "how would you feel if I said this towards you" and on and on and on.
I'm not saying characters can't be flawed or unlikeable or fuck up. But this book is one big fuck-up. From the way Georgia behaves and treats other people to the things that this book portrays and talks about in general. Considering all the things that this main character says and does and thinks throughout this book, there is just not enough repercussions for it. There is not enough people calling Georgia and her bulldozing behaviour out and it is not okay.
At the end of the day, despite knowing how many people saw themselves in this book and the main character's experience, I simply cannot recommend this book whatsoever. A book that shames and invalidates everybody else's experiences to further a main character's journey is just not a good book.
If you're looking for something else to read instead, I highly recommend Summer Bird Blue by Akemi Dawn Bowman for a book with amazing aroace questioning rep without invalidating anybody else!
Goodreads | Instagram | Booktube Channel | Twitter
✨ Lea posts a review on Meltotheany every Friday! Read more of her reviews HERE! ✨