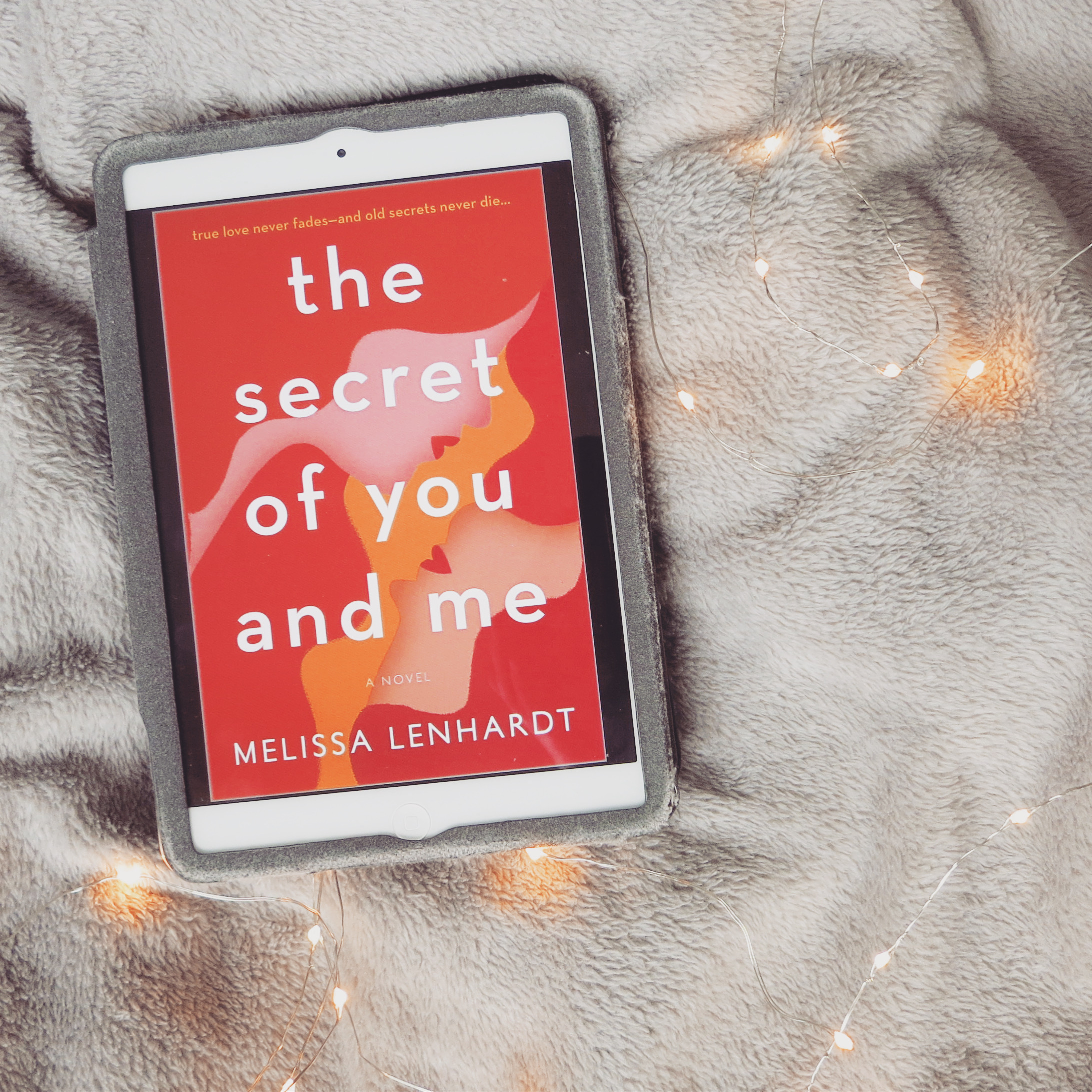 Goodreads | Amazon US | B&N | Book Depository | IndieBound | Bookshop
ARC provided by the publisher via Edelweiss
"We'd done everything together since we were ten years old. I couldn't imagine life any other way. I'd never wanted to imagine life any other way."
The Secret of You and Me is a sapphic adult romance that tackles some very serious topics and issues, all packed into a beautiful second-chance romance.
This story revolves around two women, Nora and Sophie, who fell in love when they were teenagers but couldn't be together due to the prejudices in their small hometown in Texas. When Nora, after 18 years of being away, comes back into town for her father's funeral, the old stories of what happened start to get unravelled and Nora and Sophie have to navigate being in each other's lives again.
I will say that I have read less sapphic adult romances than I would like but the ones that I have read, were mostly more on the rom-com spectrum. And while I absolutely love getting a sapphic rom-com, this novel tackled some more serious topics and I very much appreciated that.
It is hard to really talk about the in-depth aspects of this novel without giving too much away, as I do think that this is the kind of novel that really works best if you go into it knowing as little as possible, especially because a lot of things that happened 18 years ago only get slowly revealed throughout the story.
"I didn't realize until I saw you at Mel's that you've held my heart in the palm of your hand all these years. Right now, I'm offering you my heart, Sophie. My soul. Can you promise me a future? "
We get to read from both Nora's and Sophie's point of view in this novel, which works incredibly well and I found their voices to be easily distinguishable. While Nora and Sophie grew up in the same town, they end up having very different experiences, due to Nora leaving town, and so it was very interesting and important for this novel to feature both of their perspectives.
Sophie has known for a while that she is a lesbian but only really confronts this feeling when Nora returns to town. She is married to a man and they have a daughter, who she loves very much and is really the main reason that she is with her husband.
This was easily my favourite aspect of this novel and one that I thought was handled with incredible nuance and care. Seeing Sophie's journey with her sexuality is powerful and so important to portray.
We see some flashbacks of her realizing that she is gay and that, while she can recognize her husband is an attractive man, she is not actually attracted to him, but that she still loves him and their daughter.
But only in the course of this novel does Sophie actually confront these feelings for the first time and talks about it and comes out to people too.
This novel manages to shine a light on the experiences that many lesbians go through. Being with men, questioning their feelings and attraction towards them and even going as far as marrying and having kids with them. And I love that this novel showed that there can be reasons why lesbians have sex with men that have nothing do with their attraction to them or enjoying or wanting it. It doesn't make them any less gay if the reasons are something like protecting themselves (from being outed, for example) or compulsory heterosexuality.
Seeing a woman in her mid-30s come to terms with her sexuality and finally realizing that she has a right to truly be who she is and to live happily out as a lesbian, even with having been with a man for a long time, was so good to see.
Sophie is a recovering alcoholic and this is a topic that gets talked about a lot in this novel as well. We get flashbacks of how Sophie and her family realized that she has an alcohol addiction and decided to go to an AA meeting and her sponsor is a very present side-character in this story.
"My body was barraged with tiny explosions of desire and, deep down, I grieved for all the years this had been missing from my life, that Sophie had been missing. I wanted her as I'd never wanted before, and when our lips met, I fell into her."
On the other hand, Nora has lead quite a different life. When she left her hometown, she joined the military and has PTSD due to it. Nora definitely talks about her life in the military and how it has shaped her.
And living in DC, she has lived a life as an openly bisexual woman. She is in an open relationship with a woman called Alima, who is a closeted Muslim lesbian, married to a man.
There was a paragraph where Nora talked about what identifying as bisexual means to her and I very much enjoyed the discussion on how this is a label that, while it has one general definition, still will mean something different to the people identifying with it.
I will say that in this conversation, Nora said that to her it means "enjoying connections with both genders" and I honestly never thought I would ever have to read the term "both genders" again. Genders outside the binary exist and even if this was a small part, it is very disappointing for a queer novel to not acknowledge that!
"It's good to see being in the military didn't turn you butch." "Depends on your definition of butch. One definition, my personal favorite, is being able to kill a man with your bare hands. In that regard yes, the military turned me butch.""
The relationship dynamics in this novel are all complicated and messy and I think that it is very important to know that a lot of this novel has (grey-area) cheating. I know that this is an aspect that is an absolute no-go for a lot of people and so I definitely find it important to mention that this is a topic that is very present in this book.
But again, everything in this novel is handled with a lot of nuance and care and this not an element that is used as some sort of shock-factor. There is a lot of history between all the characters involved in this story.
In some ways I did think the ending was quite easily resolved. The book did a lot of good, unpacking all kinds of different things all throughout it, and the ending almost felt a little too convenient, ignoring a lot of the issues that are still present, especially considering the overall tone of the book.
That said, this didn't hinder my enjoyment, as all sapphics deserve happy endings, especially when it is way too often taken away from us, as this story perfectly portrays. Plus, books that are marketed as Romance, especially if they are queer too, should always have Happily Ever Afters!
"Because I want to be with the woman I love, the only person I've ever loved. I want to feel your skin against mine, to be reminded how beautiful making love can be when you're with someone who you want to absorb into your very being because the thought of ever being without them fills you with sense of despair so complete, so bottomless, that you're sure you'll never smile, or laugh, or feel whole again. "
Now, while I loved this story so very much, I do want to point out that it is not ownvoices. The author does not identify anywhere on the LGBTQIAP+ spectrum and in the acknowledgements the author talks about the love story between these women coming together as she wrote it, with no initial intention to make this a sapphic romance.
I read an interview with the author and it very much seems like the author is in one way acknowledging that the process of falling in love is not different just because of the genders involved, while also being very aware of the individual struggles that same-sex couples will go through. I am also glad to hear that the author will be donating 10% of her royalties to the It Gets Better Project.
While none of these things influenced my personal opinion or enjoyment of this book (and I had no idea prior to reading it), I do find it important to point all of this out, so that every reader going into it is aware of this.
I definitely wish that especially a storyline like Sophie's would've been written by an ownvoices author but from what I have read, both as far as interviews and the book itself, the author took so much care in writing this story and I do think it is well done, to the point where I am truly in awe of how well this was written, considering it is none of the author's own experience at all.
But at the end of the day, I wanna leave the decision to every reader themselves and that is why I thought it important to mention this.
"I pulled her to me and kissed her, pouring into her every bit of admiration I had for her generous heart, gratitude for her courage, and hope for our future. "
Overall, this was a very intense reading experience for me and I think that the trigger warnings and general tough topics of this novel should not be underestimated. While this book made me very happy because of the representation and themes involved, it was also not an easy read.
But if you can handle the themes and topics, I absolutely recommend this story. It was really beautiful to read about these two women finding their way back to each other and finally getting the happy ending they deserve.
The Secret of You and Me is a novel that I will carry in my heart for a long time.
Trigger and Content Warnings for PTSD (after military service), loss of a loved one, homophobia (including physical violence due to it, mentions of/being threatened with conversion therapy and homosexuality being called a mental illness), biphobia (immediately challenged), alcohol abuse, cheating, racism, chronically ill loved one, sexual harassment.
Goodreads | Instagram | Booktube Channel | Twitter
✨ Lea posts a review on Meltotheany every Friday! Read more of her reviews HERE! ✨