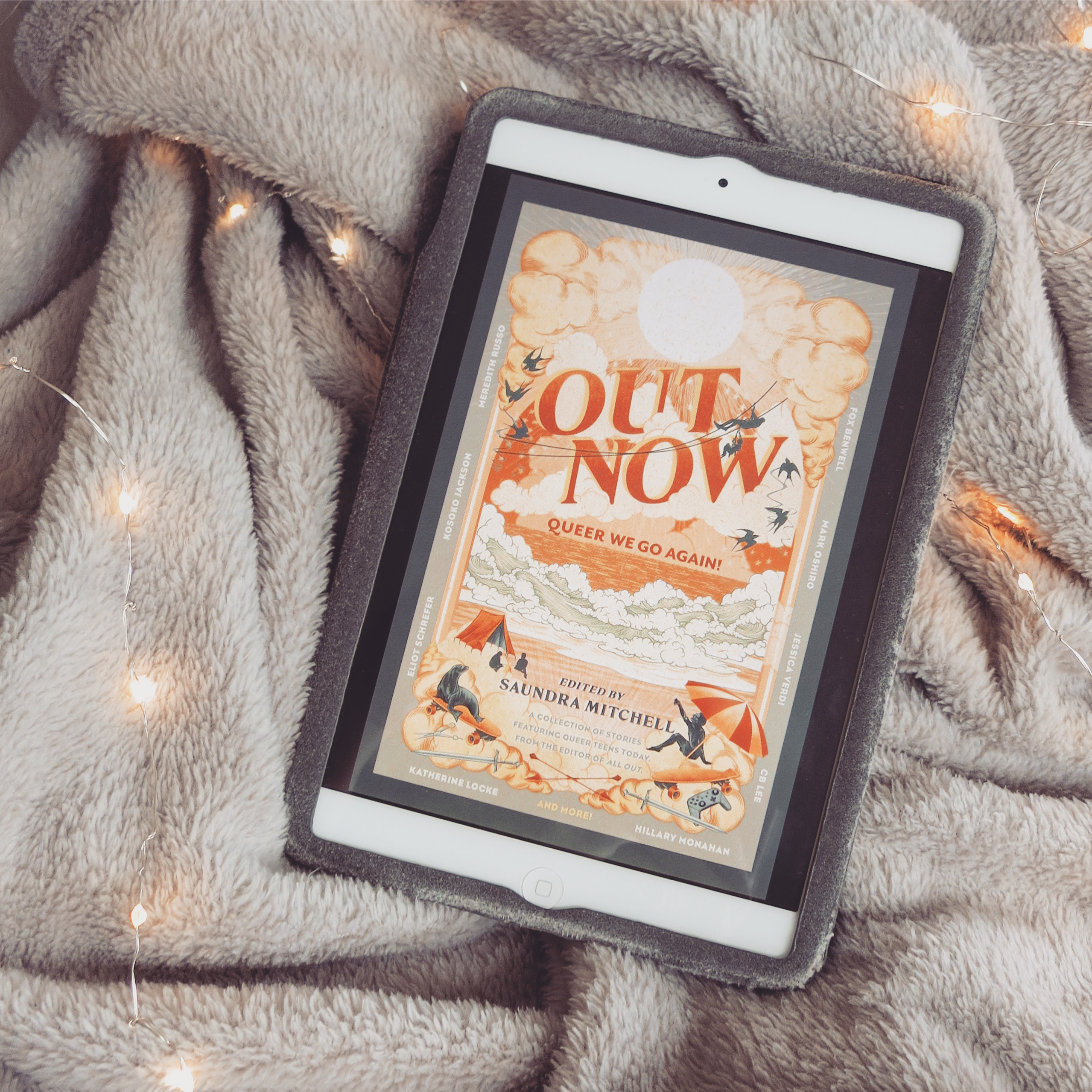 Goodreads | B&N | Book Depository | IndieBound | Bookshop
ARC provided by the publisher via Edelweiss
Out Now: Queer We Go Again! Is an anthology that clearly did not learn whatsoever from the criticism of its predecessor All Out.
This is an anthology that features queer stories throughout all kinds of genres but that is about where the variety with this anthology stops. I read and loved All Out but one of the biggest criticism about that anthology was that it did not feature enough different identities on the sexuality and gender spectrum and sadly this anthology was the same.
Especially knowing that the first anthology was so heavily criticised for it, it feels extra disappointing to look back at these stories and realize that we still got barely any representation on the asexual and trans/non-binary spectrum and (if I am not mistaken) no representation on the aromantic spectrum whatsoever.
And not only that, this story fails at intersectionality in general. I would've wanted more stories about queer characters of colour but what was almost completely missing from this anthology were queer disabled characters, characters with mental illnesses, characters with different religious beliefs and fat characters.
Apart from those issues, I also just genuinely was not a fan of A LOT of these stories. And while it is normal that some stories in an anthology will be hit or miss for you, this one had so many misses and stories that I genuinely just DISLIKED, that it really to me stands out as one of the worst anthologies I have ever read.
Victory Lap by Julian Winters was the story that positively stood out to me the most. It provided a lot of comfort and made me want to read more stuff from this author.
But as a whole I cannot really recommend this anthology and I'm also really disappointed by the inclusion of Meredith Russo in this anthology, who easily still could've been cut before release.
But here are my individual reviews for all the stories.
Kick. Push. Coast by Candice Montgomery ⭐⭐⭐⭐⭐
I absolutely loved this! It was one of the shorter stories within the anthology but a very wonderful one about the fluidity of both sexuality/attraction and gender, which is something that I always deeply appreciate.
---
What Happens in the Closet by Caleb Roehrig ⭐⭐⭐
GAYNESS AND VAMPIRES! WHAT A COMBINATION! I didn't have very many feelings towards this story, if I'm honest. I wasn't really feeling the characters or the development of the story. But it was fun… because vampires!
"If there's anything I've learned from my brother, it's that I could die before my life even starts, and I like… I like kissing you. I don't want to stop. I'm tired of being lonely."
---
Player One Fight! By Eliot Schrefer ⭐
That was… uh… quite the questionable experience honestly. Like genuinely I do not know what to say about this story, it like.. didn't really have much of a point and just made me cringe in several ways.
---
Lumber Me Mine by CB Lee ⭐⭐⭐⭐
This was such a lovely story and it featured an asexual love interest! I really was super invested in this one, completely forgetting I was reading a short story and not a full length novel at some point.
"Ash's eyes are warm and brown and she's standing close enough for Jasmine to see little f lecks of gold, and she's so happy, right here in this moment, just the two of them smiling at each other, a moment stretching out into infinity."
---
Follower by Will Kostakis ⭐⭐⭐
This was a cute story! There was a lot of talk on what being romantic means and the two boys in this story shared their experiences falling in love. It wasn't anything special but I had a good time reading it.
---
Refresh by Mark Oshiro ⭐⭐⭐
Now this was an interesting story. It features two Latinx boys meeting for the first after they've talked on a dating app for a little while and it had some important themes packed into it. I can't really say too much but while I personally wasn't the biggest fan of one of the elements, I do very much appreciated that this talked about being a guy and plus-size, which is representation that we get so little, and also how that affects your dating life. This was a story that felt really intersectional and that made happy to see.
---
Victory Lap by Julian Winters: ⭐⭐⭐⭐⭐
This story was about a Black gay boy trying to find a date for the winter formal and having a conversation with his dad about it and I loved it so very much. I was really invested in this character's story and his relationship with his dad and it absolutely warmed my heart. This story also mentioned a bunch of different identities (one of the side-characters is non-binary, they talked about a character potentially being bi, pan or questioning and in the conversation with the father) and while all that was very brief, I always appreciate when we get introduced to numerous labels within a story because it always makes me think that it might get readers to research those more and maybe find something that they identify with too! This was definitely one of the stand-out stories of this anthology for me personally and really made me want to check out Julian Winter's novels!
"Everyone says it's a parent's job to protect their child, but why can't I protect him? Why are there roles when it comes to protecting the ones we love?"
---
A Road of One's Own by Kate Hart ⭐⭐
Oh man, this story was confusing and all over the place. I just had such a hard time keeping all of these characters apart and connect their stories to them. And this story also just felt really unnecessarily long while really not providing all that much content. Plus when I read one of the characters saying she is pansexual but she just tells everyone she's a lesbian because people don't know the label… I just personally felt incredibly uncomfortable about this. I loved that this story featured many people of colour (Indigenous love interest, a Latinx and Korean side-character) but too much of this story made me feel uncomfortable.
---
Seditious Teapots by Katherine Locke ⭐⭐
Another one of those stories that I am trying to appreciate because it had such an important discussion on identity and labels and pronouns plus it included anxiety and kinda potential depression rep but… I was just (once again) uncomfortable because this story was really based on someone completely overstepping their boundaries. It all ended up great and the person was just trying to be helpful but like.. YIKES IN SO MANY WAYS! Also the writing was a little bit messy, where I could barely decipher the text messages because they had no quotation marks or any other way to help you distinguish them. Keep in mind I read an ARC copy though, so hopefully changes were made.
---
Starcrossed in DC by Jessica Verdi ⭐⭐⭐⭐
This was definitely one of my favourite stories of this anthology, I loved the setting and important message! And this one also really worked for me because while we got a full story with a cohesive ending and beginning, there is still so much left beyond this story and I really enjoy when I feel satisfied with the story while still somehow craving more. That's definitely not easy to achieve.
"My whole life, I've been in front of cameras and crowds, representing something big, something I didn't choose. This moment is new. Scary. But I've never felt more myself."
---
Floating by Tanya Boteju ⭐⭐
I am left a little bit confused by this story because I feel like it might've had a main character with autism but.. it's just never quite clear? And searching through the Goodreads review, NOBODY MENTIONED THIS AT ALL. So I'm saddened by the fact that this might've been a story with disability rep (it could've been ADHD as well) but it is not actually clarified on-page, which I really would've appreciated, considering this anthology features little disability rep otherwise. This story sadly didn't really draw me in in general.
---
The Soft Place by Hillary Monahan ⭐⭐
Okaaaaaaay, so.. the main character in this was high as fuck so this story was a little bit exhausting to read. It was a nice idea – describing getting high as it being the main character's soft place and I liked the message this story tried to portray too but at the end of the day, it was just a little bit too wild as far the writing goes and it ended up not being very pleasant to read. Also it kinda felt like the author was trying to include the message of this story subtly.. but at the end of it I felt more like having been hit over the head with it. But at least it was a hopeful one.
---
A Pound of Flesh by Kosoko Jackson ⭐
I did not enjoy this story and thought it was all over the place and way too convoluted for a short story. I feel like I was supposed to be intrigued by this story but I wasn't whatsoever because the origin of the curse of the main character was never made clear. Also you will be kinda lost if you don't know Greek mythology well.. and my eye was twitching a little bit about what Athena was representing in this story. The underlying message in this was lost on me because the way it was written it really seemed like the police stood for justice.. eh. Really not a fan of this one.
"My brother loves you. But caring about someone and loving someone are two very different things. Love is a powerful emotion. Just like hate, or bloodlust, or valor. My brother feels all those things. But he cares only about war."
---
One Spell Too Many by Tara Sim ⭐⭐
God, I was so looking forward to this story because I really like Tara Sim as a person and enjoyed her novel Timekeeper so much.. and the beginning of this story was so promising to me because I absolutely loved the concept. But honestly the writing didn't really speak to me whatsoever, it just seemed really basic and a little bit like the fanfiction that I wrote when I was younger. I also did not enjoy the plot at all because it focused so heavily on miscommunication which is honestly a trope that I am so very sick of seeing and I think in 2020 we have progressed past the use of love potions in stories, even if you enforce boundaries with it.
---
Far From Home by Saundra Mitchell ⭐⭐
Oh man, I feel like these stories have been cursed for me a little bit since Jessica Verdi's story because this was another one that I just did not enjoy whatsoever. I thought it was confusingly written in many parts and it was entirely too cheesy for me personally. I mean, I do not mind cheesy usually but when it is just a short story where I am not attached to the characters and their relationship whatsoever, it just doesn't work for me whatsoever. The best aspect about this story was that the main character was non-binary.
---
Once Upon a Seastorm by Fox Benwell ⭐
I literally have absolutely zero fucking idea what I just read. Like I don't even know what to say right now because I am left speechless with how.. nonsensical all of this was. I'm sure the author had a really amazing vision but sadly I did not understand what this story was trying to do whatsoever. Content Warning for this being a story about a trans boy who is pregnant!
---
Overall, this has definitely put me off from reading any more of Saundra Mitchell's anthologies in the future, even if I enjoyed All Out. It is one thing to not like the individual stories, it is another if I feel like an anthology specifically including queer stories offers barely any intersectionality or doesn't make any effort to include more underrepresented identities.
Goodreads | Instagram | Booktube Channel | Twitter
✨ Lea posts a review on Meltotheany every Friday! Read more of her reviews HERE! ✨