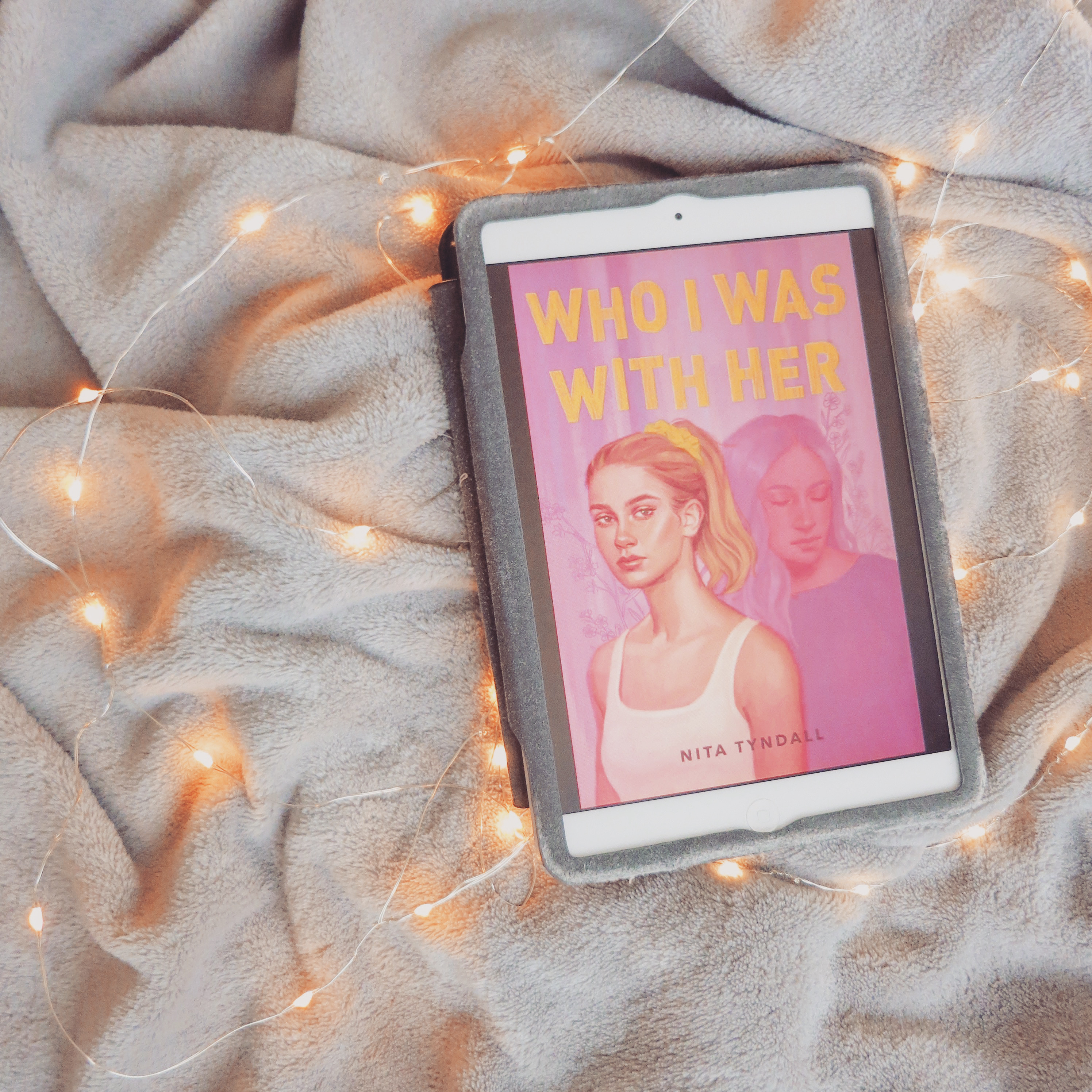 Goodreads | B&N | Book Depository | IndieBound | Bookshop
ARC provided by the publisher via Edelweiss
"Now my heart is with a girl in a coffin in the ground. But that girl wanted me to be better, she wanted my heart to be in it, so I could keep running with her. So for her, I'll try."
Who I Was With Her is an incredibly powerful YA Contemporary about grief and figuring out what you want from life.
This story is about 17-year old Corinne, whose girlfriend, Maggie, suddenly dies in a car accident. But because both girls were still in the closet, nobody knew that they were in a relationship and so we follow Corinne as she tries to deal with this loss while nobody knows what Maggie meant to her.
So as you can tell from this synopsis, this is a very hard-hitting novel. The tone of this book is overall rather sad and melancholic and it is definitely not an easy read, so for sure be in the right headspace when going into this novel.
But it is also a very powerful read, that turns a devastating experience into a journey for Corinne to focus on herself and figure out what she really wants from life.
"I start to run down the hill, push myself as hard as I can. Running down this hill doesn't feel quite like flying, not when I'm trying to pace myself, but it's sure damn close. I just hope my wings don't burn up in the sun."
The grief depicted in this book is incredibly well done. Corinne feels like she no longer knows who she is without Maggie and she has trouble really defining for herself what not only the relationship but also this grief means for her when she can't even talk about it with anyone or be open about the way she is feeling.
There is also a lot of guilt that Corinne deals with. Whenever she feels a second of happiness or she is laughing with friends, she immediately has thoughts about how she can't believe she forgot about Maggie and her grief so easily.
And there is a lot of looking back to her relationship with Maggie and wondering about the way she behaved, how she should've reacted differently sometimes or certain things that she didn't know about Maggie.
All those aspects add to a very nuanced and realistic depiction of grief.
"I'm sorry I couldn't be the girl she saw me as. I loved her, I loved her, I loved her. I don't know who I am without her. She wanted me to be all these big, grand things; she had these dreams for us and—That's not me. I am not out and proud; I am scared out of my mind. Maggie wanted, so I didn't have to."
The only person who knew about Corinne and Maggie's relationship was Maggie's brother, Dylan. They have a really messy but interesting relationship in this book too and you can always feel all the anger and sadness from the grief flowing into their conversations. But at the same time, you can also see how they both know they are two of the people who knew Maggie best and they definitely bond over that way more than they ever have before her death.
Dylan is also the one who introduces Corinne to Elissa, Maggie's ex-girlfriend. Now this is a storyline that honestly feels a little bit questionable in parts but ultimately also offers a lot of realistic aspects. Dylan hopes that Corinne can find some comfort with Elissa, as they have dated the same person and can lean on each other.. and they do, which quickly turns into there being some chemistry between the two.
This all happens not too long after Maggie's death and throughout the book you are definitely questioning the nature of these feelings. I felt like this aspect was handled okay and was very much just another part of Corinne's grieving process but I also wish it would've been explored more and especially sooner in the book.
Especially the power dynamic between the two was off sometimes. Corinne is 17 and still goes to high school while Elissa is 19 and at college and Elissa also reads older than 19 to me personally. On top of that, she was definitely placed in this book as someone that Corinne could lean on for support while dealing with her girlfriend's death. While I understood where Corinne's attraction and thoughts about Elissa came from, I really would've wanted for Elissa to be more of a sensible and responsible person in this scenario. Obviously she is also still quite young and grieving too and you can tell she has her doubts about this whole situation sometimes but I wish it would've been on-page a little bit more, especially when it feels like, again, her purpose in this book was to help Corinne with her grief. It just made me feel weird and slightly uncomfortable about their dynamics sometimes.
"I thought I didn't have more tears left but I guess I do, because I'm crying into her shirt, because I don't want her to lose me, either. I don't want to be lost. "
This story also very heavily deals with Corinne's family relationship. Her parents are divorced and her mother struggles with alcoholism. While the divorce was a while ago, we can still see Corinne struggle with it and especially feeling like her dad just abandoned her mum and her alcohol issues, which Corinne now has to deal with herself.
Apart from the obvious sapphic storyline and Corinne being bisexual, we also have an asexual side-character, Julia, who figures out that she is asexual and finds this label for herself throughout the story. I thought that it was a really well-done element and showed that this is an aspect that can be easily packed into a side-storyline, while still being done with care.
In general, the friendship between Corinne and Julia, who is her best friend, was a really interesting and nuanced aspect of this book too. Their friendship definitely suffered in the past year because Corinne spend so much time with Maggie and also could never tell Julia what she was doing and so that definitely created a rift between the two. Within this book, they find their way back together and I very much liked seeing their development throughout.
They also had a short but important discussion about privilege, as Julia is a woman of colour, as is her boyfriend, but I think there is no description beyond Julia having "deep brown skin".
On top of all that, this book obviously also has a huge focus on coming out and talks a lot about how different circumstances can really influence your experience with coming out. All the actual on-page coming out processes are super good experiences and show that it is also different for everyone but there are definitely discussions in this book that are quite tough when it comes to other people pressuring you into coming out or making you feel not valid for being scared to do so. I think that it was a well-done aspect and the discussions were always nuanced, where you could understand everyone's POV but I definitely think that in part it very hard to read.
"This is my coming out. One person at a time. No big statement, no grand gesture. Only people I want to tell. Why should I come out the way everyone else wants me to?"
I also very much enjoyed the form of storytelling. We go back and forth in time, to when Corinne and Maggie met or had their first kiss and then back to the current times. This worked perfectly for this kind of book! Plus, all the chapters, but especially the ones in the past, where super short, which is honestly my favourite kind of chapters.
This book also talks about Corinne getting her period and masturbating and there is a sapphic sex scene (with an emphasis on consent) that is not explicit but still makes it very clear what is happening, which are all elements I am always glad to see in YA.
"I have stopped counting how long it's been since she died. She deserves to be remembered, not measured by the days of my grief or how long it's been since she left. She deserves to be remembered for who she was."
Overall, this book just deals with so many different things, so many messy characters and relationships but I enjoyed reading about it all so much. There is a lot of guilt-tripping and forcing people to do stuff and not accepting what people want and changing who you are or what you want for another person.. but after finishing the novel you are left with a sense that all these characters have learned from their mistakes and really developed as people.
And that, ultimately, is all that I wanted as I was reading the book.
The aspects are very nuanced and I am deeply impressed with how many topics were packed into this short Contemporary novel.
If you can handle the tougher themes within this book, it definitely comes with a huge recommendations from me.
Trigger and Content Warnings for loss of a loved one, car accident (off-page), grief, alcoholism, underage drinking/alcohol abuse.
Goodreads | Instagram | Booktube Channel | Twitter
✨ Lea posts a review on Meltotheany every Friday! Read more of her reviews HERE! ✨