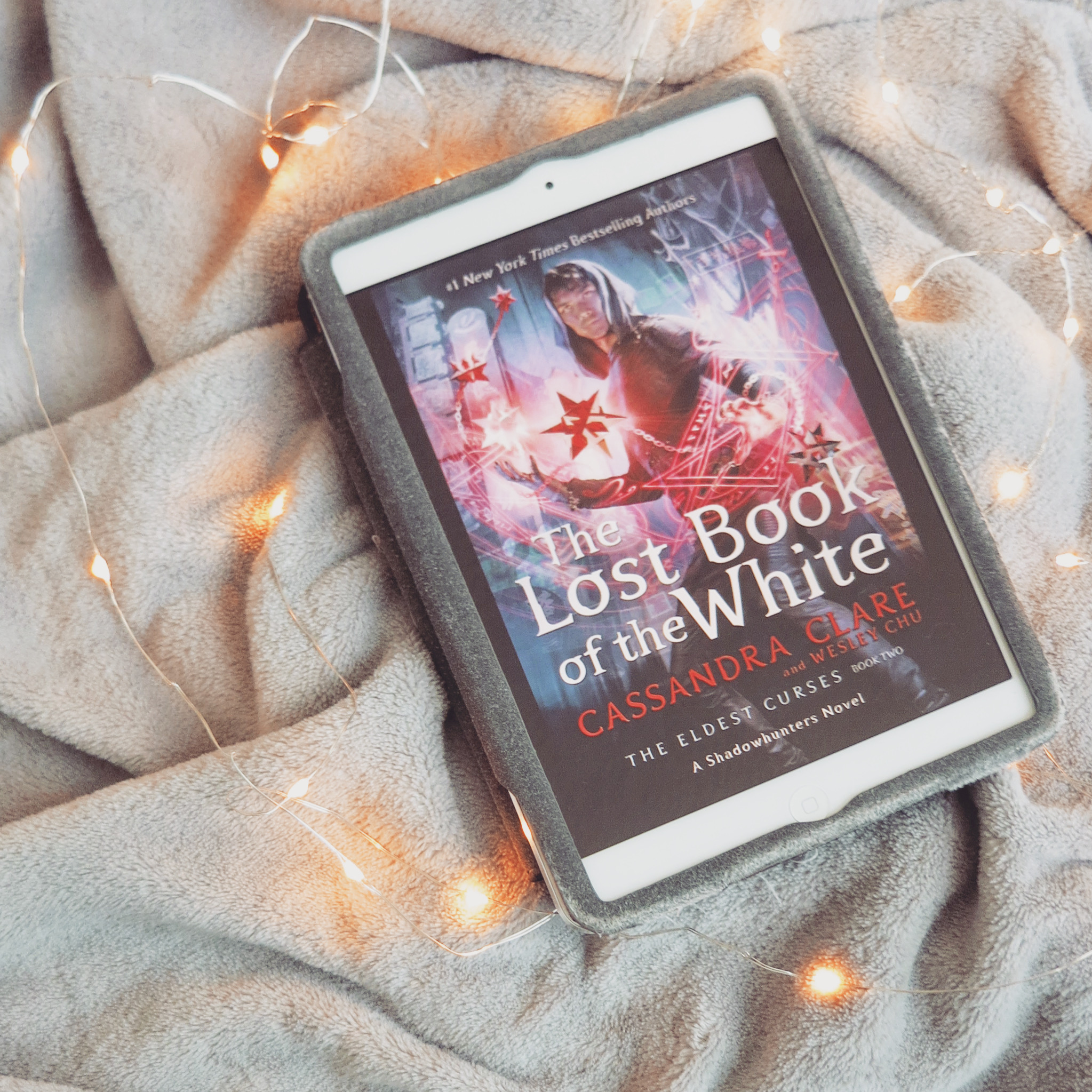 Goodreads | B&N | Book Depository | IndieBound | Bookshop
"You're my heart, Magnus Bane. Stay unbroken, for me."
My love for the characters and world of the Shadowhunters has manifested a long, long time ago and yet I feel like every time I read about them, they carve out an even bigger space for themselves in my heart.
The Lost Book of the White follows Magnus and Alec as they travel to Shanghai to get back the very powerful Book of the White that was stolen from their home. And on their journey they get support from the rest of the main The Mortal Instruments cast, Jace, Clary, Simon and Isabelle.
That said, there is spoilers in this book (and review) for basically almost all of the other Shadowhunter series and books and you should definitely be caught up with them before you go into this!
I loved being back with the original The Mortal Instruments squad so, so much. While they obviously show up throughout the newer books too and we always know what they're up to, seeing all six of them together on an adventure truly made me feel so blessed.
"Jace rarely spoke of his feelings, but he didn't need to: Alec could read them on his face. Jace had chosen Clary to love, just as Alec had chosen Magnus, and he would love her forever and with his whole heart."
I also adored that we got to see a little bit of Magnus and Alec being domestic and the ever-worried dads, even when they are stuck in some hell dimension (as you are). Magnus and Alec having such an intense, beautiful, unconditional love for each other and their son made my queer little heart feel so very soft and warm. And I am especially happy about seeing that kind of representation in a YA book!
Other than Magnus and Alec, Simon in particular had a really interesting character arc in this story. Obviously Simon had an entire short story collection dedicated to him and his journey of becoming a Shadowhunter but this story takes place just a little bit after and we see how much the events that happened at the Shadowhunter Academy really shaped him. He is still very much dealing with processing what happened and understanding what it really means to be a Shadowhunter.
"Someone, long ago, had told Magnus that human beings could never love the way immortals loved; their souls didn't have the strength for it. That person had never met Alec Lightwood, nor anyone like him, Magnus thought, and their lives must have been the poorer for it."
I feel like this book in particular was such a testament to the skill of Cassandra Clare writing the most memorable characters, even if it is side or even minor characters. There were a lot of characters in here that might not get a lot of "screen time" but that we see over and over in the different series and throughout different times and I just love them all dearly and am invested in what they are up to every time.
And I just genuinely think that this is one of those things that Cassandra Clare very much excels at and that makes reading these series particularly fun and at times heartbreaking. Which, to be fair, Cassandra Clare definitely very much excels at too. Lord knows she has broken my heart several times in the past seven years that I have been reading her books and you know what – I thank her for it.
That said, I didn't find myself all too invested in the storyline itself. I feel like there is an infinite amount of interesting things to explore in this world and this was definitely one of them but I just felt like the plot didn't enthrall me much.
"Alec drew the strokes of the rune with attentive care, and Magnus felt the same wonder as he had years ago, the same calming of fear. On the eve of battle, amid the darkened spin of a strange infernal city: it made no difference where they were. They would fight and live and die together."
But despite what people might think and say, I think that Clare constantly brings new and refreshing ideas and character arcs to the table. She established this world and these characters and I am glad she is still playing around with them, even the ones that are already well-known and loved because that is the aspect of this book that I appreciated the most.
Seeing Simon's journey, who has been through so much, dealing with the repercussions to his mental health, or seeing Alec and Magnus together as fathers, are additions to this series that I deeply appreciate.
Overall, even though I gave this a 3-star rating, I have a lot of love in my heart for this book because I adore these characters and I always love following them on their adventures.
If you liked the first book, if you like this world, and/or if you miss the The Mortal Instruments cast, this comes with a huge recommendation from me for sure.
And the bonus short story (which was in the audiobook but sadly not in the library ebook copy I had) was absolutely beautiful too and showed me that I will never grow tired of just reading about these character's well deserved happiness too.
Goodreads | Instagram | Booktube Channel | Twitter
✨ Lea posts a review on Meltotheany every Friday! Read more of her reviews HERE! ✨