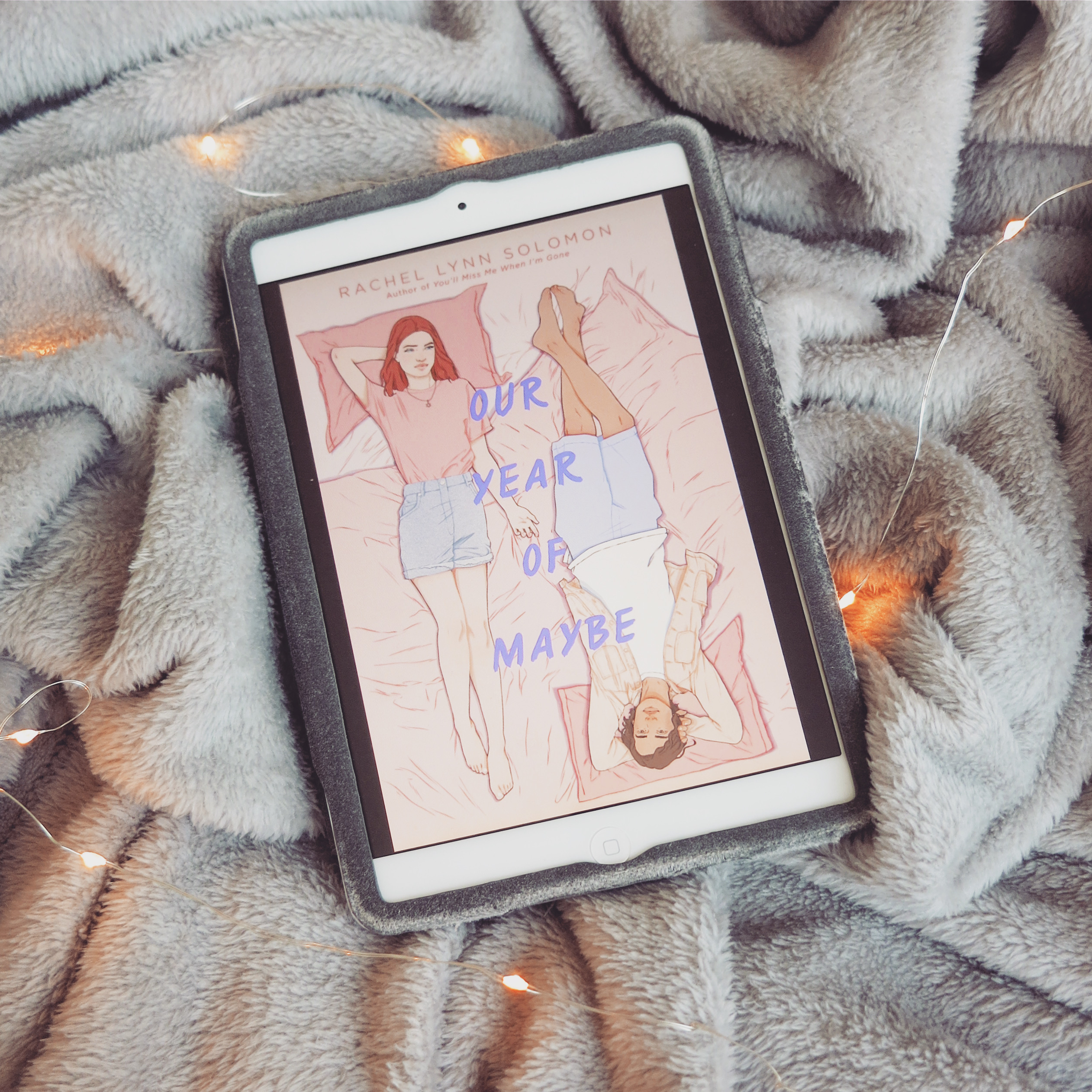 Goodreads | B&N | Book Depository | IndieBound | Bookshop
"He has a part of me, and I'm the one with a gaping hole that can't be fixed."
Our Year of Maybe is an incredibly well done book about unrequited love and friendship break-ups, a topic that I think way too little YA books focus on.
This book has many layers to it. One of the core events of it is Sophie donating her kidney to her best friend Peter, who she is also in love with. They grew up together and are basically each other's only friends, but we realize throughout the book that their friendship is not perfect and both of them struggle with what they give and want out of it.
Sophie is dyslexic and Jewish. Peter's dad is Jewish and Peter is trying to connect more with Judaism. He is also bisexual and chronically ill.
"Our lives have revolved around Peter always. He is the earth, and I am the moon. There was never enough I could do to get him to love me the way I wanted, to see me as more than just a moon. I have never been enough, and he has always been too much."
I was first and foremost interested in this book because I really enjoy books that focus on music and so having a main character who plays piano and another who is a dancer was an incredibly intriguing concept to me.
But as I was getting into this book, I absolutely stayed for the friendship dynamic. While I wouldn't necessarily say the music aspect fell flat, it completely took a backseat with all of the other stuff going on in this novel.
"And that's the horrible truth of it all, isn't it? Peter could slash me open and steal my other kidney, and I would let him. If it would keep him alive, I'd dig it out for him myself."
The feelings both of these characters have for each other are messy and I loved every second of reading about them trying to figure things out. What really works about this book is that both fuck up and both say mean things to each other. But it doesn't feel wrong but more like everything they say and do is inevitable and rather like something that needed to be said for a long time, even if it might hurt.
Especially Sophie's thoughts were always brutally honest and it was so interesting to see her grapple with the hopes she had of the kidney donation bringing her closer to Peter.
Sophie's unrequited love was unbelievably well written and it really made me question if I have ever read it as such a main theme in a book. While I love romances in books, my own teenage experience came far closer to what Sophie was experiencing and I know that this is a book that I absolutely would've needed.
I definitely wish that this was something that would become much more common in YA.
"I love you," I whisper to him before we're taken into the operating room. "Me too," he whispers back, and my last thought before I surrender to the anesthesia is: You have no idea how much."
But this book is not only about how the relationship between them changes but also them reflecting on their friendship in general, and recognizing that it hasn't been very healthy for a long time.
They realize how they depended on only each other for so long, that they never looked outside to see if there are other people they wanna be close with. Both Sophie and Peter come out of their shell with other friend groups and it is great to see them develop and really understand themselves for the first time.
There was also a very cute m/m romance in Peter's storyline. While the relationship between Sophie and Peter is definitely the main focus of this book, the romance between Peter and his other love interest was super well developed and very lovely to read about.
And for anyone that is now wondering – no, this book has no cheating! There is definitely some slightly questionable behaviour but for me personally everything got talked about and resolved in such a way, that it made sense for the story line.
"That's why uncertainty is so safe: I can wrap myself in this potentially unrequited love and never risk getting shut down."
I feel like YA is more and more featuring sex scenes that are not fade-to-black and still manage to be absolutely YA appropriate and I think that this book knocked it out of the park with that.
It had a male/female and a male/male sex scene and in both consent was a really important factor and especially in the male/female sex scene there was a focus on asking your partner what they enjoy.
It also talked about the female main character owning a vibrator and masturbating AND the male main character masturbating and how this had previously been affected by him being chronically ill. I was truly impressed by these aspects being included as I find it really important to normalize these things.
"It's easy to fall in love with someone who's a master of their craft. Peter at the piano has an intensity I've always admired. An electricity, like if I touched him in the middle of a Rufus Wainwright song, he'd burn my hand."
We also have Sophie's sister, who is a teen mum and not only did I enjoy her as a character a lot, it was also great to see her relationship with Sophie and how they grew much closer and understood that they both individually have completely different struggles to deal with that are each valid in their own right.
In general both Sophie and Peter had super interesting family dynamics as well and the parents were very present in both of their point of views.
"He didn't owe me his love, and I didn't deserve it because of the sacrifices I made. That's not a friendship. Peter and I were unbalanced for a long time."
Overall, I am so very happy that this book exists and I definitely would want more recommendations for these kinds of stories.
This book portrays a super messy and unbalanced relationship but the issue is talked about and resolved in a way that does not make it questionable or problematic but simply an important addition to all the Contemporary Happily Ever Afters out there.
I definitely highly recommend this for anyone that loves strong relationship, friendship and family dynamics!
Goodreads | Instagram | Booktube Channel | Twitter
✨ Lea posts a review on Meltotheany every Friday! Read more of her reviews HERE! ✨