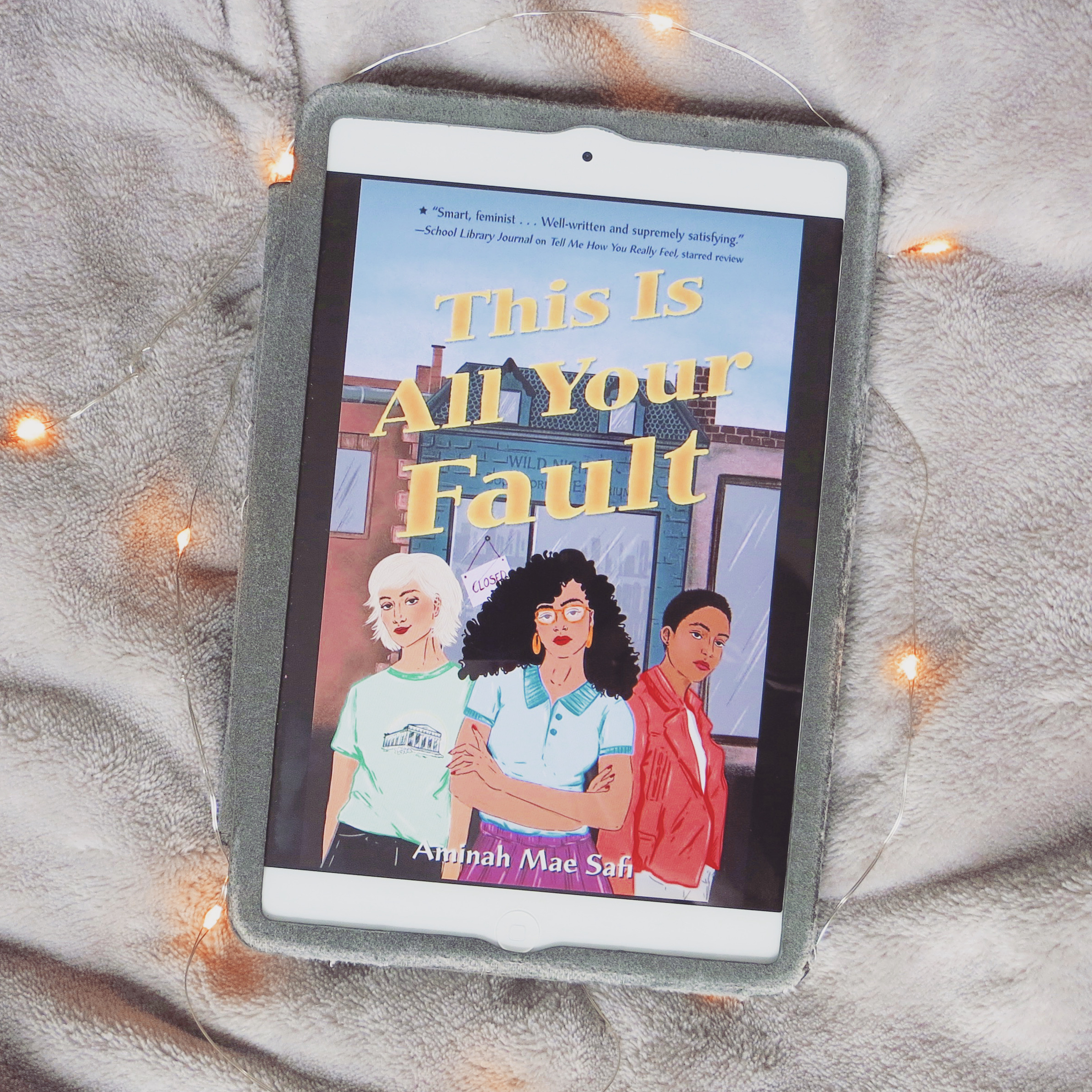 Goodreads | B&N | Book Depository | IndieBound | Bookshop
ARC provided by the publisher via Edelweiss
"She felt new, fresh. She felt cleansed. From all the loathing that had been welling up inside of her. From the slow creep into the darkness. Wild Nights had saved her. Again."
This Is All Your Fault is a YA Contemporary with a really refreshing storyline, unpacking a whole bunch of different themes and topics.
At the centre of this story is the indie bookstore, Wild Nights, and all the characters trying to save the store from being closed. The story starts with a bit of a wild attempt by one of the employees, Eli, to invest a whole bunch of money by buying and re-selling Jordans.. but things just get worse from there.
The story is told from three point of views. We have Daniella, who is very much the employee with the most responsibility in the bookstore and can come across quite bossy. She writes poetry and publishes it on a anonymous Instagram account.
Then there is Imogen, who starts this story out by shaving her head and is clearly going through some stuff. She has a Middle-Eastern heritage and is queer and while she is not diagnosed within this story, probably has depression.
Finally we have Rinn, who has a super bubbly and happy exterior and makes bookish content online. She is biracial (Mexican-American and German) and has anxiety.
"We pay attention to tons of things we don't realize at the time. But they become the voices in our head anyway."
When I realized that this story was actually going to take place over the course of one day and only in this book store, I definitely felt a little bit apprehensive. I thought that it would probably make it hard to get attached to the characters and to really feel invested in their storylines.
But ultimately, while reading this story, I realized that the way it is written works really well for it. You are just invested enough in the individual characters and their issues but the aspect that keeps you captivated is all these storylines coming together to tell the story of this closing bookstore.
And I absolutely loved the setting of the bookstore. I think that the author did an amazing job at truly making this bookstore come to life. It was almost like it was its own character and I loved the fact that we had all of these very different characters who came together to tell its story.
After reading this novel I really wish that this was an actual read bookstore that I could visit.
"And when Rinn had an idea, nothing could stop her, come hell or high water—that much had always been apparent about Rinn Olivera."
One of my favourite aspects of the story is Rinn and the fact that she has a pretty huge social media platform talking about books. I feel like we have gotten so many YA stories about characters who love books and/or who are writers but I cannot remember ever reading about someone who is a "bookish influencer". It was genuinely SO MUCH FUN to read about Rinn and her creative process for making content.
But this also highlighted some of the darker aspects of the bookish and author community in general. There is a storyline with a popular male author who sexually harasses one of the girls in the bookstore and we find out about him having shown behaviour like that for many years.
This is of course in general an incredibly timely topic in our society but especially something that keeps coming up in the bookish sphere and I really loved that Aminah Mae Safi made this a theme in the novel because it is a very realistic, sadly all too common thing that might get talked about a lot in certain social media circles, but other than that is often an aspect that gets ignored.
"The vulnerable risk everything. The powerful can just point at everything that they have amassed, as though that's an argument against potential injustice and misbehavior."
There is also all the mental health issues that the characters deal with. Apart from the storyline of the closing bookstore, this is truly the main theme of this story for me. I personally really liked the portrayal of these issues because they showed how different things can manifest in people and how different situations can trigger people.
There were some situations where the characters messed up and didn't treat people well because of their bad mental health, which should obviously never be an excused, but it all gets unpacked and talked about and I very much enjoyed that.
In general while I truly didn't feel very attached to these character because of the nature of this story and the short time span, I just genuinely adored the way these characters were portrayed as flawed but willing to learn and grow. Some of these characters are truly unlikeable but it doesn't make them any less enjoyable to read about.
"It was understanding what sadness was—sometimes more than a feeling—and that it was a thing she could almost taste, could almost touch at times, it was so real."
I will say that I wasn't the biggest fan of the relationships between the characters and how they developed. This was genuinely the weakest aspect of this story for me and I think that this is definitely an aspect that suffers if you write a story that just takes place over the course of one day.
Especially when you think about the fact that these characters have known each other and worked together for a while, a lot of the development that happened in this story just seemed like a very quick change of heart. It definitely makes sense that a huge event like a bookstore closing would bring people closer together but it still seemed quite a lot for just one day. I think that you have to suspend your disbelief a little bit with the relationships in this book.
"Off camera, three girls were burying their secrets. Maybe one day they'd dig them up. Maybe they wouldn't. But the city would guard their memories, regardless. Waiting, until they were ready."
Overall, I had a really good time reading this story. I don't think it is anything that will stay with me for a long time but there is also nothing that I actively disliked about it.
I definitely recommend it if you want to read a novel that is set in a bookstore.
Trigger and Content Warnings for sexual harassment, depression, anxiety, panic attacks, smoking (vape).
Goodreads | Instagram | Booktube Channel | Twitter
✨ Lea posts a review on Meltotheany every Friday! Read more of her reviews HERE! ✨