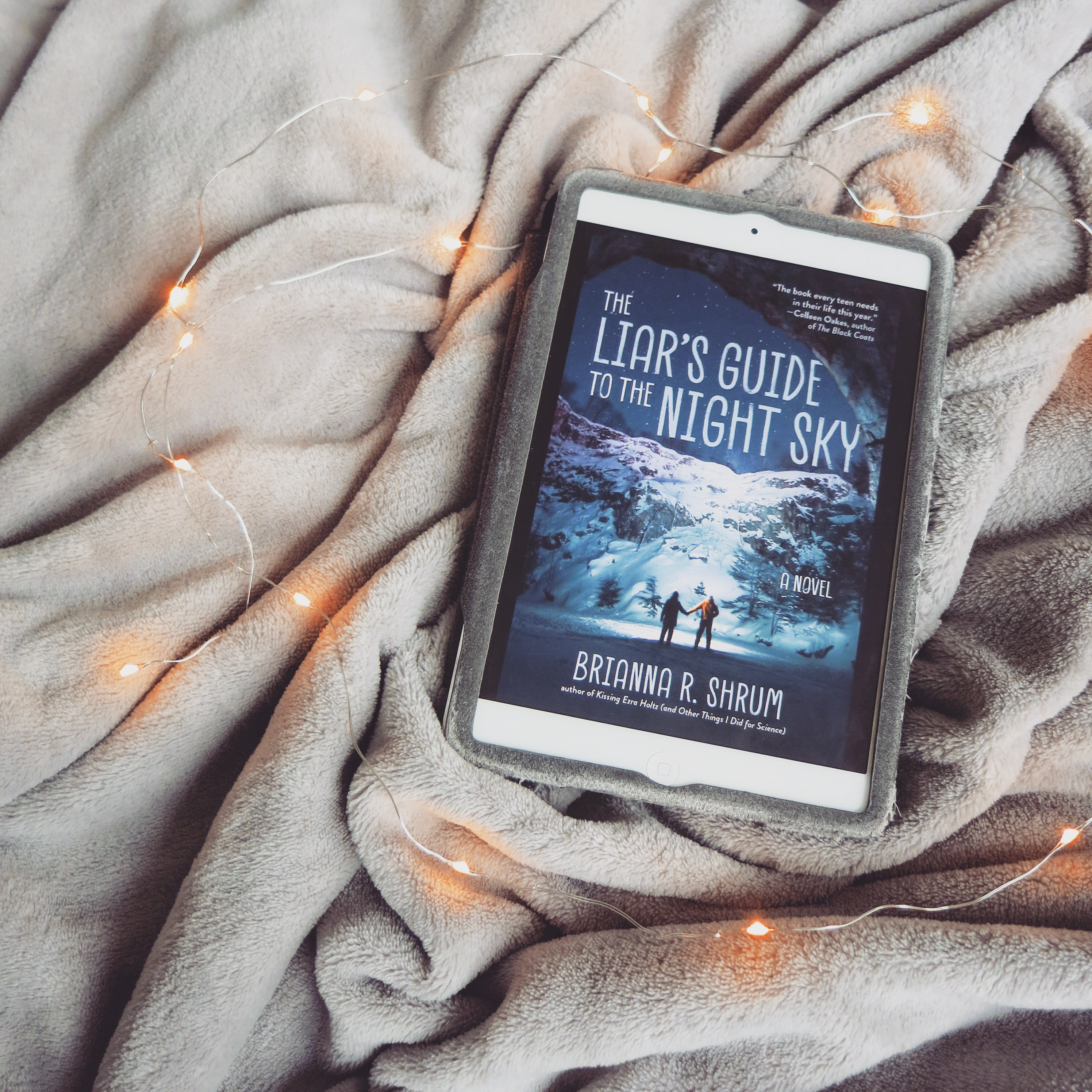 Goodreads | B&N | Book Depository | IndieBound | Bookshop
ARC provided by the publisher via Edelweiss
Publication: Nov 3rd, 2020 by Sky Pony Press
"It's freezing and dark because this is how it is with us; this is how we connected, so it's fitting that this is where we wind up, kissing each other like we are both hungry."
The Liar's Guide to the Night Sky is YA Survival Story that had some very promising aspects to it but ultimately ended up not delivering when it came to unpacking them.
The story starts with a group of teens, most of them cousins, who all got together because of a sickness in the family, sneaking out to an abandoned ski slope, when they get hit with a sudden mudslide and are stranded on this mountain with nobody knowing where they are.
Our main character Hallie decides that she doesn't wanna sit around and wait for help but to go and search for it herself. Jonah, her cousin Jaxon's best friend, joins her and we follow them on their survival journey but also them getting to know each other better.
I have read two other books by Brianna Shrum that I really loved, so I was very excited to pick this novel up, even if it was slightly out of my comfort zone, as I do not usually reach for (Contemporary) Survival stories. But I was excited by the diversity aspects in this story and my love for the author's earlier books, so I wanted to give it a chance.
Sadly, I did not end up being very satisfied with this novel and the elements in it. I think that there are a lot of intriguing aspects to it but ultimately the things that I would've wanted to read more about were either not talked about enough or just didn't get the on-page time they deserved.
"We touch each other, under the black sky and a million stars that shine a million miles away, stars that make up the backdrop of this crucial twenty-four hours, this life-altering turn of a night, and that do not give a single shit about us. We are not imprinted in the memory of the stars. Anyway, it's the vastness of the black that's imprinted in mine."
One of the very promising aspects of this story are the complex family dynamics that are portrayed. Hallie lived away from the rest of her big family for a long time and feels out of place in between them, even when she wants to be part of this cousin group so very badly.
She struggles with not getting inside jokes and just feeling like she doesn't know everyone as well as they all know each other. On top of that, whenever there were family gatherings in the past, it seemed like her parents wanted to mostly keep her away from the rest of the family and making her feel like they would have a bad influence on her.
One aspect that plays into this is racism, which absolutely did not get unpacked enough in regards to Hallie's parents. We find out about a conversation between Hallie's dad and his brother, that Hallie overheard when she was younger, where they are having a fight and Hallie's uncle asks if this is about him being married to a Black woman. And in that moment Hallie even thinks to herself that her uncle is probably right.
But that is the most that this ever really gets talked about. I know that it can be hard to challenge your parents about their racism, especially when it has to do with family relationships and it being something that you think might be out of your lane.
But apart from the fact that Hallie is acknowledging this and being upset by it, this is never really brought up again, even by anybody else. And it is not like Hallie is the picture-perfect daughter in this novel who never says anything against her parents.. the fact that the racism is never brought up by her, was really disappointing.
It seemed like the author was making a point later on in the novel about how the main character in general didn't seem to be super well informed about (anti-Black) racism, when she has a conversation about the racism in Denver and other "liberal-leaning" cities with Jaxon, who is Afro-Latinx and studies Political science.
And while that obviously would be a very valid point to make, especially considering Hallie's parents, there was not enough substance to this conversation and, again, the topic is never really brought up again when it comes to her parents and the fact that they have basically completely separated themselves from the rest of the family due to racism.
Plus, the conversation ends with Hallie making heart eyes at Jason because he is so passionate about fighting racism… instead of her actually processing what he said. And the topic gets brought up again later, when Jaxon tells Hallie about his dad having been in jail for 10 years for smoking weed and how that is a systematic issue that many Black men have to face. All Hallie has to say about this is that it "fucking sucks".
I am going to talk about the Black character doing all the explaining to the white character later in the review but the thing is that there is just such a wasted opportunity here. The least Hallie could've done is to really listen and learn and to later on confront her parents about their racism and how it kept her from being close to her family. It honestly feels like Hallie doesn't take anything away from this conversation whatsoever.
"When he pulls me toward him with the smallest pressure in the tips of his fingers and kisses me. It is so slow that it fucking hurts. I think that maybe I've never kissed anyone in my life."
Now while I don't think that the racism was handled very well, I think that a lot of the representation was done much better. There is Hallie being Jewish (which is ownvoices) and I liked that this novel used lots of Jewish terms and talked about traditions, while also acknowledging that there is a lot of layers to being Jewish and practising (or not practising) Judaism.
Jonah and Hallie also have a really great conversation about romantic and sexual attraction. Hallie identifies as bisexual and Jonah identifies as pansexual and aromantic and the aromantic and bisexual representation is an ownvoices aspect. Now while I cannot speak for any of these identities, I liked that the author took the time for the characters to really have a conversation about this. This is one of the few novels that actually explains what pansexual means, while also acknowledging that sexuality is a spectrum, which made me really happy to read about.
Jonah also talks about being aromantic and what that means for him. There was definitely an emphasis put on the fact that it does not mean that he is broken or incapable of love, which is so very important to point out. Jonah also mentions that he is not monogamous and explains it to Hallie too because she basically immediately assumes what he means is cheating, when he is talking about consensual polygamy.
Now I am grateful for these barely represented identities to be so well-explained in a novel but especially as I was writing this review, I realized how much explaining there was within this novel and that most of it came from Jonah. He keeps educating Hallie about all of these different things and the author even makes a point for Hallie to point out that she would do research herself, if she had internet, but it is a really cheap excuse for the one, main person of colour in this story to do all of the explaining.
"I am absolutely suffocated by the fact that I seem to have changed utterly while my parents simply have not. Nothing else has. Nothing but me."
Apart from all of those glaring issues with this book, I also just didn't enjoy the Survival part of this story much. I will say that that very well might be a me-problem because I obviously didn't really go into this novel because of that aspect but because I was interested in the author's work in general and the character dynamics. But I just ended up being bored by the Survival aspect because, while the stakes were supposed to feel high, they never really did.
I also couldn't handle the stupidity of the main character and her companion leaving the group in the first place. Throughout this story I kept thinking about there being a good chance that this group had already been found while these two people are still wandering around, with absolutely no indication of where they could be for any help on the way.
The really interesting aspect of this story could've been the aftermath of this traumatic event. The last part of this book was so fucking good because it dealt with the main character trying to live a normal life after her time hiking through these mountains, fearing for her life.
But sadly that was truly only on the last couple of pages. The main character very clearly suffers from PTSD and depression and it is so interesting to read her inner monologue and her not understanding how everybody else can just move on with their lives when she just has been through such a life-altering event. I absolutely wish that this aspect would've taken up so much more time of this novel.
Especially as this is also where the relationship between Hallie and Jonah truly becomes fascinating because they have been through this together and understand each other better than anybody else. This is where we could've really discovered the bond between them and if and how their relationships develops.
"I care that, for this second, all there is is me and Jonah and a hundred trees that have no opinion, a solid dark that surrounds us, that lets us both just exist in a way that is shockingly alive. Shockingly … connected."
I will say that I liked the nature of their relationship a lot and it is something that we really do not get to see in Young Adult. They had a strong bond, were physically affectionate and had sex but this is not a Romance. I think it is so important to show that two people can have a genuine connection with each other and have a physical relationship too, without them having romantic interest in each other or falling in love.
Lastly I do want to say that Hallie is 17 and in high school and Jonah is almost 20 and in college. I feel like I have become very aware of age in YA relationships and do find it important to point it out, even though I struggle to talk about it, especially as someone who did not grow up or has ever lived in the US.
But I know that for a lot of people, while this age gap isn't big, it makes a huge difference that one is in college and one is in high school. There is even a conversation in the beginning where Jaxon says to Jonah "stay away from the high schooler" and while I understand that this was more like some kind of protective older sibling joke, it immediately left a bad taste in my mouth about their relationship.
Overall, I finished this novel feeling disappointed and that is very much the lingering feeling after writing my review too. I feel like this had a lot of potential and I do believe that the author had good intentions but ultimately, this sadly missed a mark.. or many.
Trigger and Content Warnings for underage cannabis use and drinking, blood, injury, loved one with a terminal illness, PTSD, depression.
Goodreads | Instagram | Booktube Channel | Twitter
✨ Lea posts a review on Meltotheany every Friday! Read more of her reviews HERE! ✨