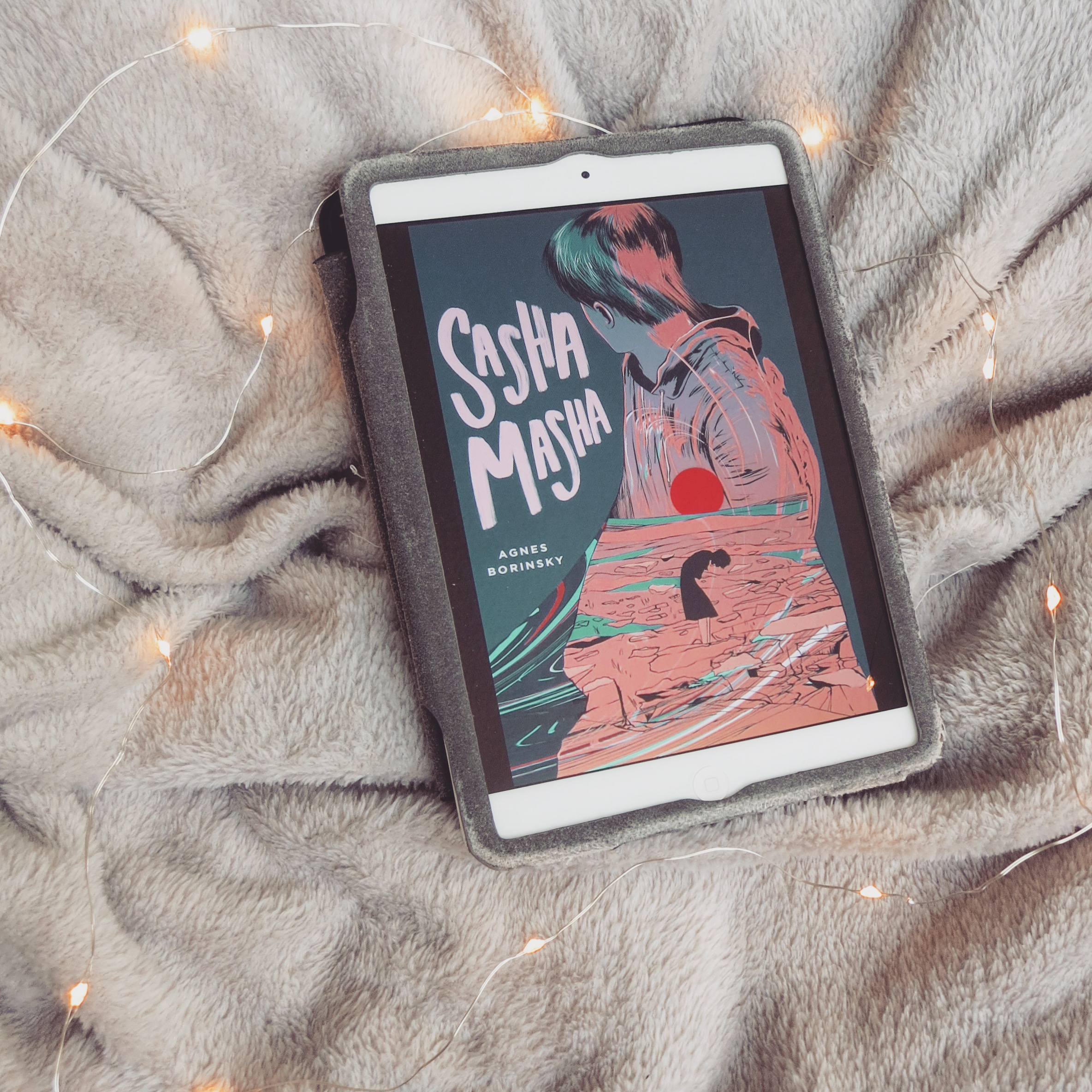 Goodreads | B&N | Book Depository | IndieBound | Bookshop
ARC provided by the publisher via Edelweiss
Publication: Nov 10th 2020 by Farrar, Straus and Giroux
"It really did seem like some monstrous force was suddenly rampaging through my life. I didn't understand it, but I knew the name: Sasha Masha."
Sasha Masha is a really moving ownvoices novel about exploring gender identity and understanding who you are.
Before I go into this, I just wanna say that I will be using he/him pronouns in this review, as that is what is used throughout the entire novel and because pronouns do not necessarily equal gender, I want to respect that.
I will not be using Sasha Masha's deadname though, even though it is frequently used, as he mentions several times throughout the novel that Sasha Masha is the name he wants to be referred to as.
There isn't much to say in regards to the plot of this novel but it is astounding how much was packed into this short novel. Really, in a lot of aspects it just reads like your good old coming-of-age novel, except it has the added element of Sasha Masha being trans and we follow Sasha Masha as he is figuring this out during all the other teenage experience shenanigans.
"But something was wrong. There was a high wall inside of me, and it made me angry, it made me stuck; there was a self on the other side—was this, now, the thing I'd failed to see? That in my heart of hearts I wasn't a boy after all?"
I loved Sasha Masha's journey and I thought that it was very powerful and moving. There is a lot of questioning and confusion going on in Sasha Masha's inner monologue but it is so beautiful to follow him on the path to understanding his own gender identity and accepting who he is.
I especially loved the way the author approached Sasha Masha realizing he is trans, where he kinda has this persona of Sasha Masha and knows that that is who he wants to be and then slowly grows into it, but also learns that that person has been him all along, he just had to make sure to really embrace that part.
"I could only think of that picture, and I started to wonder whether I really just missed myself. You miss yourself? How could you miss yourself? You're right here."
There are definitely people in Sasha Masha's life that struggle with him accepting his own identity but for the most part, he has a really wonderful support system in both old and new friends.
Especially seeing the queer support system that build up around him throughout this novel was an incredibly heart-warming aspect. These people not only accept him exactly as he is but they also support his journey, both with trying to help him figure his identity out but also just being patient with him and never pushing anything.
This novel also had several side-characters of colour and I very much enjoyed that there was a brief discussion about how a lot of queer riots were led by people of colour. This also introduced some discussions between a younger and older generation of queer people, which is something we so rarely get to see.
"We were like two pieces of rope that had been frequently knotted; even when we were separate, our bodies held the shape of the knot we made together."
Mabel, Sasha Masha's best friend who ended up moving away, especially stands out as a side-character. Even though they can only communicate via text and calls now, Mabel is still there for all of Sasha Masha's journey and being accepting of him at all times.
I loved seeing moments from their friendship in the past and seeing Mabel always being an unapologetically queer presence in Sasha Masha's life too. Their friendship is just incredibly well written and Mabel as a character within the book alone adds so much comfort.
"All of a sudden I felt far away from my parents. This road might take me places they would never go."
I also found the relationship between Sasha Masha and his parents a very interesting aspect and I definitely wish we had gotten to see more of it because it was quite a complex relationship. They definitely care and worry a lot about Sasha Masha, especially as they're starting to realize that something is going on and his behaviour changes, but they're never actually there for their child to figure out the root of what is going on.
Throughout the story you are definitely wondering if Sasha Masha's parents will accept him being trans. Long before he has come to the realization that he is trans, he is already wondering what his parents will think of the self-discovery journey that he is on.
I definitely liked this portrayal of Sasha Masha's relationship with his parents and thought it added an important aspect to the story.
"The world was Real. This couch was Real, Murphy was Real, the light and the bookshelves and the creatures and the sounds of the city moving around me—they were all Real. Like it or not, the world is Real, and whoever we are, we are part of the world."
I definitely think that overall a lot of the aspects in this novel were kept quite brief but that is very much due to this being a very short novel too. I would've loved to see a lot of the things talked about within this story to be discussed even more.
But ultimately, this showed us a glimpse of Sasha Masha's life and his journey to not only understanding his own identity but also to get more comfortable within queer spaces and understanding and connecting with other queer people. And I feel grateful to have gotten such a glimpse and I know that his story will stay with me for a while.
Finishing this novel just gave me a really hopeful and positive feeling. And I know that there is lots more good things to come for Sasha Masha and people with similar journeys. After reading this story there is just such a wonderful, reassuring feeling, knowing they will find their path and people who unconditionally love and accept them.
Goodreads | Instagram | Booktube Channel | Twitter
✨ Lea posts a review on Meltotheany every Friday! Read more of her reviews HERE! ✨