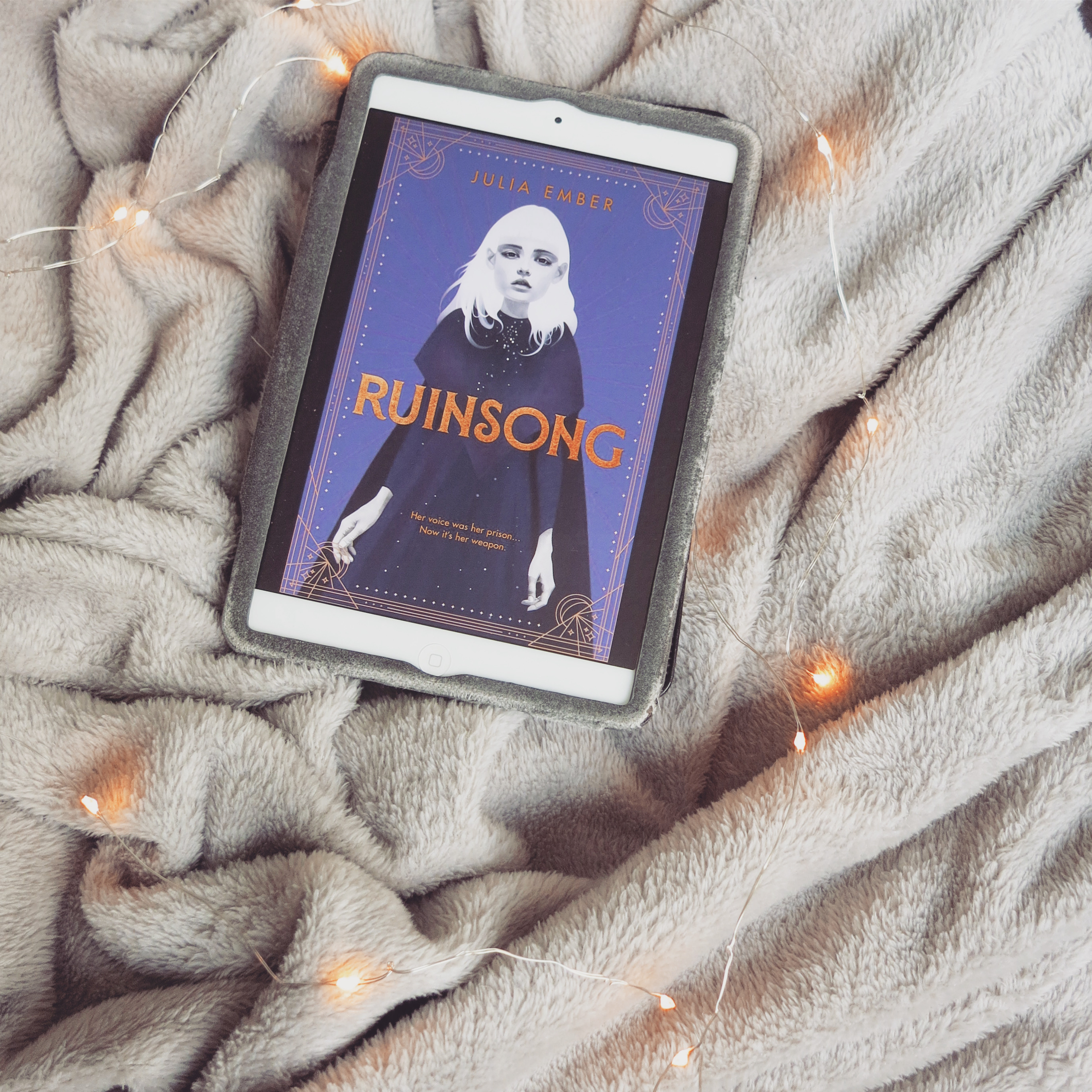 Goodreads | B&N | Book Depository | IndieBound | Bookshop
ARC provided by the publisher via Edelweiss
"These mages put too much stock in their songs. They never notice how much you can say in silence. "
Ruinsong is a novel that really draws you in with its intriguing magic system and having a really refreshing take on some familiar YA Fantasy themes.
Ruinsong is set in a world with mages whose most powerful tool is their voice. Singing is their way of casting spells. One of our main characters, Cadence, is such a mage. She is employed by the queen to torture the noble people and make them compliant.
The other POV we follow is Remi, a noblewoman and old childhood friend of Cadence's. She is one of the few nobles who really sees through the queen's scheme and starts rebelling against the sytsem.
When Remi suddenly becomes the queen's prisoner because her family is suspected to be involved in the rebellion, her and Cadence get reunited and Cadence starts questioning her upbringing and loyalty to the queen.
"Others around us begin to chant their thanks as well. Praise be to our most gracious, merciful queen, who has healed us, who has reminded us once again of our place, who keeps our country safe. How can they thank her? The queen is a monster, with a menagerie of torturers at her beck and call."
I absolutely loved the magic system and it was for sure the stand-out element of this novel for me. Just the idea itself, of the magic being cast by singing, is something that I found so very intriguing. I loved reading Cadence's chapters and seeing how the magic works and how you are attuned to certain things as a corporeal singer. It really seemed like the author put a lot of thought into the magic system, as it was describe very detailed.
I did feel like we didn't learn too much about the world itself but it was easy enough to understand. And because the magic system was so intricate, it didn't really bother me that we didn't find out too much about the world building in general.
What we do find out about the world was that it had been a queendom for hundreds of years. It was also very interesting to read about the differences between the nobles, the commoners and mages. The nobels represent a more conservative society, who resist change, especially when it comes to views of gender and sexuality and they still engage in arranged marriages for political reasons.
Their views are seen as outdated, especially compared to the mages, who freely get to love and marry whoever they want to and the commoners are starting to adapt that same thinking too.
"If I had been born a mage, I would be free to flirt with pretty girls, and no one would judge me for it. I've imagined myself sometimes: strolling through the market with a mage's badge pinned to my collar, winking at the shopgirls or seducing a fire-haired tavern wench over a mug of ale."
One of my favourite elements of this story is Cadence starting to understand that she grew up in a very controlled environment and that her magical education was always very selective. I love elements like that in a story, where a characters eyes get opened to an aspect of their own magic that had been hidden from them before and I thought that this aspect was very well executed in this story.
In general I absolutely loved reading from Cadence's point of view and finding out her story. Even with being loyal to the queen, she questions her ways and doesn't want to be a singer that tortures the people. She sees herself in a position where her magic is still the best option for the folk because her healing powers are so strong too.
I thought that Cadence was a very nuanced, complex and interesting character to read about.
"Madam Guillard didn't once mention that there were spells I could learn, even when I ran to her sobbing after Ren had hexed me. She always told me it was impossible to block. Has my tutor, my mentor, left me vulnerable by choice?"
There is a romantic storyline between Remi and Cadence and it is basically a childhood friends to enemies to lovers romance. I will say that their relationship didn't really stand out to me much. Maybe it was because they already knew each other as children and so I felt like I missed out on their development and didn't feel attached to their friendship or romantic relationship.
Their chemistry was very well written though.
Apart from the queer representation, Remi is described as chubby. There is one fatshaming incident in the book but it is challenged and Remi states that she generally does not mind being called fat, as long as it is said as a fact and not an insult.
"I wonder what it would be like to undo them one by one, to trace my fingers down the hollow of her spine, to follow the touch with my lips. What would her skin taste like? Would her back, so supple and firm, quiver when I kissed it? Would she arch up into my touch?"
Overall, I enjoyed reading Ruinsong a lot, even though I wasn't super invested in all the elements of the story and found the ending to be anti-climatic.
But this novel's magic system was one of the most intricate and intriguing ones that I have read about in a while and I would absolutely recommend it.
Trigger and Content Warnings for mentions of cancer, animal death (the death itself is not on page but the scene of the main character discovering the animal is very graphic), blood, torture, vomiting.
Goodreads | Instagram | Booktube Channel | Twitter
✨ Lea posts a review on Meltotheany every Friday! Read more of her reviews HERE! ✨