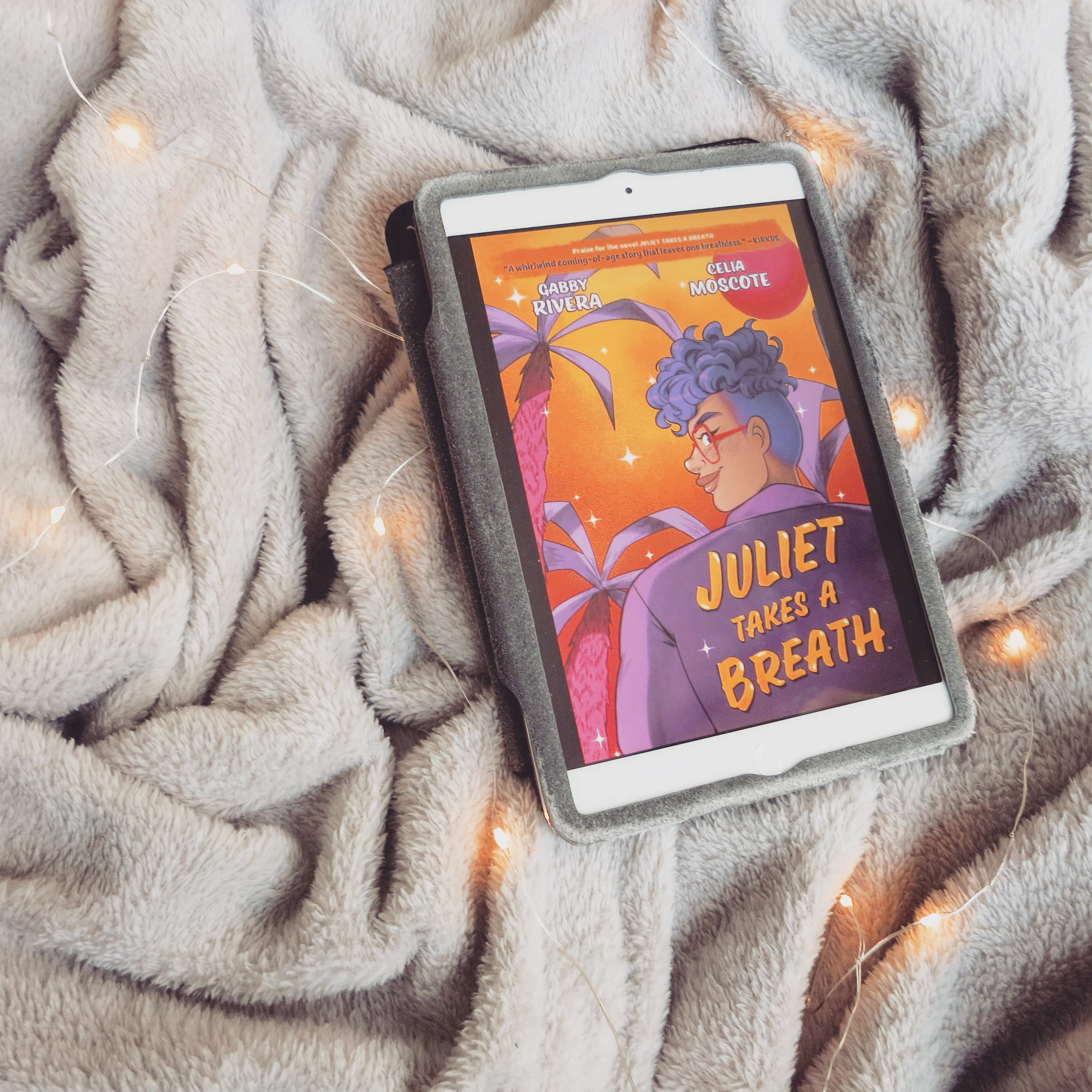 Goodreads | B&N | Book Depository | IndieBound | Bookshop
ARC provided by the publisher via Netgalley
"Reading will make you brilliant but writing will make you infinite."
Juliet Takes a Breath is a graphic novel adaptation of the novel with the same title and unpacks so many different themes, from white feminism and intersectionality to finding your place in queer spaces, heartbreak and coming out.
At the center of this story is Juliet, who moves from the Bronx to Portland, Oregon, to start an internship with a feminist author called Harlowe Brisbane. During this internship she gets introduced to a super diverse group of queer people and finds a queer space to belong for the first time.
As time goes on, Juliet becomes more comfortable within queer spaces but also learns that Harlowe Brisbane is not everything that she had hoped she would be and represent for her.
"They didn't even know me and it was like they loved me. I almost couldn't accept it. Like the ache of Lainie had me numb way deep in my spirit too."
There is truly so much to say about Juliet Takes a Breath because it unpacked so many different themes but I thought it was all done incredibly well. I haven't read the original novel but this graphic novel had me so hooked and so in love, that it made me want to read it, even though I now obviously know the basic storyline.
But it just made me so intriguied to see how the novel unpacks all of these issues because if the graphic novel already did it so well in such a small amount of pages, then surely the novel will be doing an ever greater job at it!
I also just adored all the characters in this novel so much and I would want to read more about them. This novel features an incredibly diverse cast of characters! Most of them are queer and/or genderqueer, we have Black characters, Latinx characters and a biracial (White & Korean) love interest.
Juliet herself is Puerto Rican, fat and a lesbian. She also has asthma and is shown using her inhaler on page.
"And you get to decide what you believe and how you worship yourself."
Even though Juliet has known for a long time that she is gay and feels quite comfortable and confident in that identity, and even has been in a relationship for a year, she hasn't really been part of any queer community and she really finds a wonderful support system with these people.
The story actually starts with Juliet coming out as a lesbian to her family and while a lot of the members of her family are dismissive at first, most of them are accepting. But Juliet's mother does not accept her sexuality and calls it "just a phase" and thinks that Juliet just needs to find the right guy. It was a storyline that obviously many queer people can relate to and that I thought was well done overall.
I really loved Juliet's relationship with her brother, even though we only got to read about it briefly and later on in the novel we meet Juliet's cousin and aunt who live in Miami, who were also such wonderful characters to read about and had a big impact on Juliet's journey too.
"Juliet Milagro Palante. I love you like the seas love the moon. Whatever you are, whoever you love, I'm here."
One of the biggest themes of this graphic novel was white feminism and the saviour complex that white people have. This is definitely a story that is not always a fun and happy read, it can be quite uncomfortable at times. But it shows a reality of our world and I really appreciated that the author was so blunt about it.
This graphic novel talks about casual racism, it talks about how reverse racism doesn't exist, it's about how white people will so often overstep and speak over people of colour when they are trying to help. And it's also about holding people accountable.
All those aspects, while brief, due to the nature of this format, were so well done and surely very eye-opening for many people.
On top of all that, Juliet Takes a Breath also has themes of different kinds of romantic relationships and how self-love plays an important role in that. We see that the relationship that Juliet is in in the beginning of the story does not seem very healthy and it shows just how important communication is in a relationship.
But within the course of this novel, Juliet starts dating someone else and it is a really beautiful development. There is also a great f/f sex scene with a big emphasis on consent and masturbation is also explored in this graphcic novel. Neither of thoses scenes are explicit but make it very clear what's happening.
"Kira felt like home. Like a million street bikes zipping down the bronx river parkway and popping endos under the elevated trains. Dinosaur-sized butterflies fluttered in my stomach."
And of course there is the beautiful art style, that I truly loved and that only added so much love for this graphic novel for me. I loved the line art and how much very clear body diversity there was with these characters. It also has a very warm and pleasant colour palette, that just made it a very pleasing reading experience.
"Gender is a trip. Limitless like the universe."
Overall, as you might be able to tell from this review, I truly loved this graphic novel and cannot wait to dive into the novel soon because I am just that in love with the characters and themes in this story!
Trigger and Content Warnings for homophobia, racism, fatshaming, sexual harassment, smoking (weed), use of d-slur (in a reclaiming nature).
Goodreads | Instagram | Booktube Channel | Twitter
✨ Lea posts a review on Meltotheany every Friday! Read more of her reviews HERE! ✨