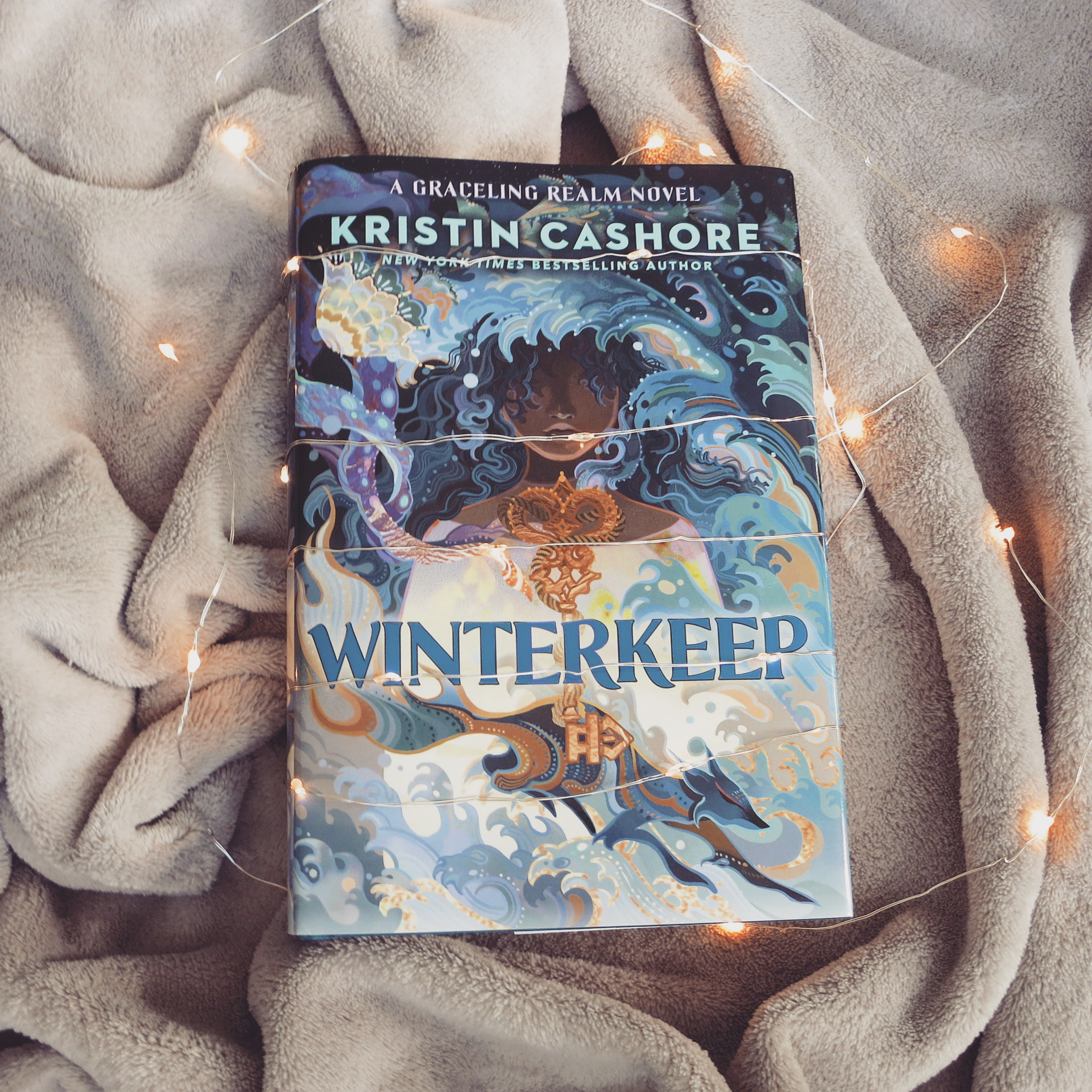 Goodreads | B&N | Book Depository | IndieBound | Bookshop
1.) Graceling ★★★★★
2.) Fire ★★★★★
3.) Bitterblue ★★★★★
"It had taken her so long to give up that key, the key to her cage. But it was a cage that no longer existed, because she'd destroyed it, by herself."
I have been a huge fan of the Graceling Realm Trilogy ever since I first read it after Bitterblue's release. The series means a lot to me because I discovered it right when I started becoming the reader that I am today and the series was something that so perfectly encapsuled all the things that I love in books.
Ever since finishing Bitterblue, I have always wanted more books in this series. I wanted to read more about this world and I wanted to read more from these characters. So when Winterkeep was announced, I honestly could barely believe it. After all those years of me putting my wish out into the universe, it finally came true.
Winterkeep takes place four years after Bitterblue and a new land, Torla, has been discovered. The nations closest to Monsea is Winterkeep and it is quite different from what we have seen before. Winterkeep is a democratic nation that is way more industrial than any of the nations we know from the Graceling world. Not only that, there are telepathic foxes that people can bond to and sea creatures that communictae with some humans too, called silbercows.
In the beginning of this story Bitterblue, Hava and Giddon travel to Winterkeep, after envoys from Monsea drowned under mysterious circumstances. But we do not only follow their POVs but also a newly introduced character called Lovisa, who is the daughter of the president of Winterkeep.
"You're going to be the friend to me that you've always been, and I'm going to show you that you're safe now. We are not going to lose each other. You're not alone with your fears, Bitterblue. We're a team now, you see?"
I went into Winterkeep with really high expecations, having not only loved the original trilogy but also Cashore's more recent standalone release, Jane, Unlimited. And my expectations were more than met. Winterkeep is a beautiful addition to the Graceling series and world, that feels comfortable and familiar in many ways but has so many different aspects to offer too.
As a long-time fan of the series, I would highly recommend reading the original trilogy before you dive into Winterkeep but I will say that I think Winterkeep is very much readable on its own too. There will definitely be things that you won't have context for but it isn't really relevant for the storyline but more so for character backgrounds and relationships.
But Graceling, Fire and Bitterblue hold up so incredibly well, even in 2021, that there is no reason to skip those before you dive into Winterkeep.
"The fox wondered, as he wondered more and more lately, how any fox who cared about any human ever managed to keep the secrets of foxkind."
Winterkeep is a nation that is very different from anything we've seen before. Even though Graceling and Bitterblue took place in a different land than Fire, they were still very similar in many aspects, with the biggest difference being the existence of monsters in Fire.
But Winterkeep is something completely new. In general, the land of Torla is quite different and very industrial. There is also a democratic system in place.
At first I wasn't sure how I felt about a land in the Graceling world having trains and airships but I got into the world of Winterkeep pretty quickly and at the end of the day, anything is possible in Fantasy, especially in Kristin Cashore's worlds.
I just found Torla and Winterkeep very fascinating and wanted to find out more about it at all times. The more I read of the book and just got a picture of this new land on the map, the more I just fell in love with it. And I think that it is a very refreshing addition to this Graceling world as we knew it before.
"She stopped in the middle of the room and stood there with her eyes on fire and her fists clenched, and Giddon was amazed, as he always was when she was angry, at how much power, fury, and force her person could convey. "
I am always very in love with Cashore's characters and I think this book showed very specifically how much she excels at writing different character's voices. We mostly read from Bitterblue's, Giddon's and Lovisa's point of view and I never had any issues keeping these characters apart. The characters and their voices stood out so distinctly, it was almost like I could actually hear different voices in my head while I read the different chapters.
There is also other POVs but those have significantly smaller chapters and I don't want to talk about them more to not take anything away from anyone's reading experience, as I feel like you just have to discover that for yourself but they all added a lot to the storytelling.
I enjoyed reading from Giddon's point of view so much more than I initially thought I would and I really came to love him so much more than I ever did in the original trilogy. He is absolutely the charatcer that grew on me the most in this book.
"Maybe you have too much experience of the bad things that happen when you love someone, and too little experience of the good things," he said. "Maybe you're protecting yourself."
But Lovisa is without question the stand-out character and protagonist for me. Her development throughout this book is immense and she goes through so much. There are huge themes of parental abuse, not only affecting Lovisa herself but also her three little brothers.
Seeing Lovisa understanding the abuse that she has faced throughout the years and her entire character development in so many different aspects was the storyline that really made the book for me, more than any of the political intrigue or mysteries (althought those go hand-in-hand with Lovisa's storyline as well).
But, again, this book deals a lot with parental abuse and in general is quite heavy and dark in parts. If you have read the original trilogy then you will already know that Kristin Cashore does not shy away from truly exploring darker themes in her stories as well and Winterkeep is definitely no exception with that.
As in the past, and maybe even more so in Winterkeep, Cashore really gives room to these themes and handles them with care. And I think that Cashore has an amazing way of balancing her stories, so that the weight of it never feels too heavy while reading and there are still so many joyful, happy and funny moments in this story.
"I don't have time," she said, knowing she could skip her homework, that the homework shouldn't matter more than her brothers; but also knowing that she couldn't stay overnight in this house, where at every moment she felt the darkness closing around her like a cold, lonely cave. Knowing that part of the reason she needed to go was to escape the sadness of these boys."
I think that there are many more things to discuss about this book, but I'd rather you explore them yourself first and then discuss with me. I can definitely wholeheartedly recommend reading this newest addition to the series.
Ultimately, all that is left for me to say is that after years of waiting and then finally getting a new book in this series, I am left with a lot of gratitude but I am also left with wanting even more.
For me, Winterkeep has proven even further that this series and world is so worth exploring much more of and I would not mind at all for Cashore to add more books. And while I'd expect Cashore to introduce us to another protagonist if she ever adds any more books, I also think that even Lovisa's story is far from done.
Trigger and Content Warnings for murder, parental abuse, sexual harassment, slut-shaming, kidnapping, blood, drowning.
Goodreads | Instagram | Booktube Channel | Twitter
✨ Lea posts a review on Meltotheany every Friday! Read more of her reviews HERE! ✨