oh hello, friends! i know it has been a little while, much more than a little while honestly, but i hope you've all been well and having a happy holiday season and getting good rest while we finish up this year! 2021 has been hard on all of us, and learning to navigate the new normal of a pandemic is just exhausting. but im here to tell you some of the non bookish things that brought me joy and made the year feel a little lighter and happier! and i promise, a 2021 bookish wrap up soon too! 💗
---
i feel like this entire pandemic i have tested so many sheet masks! but truly for the price, these Sioris ones are the best of the best. they make my skin so dewy and plump, but also so moisturized and calm! if i was a rich person, i would use of of these every night, lmaoooo! these are truly so amazing, and i also really recommend the Time is Running Out Mist by Sioris too! (i know the name is funny, but putting this under my make up is my favorite thing!)
---
i always would hear my offline friends talk about olaplex, and i'm not sure if i was just misinformed or being stupid, but i always thought the brand was only for color treated hair! but basically i have very thick hair and a lot of it, and i was unable to get my hair cut for such a long time because of the pandemic! i was trying to cut it myself, but i was getting such bad tangles that i would actually cry while brushing my hair, and i would give myself such bad headaches and neckaches! but then i started researching detangling shampoo because i didnt know what to do, and i found the No.3 Hair Perfector, No.4 Bond Maintenance Shampoo, and No.5 Bond Maintenance Conditioner system and it actually changed my hair completely. before i would spend just as much money on high end brand shampoos and conditioners and i have never in my life seen instant results like this with any of them! (also, i did get my first hair cut in over a year and a half in october, but these products truly just made that look better too! haha!)
---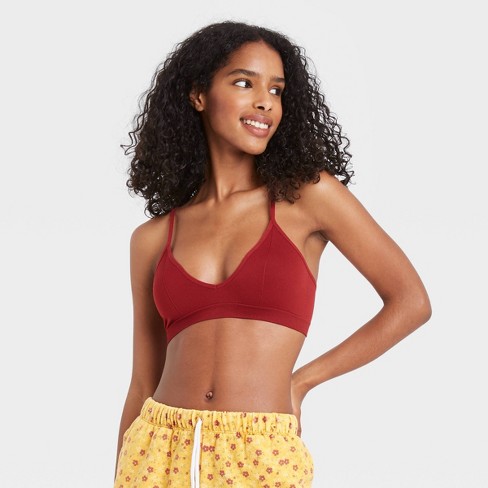 truly these bralettes are everything and they are only $7! like, i truly can't believe! i have bought so many of these thigs year and i'm truly obsessed! i wear these 100% of the time at home, and 50% of the time when i leave the home (100% when im wearing an oversized top) – like they are so comfortable! and i do have a bigger chest, too, and they support while not sacrificing any comfort! i know target is only in the united states now, but truly if you have access to these i really recommend trying them out!
---
i don't exactly know how or why i fell in love with seltzer water in 2021, but… here we are. i randomly had a few in my house, and i tried them, and remembering enjoying them in the past, and then i completely spiraled into trying all the different brands of seltzer water! but my friend amy told me about waterloo, which i can sometimes find at target too, and it really is my favorite of them all! blueberry is easily my favorite, but i am very biased with blueberry flavored things in general, haha! i really have enjoyed all that i've tried, but strawberry is probably my second favorite!
---
i know i'm a decade behind on this one, but early this year i decided to redo my shelves and (it was a long long long journey while vegas ikea got their stock of things in) i got six new bookshelves! i still haven't probably shown them, and if im being honest they still aren't exactly how i like them, but maybe a kpop/bookshelf tour video coming sooner than you'd think! i am so so so thankful for these shelves, truly! and we will just pretend this isn't a bookish item, shhhhhh!
---
this is truly the best body lotion i have ever used, but especially in the colder months, and especially in a pandemic where you should be washing your hands so many times a day! you will truly feel the moisturization of this lotion all day long, but it never feels heavy or greasy or like its just sitting on top of the skin and not absorbing. my skin has felt so much softer because of this lotion and i don't want to picture an alternate reality of my not putting this on after every shower!
---
➽ 07.) Huntington Beach, California
huntington beach, california, has always been one of my favorite places in this whole world, and it's also always been a constant source of healing and happiness for me. i love beaches, and huntington is my favorite, and in october 2021 i was able to walk along its shores again after almost two full years. i sat under the pier, listening to the waves and feeling their power, for so long and truly it is probably my most favorite memory of 2021. i really hope there is never a point in my life where the time between visits is ever so long again. (i was also able to go to disney this trip and it truly will forever be such a happy and grateful memory for me!)
---
➽ 08.) The Hobbit
i have also loved middle-earth, but i was not expecting the emotional hold that the hobbit trilogy (in particular an unexpected journey) had on me this year. every time i felt a panic attack, high anxiety levels, or if i just felt the world was too overwhelming, i would put on the hobbit and everything would feel so much better. again, i have no idea how this became an emotional support source in 2021, but i am very thankful and i do think a reread might be in order for 2022 too! (i got a really breathtaking easton press edition for my birthday this year, too!)
---
i truly entered this year with my heart so full of bts and txt that i didn't think i had much more room for anyone else, but then the last half of 2021 and seventeen happened. and i truly know that everyone who fell in love with bts with me in the book community in 2019 would absolutely fall in love with seventeen, too! they are such good humans, and such phenomenal artists, and falling in love with them has reminded me so much of falling in love with bts. without question, becoming a carat has been one of the brightest spots of this year for me and i am so thankful.
---
okay, this is kind of going with the last one, and i know i put this on my 2020 list too, but it's no secret that i have been spending a lot of my creative time making kpop videos. it has truly brought me so much joy and has been such a wonderful outlet for me. and i think my favorite thing is forever going to be mixing books with kpop, hehe! but i hit 6k subscribers this year, 1.1m views, and 4.4m watch time minutes and… i still can't believe it. i am proud of myself and everything i have carved out and achieved in a new community and i really can't wait to see all the new loves, and highs, and adventures in 2022! (and thank you all to everything who has supported me, watched this very different style of content, and just let me be unapologetically happy about bts and txt and everyone else – it really means the world to me!)
---
i am sending you guys so much love, always. i hope you know that, and can still feel that while i haven't been as active in the community. and i'm so immensely proud of you for enduring another year in this pandemic. and i promise i am cheering for you always, with all your goals, in life and in reading and in everything in between! let me know some of the things that brought you happiness this year! and i'm truly wishing you so much happiness, good health, warmth, and comfort in 2022! 💗
Goodreads | Instagram | Bloglovin' | Ko-fi | Twitch | Wishlist | Youtube