Hey, friends! I've been having a hard time getting into the Halloween spirit this year for some reason! So, I thought a good way that could help make me feel a little bit more spooky would be to share my love for the paranormal with you all! For five nights I'm going to spread a little love for my favorite eerie entities: Witches, Ghosts, Demons, Shifters, and Vampires! I hope you all enjoy and maybe pick up a new book that will make your Halloween feel a little more haunted! 😈
---
➽ The City of Brass (The Daevabad Trilogy #1) by S.A. Chakraborty


This is the first book in an own voices Muslim Fantasy series, that walks the line between Young Adult and Adult, and switches between two very different points of view. One point of view is a girl in her early twenties, who remembers nothing of her childhood, and is living near Cairo, Egypt. Her name is Nahri and she is a street healer by day, and a con-woman and thief by night. Nahri has a natural affinity for healing people, and can magically see what the problem is. Sometimes she can wish it away, other times it is not so easy. Many people realize Nahri's talents and believe her magic to also work spiritually, which is why she gets hired a lot to cleanse and heal people at Zar Ceremonies, where she leads dances and prayers to be rid of demons/ifrits, which she doesn't believe in.
---
➽ The Dreadful Tale of Prosper Redding by Alexandra Bracken


This is a story about a young boy named Prosper who has grown up never feeling like he has fit in. His twin sister is the only person he feels understands him, while she is also battling a very scary heart condition. Prosper has always felt like the odd one out, especially since his family is very rich, very successful, and very powerful. But then it becomes very apparent why his ancestors were so lucky. Prosper is then forced to flee to Salem, Massachusetts, where he is introduced to a whole other family and he gets to see what it's like to start over and become the person he wants to be. I mean, while also struggling with a demon who is constantly trying to take over his body.
---
➽ The Bear and the Nightingale (Winternight Trilogy #1) by Katherine Arden


Vasilisa and her family live on the edge of the Russian wilderness. Vasilisa's father rules these lands, and her mother died giving birth to her, knowing that she was special. Vasilisa was raised by her mother's nursemaid, who is constantly telling her fairy tales that most Russians fear, but Vasilisa loves. Meanwhile, there is a frost-demon that does everything to ensure him and Vasilisa's paths cross. And Vasilisa couldn't resist the urge to go to him even if she tried. Then a beautiful story unfolds about a girl, a nightingale, and a bear, who are destined to have a story told.
---
➽ The Lamb Will Slaughter the Lion (Danielle Cain #1) by Margaret Killjoy


Friends, pick up this so underhyped, yet so deserving of more hype, novella. I am blown away. Within 100 pages, this book was able to create a beautifully diverse cast, talk about some pretty important issues, showcases a homeless main character, show the beauty of unconditional-loving found families, and it even gave me some pretty gothic spooky demon animals. This was amazing, and I think truly believe so many of my book friends would love it.
---
➽ Girls of Paper and Fire by Natasha Ngan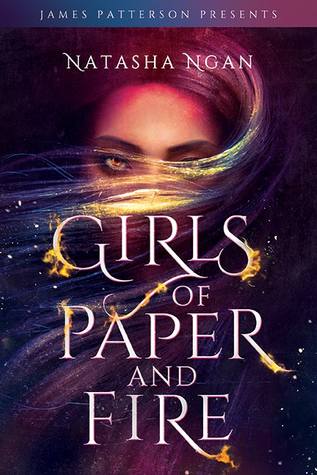 Once I heard that this was an ownvoices Asian inspired fantasy world where two girls, who are forced to be concubines to a demon king, try to overcome it all and fall in love, I knew this was going to be a book for me. But friends, I fell in love. Girls of Paper and Fire and it is easily one of the best books I've read all year! This doesn't come out until next Tuesday, but I promise it is worth the wait! Pre-order now!
---

Okay, friends! I hope you enjoyed! And I hope the end of your October is filled with all the amazing books! Tell me your favorite demon story in the comments, please! And happy Halloween! Stay spooky! 🎃✨
Instagram | Bloglovin' | Twitter | Tumblr | Goodreads | Twitch| Wishlist