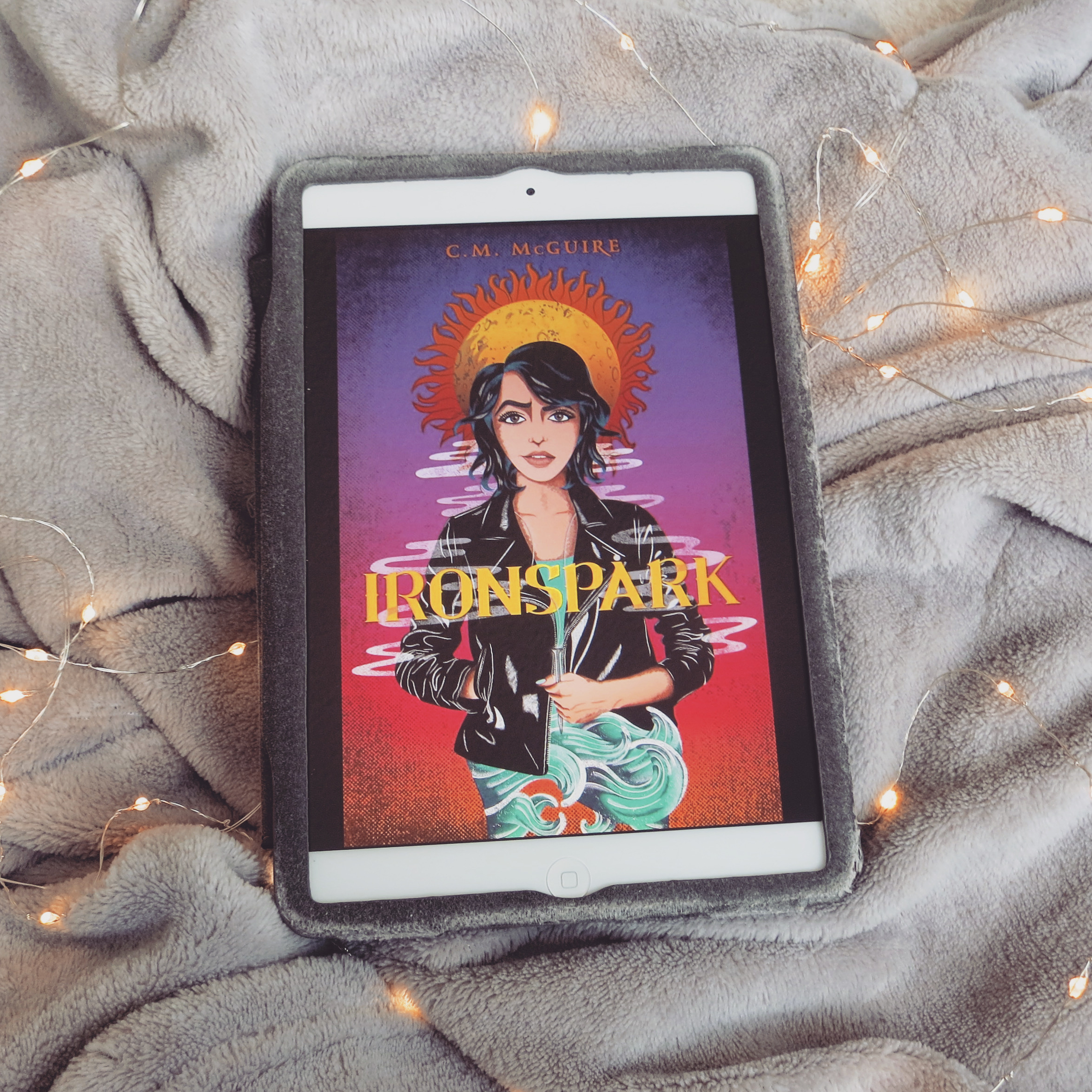 Goodreads | B&N | Book Depository | IndieBound | Bookshop
ARC provided by the publisher via Edelweiss
"Her soft lips against mine felt like hope. Somehow, some way, we were going to see morning, and I was going to have the chance to do that again."
Ironspark is a book that I picked up because I was very excited by the prospect of it being a book about Fae featuring a lesbian love triangle but sadly I was let down in a lot of aspects.
This novel is about a girl called Bryn, who moved from Wales to the US with her family nine years ago, after her mother got abducted by the Fae and her father was cursed by them, because her father had deemed it a safer place for them.
But even away from Wales and the immediate danger of the Fae, Bryn made it her goal to learn how to kill the Fae in order to protect her family and in this book she needs to make use of those skills.
Now I will start this review very honestly, saying that I am not the biggest fan of any Fae stories in general. But I do enjoy the occasional one, especially if it's diverse in some way, so I was definitely drawn to this book, especially because a lesbian love triangle sounded so very promising.
But sadly, I found much of this book boring and a lot of the storyline and world building confusing. Some of it definitely is based on the well-known Fae mythology, like the Seelie and Unseelie Court, but a lot of the things in this book I was also very unfamiliar with. There is a glossary but sadly it is at the end of the book, so I had no idea until I finished it. I am sure that it would've helped a little bit but my problem was also the connections between all the different kinds of Fae and mythical creatures and I just had trouble following how all of the events connected to Bryn and her family.
"I couldn't help it. In spite of everything, a startled laugh escaped me. It felt like the worst possible time to be laughing, with everything going on… but it was sort of like grass growing through the cracks in the sidewalk. I couldn't stop it, and it only made the cracks bigger, and soon I was laughing and tears streamed down my face."
Now this book definitely brushed on some interesting aspect but none of them were explored enough for me personally. There is Bryn's panic attacks, which she has throughout the novel but never get talked about more. There is her father's hallucinations and the fact that (it seems like) doctors diagnosed him with schizophrenia due to it and he takes meds for it which never help because the actual cause is a farie curse. There are her two brothers, who she has basically raised, but the relationship between them or even their own issues they have after everything they've been through are never quite get explored enough. It feels like none of the aspects in this book were really fleshed out or that there was much depth to any of the characters.
There are these little Fae-like creatures called shadelings, that are good creatures and there to protect Bryn and her family. There is one in particular called Marshmallow, that basically becomes Bryn's side-kick later on in the novel and was truly my favourite character and also the one that had the most interesting relationship dynamic with Bryn, which definitely says a lot about the other relationships in this novel.
Other than that, barely any of the side-characters had a personality that stood out and so the relationships with these people seemed dull too.
There is Gwen, a kind of water farie. Gwen and Bryn were in a relationship but Bryn broke up with her because she knew her time in this town was coming to an end soon because of going to college next year. And then there is Jasika, a girl from Bryn's school who has a connection to the faeries too.
"At this point, it was just a physiological reaction my body seemed to have to her, one I doubted I'd ever really outgrow, no matter how long we stayed split up. There would always be the lingering sensation of fireworks inside of me where the smoke hadn't quite cleared. My lips curled up in an automatic smile. The whole world could be burning around me, and somehow Gwen's presence would always make it better."
This is where the supposed lesbian love triangle aspect comes in but.. it is really not a love triangle whatsoever. Gwen and Bryn are still really good friends and Bryn worries about having broken her heart but she doesn't really have any sort of romantic relationship with her anymore.
Bryn and Jasika develop something along those lines throughout the book but the romantic storyline was not very well done. I didn't feel any chemistry or romantic tension between the two characters whatsoever. It honestly seemed like they barely knew each other and then one day they kiss and that's kinda it, they're dating. They never really talk about what they are to each other after that… or honestly talk much to each other at all, except when it is about Fae stuff. So there was absolutely nothing between the two that made me think there were romantic feelings.
I am also disappointed by the use of "lesbian" love-triangle in the synopsis. I am assuming this was done by the publisher, not the author, because the main character literally says at one point, that "not all girls who likes girls are lesbian", and clarifies that she likes guys too and isn't quite sure if she's bi- or pansexual. Jasika then mentions she is questioning.
But it's honestly very disappointing to see this labelled as a "lesbian" love-triangle when none of the characters withing this book identify as a lesbian and, even if both Gwen and Jasika would've identifies as such, it is still not a "lesbian" love triangle because Bryn is not a lesbian.
I know people will find this nit-picky but.. just don't bait me with labels that do not exist in the book. Sapphic love triangle totally would've done it. Again, not blaming the author here, but just something I wanted to point it.
"Maybe I ought to grab her or kiss her back or do something, but mostly I was trying to wrap my head around the notion that Jasika Witters wasn't straight and she must have read me like a freaking book and why were her lips so soft?"
The one other character that stood out was a boy called Dom. Next to Marshmallow, he was for sure my favourite character and I enjoyed the friendship between him and Bryn too because there was an actual good development between the two.
Also Dom is asexual and that term is used and explained on page. The scene does include some probing questions regarding this identity like "are you sure you're not attracted to anyone" and "but have you tried". I wouldn't necessarily call it aphobia and it gets quickly challenged but I still wanna mention it.
Upon finishing this book I realized that it is not a standalone. Sadly, the ending was very anticlimatic to me. Now I don't know if that is just because I didn't really very invested with the characters and storyline in the first place or if others might've felt that way too. But I just found myself extra disappointed with the ending, leaving me with absolutely no motivation to ever seek out the sequel (which I don't think has been announced yet though).
"People looked at me differently, and unfortunately nobody had invented an armor for pity."
Overall, Ironspark sadly was a very disappointing reading experience. None of this book really worked for me and I found myself having to push myself through it, to the point where I even thought of DNFing it, but had too high hopes for the love triangle.. that did not happen.
I personally cannot really recommend this book, although you might wanna give this a chance if you are really into Fae stories.
Trigger and Content Warnings for panic attacks (including vomiting due to it), blood, violence, murder, hallucinations, house fire, coma (minor character).
Goodreads | Instagram | Booktube Channel | Twitter
✨ Lea posts a review on Meltotheany every Friday! Read more of her reviews HERE! ✨