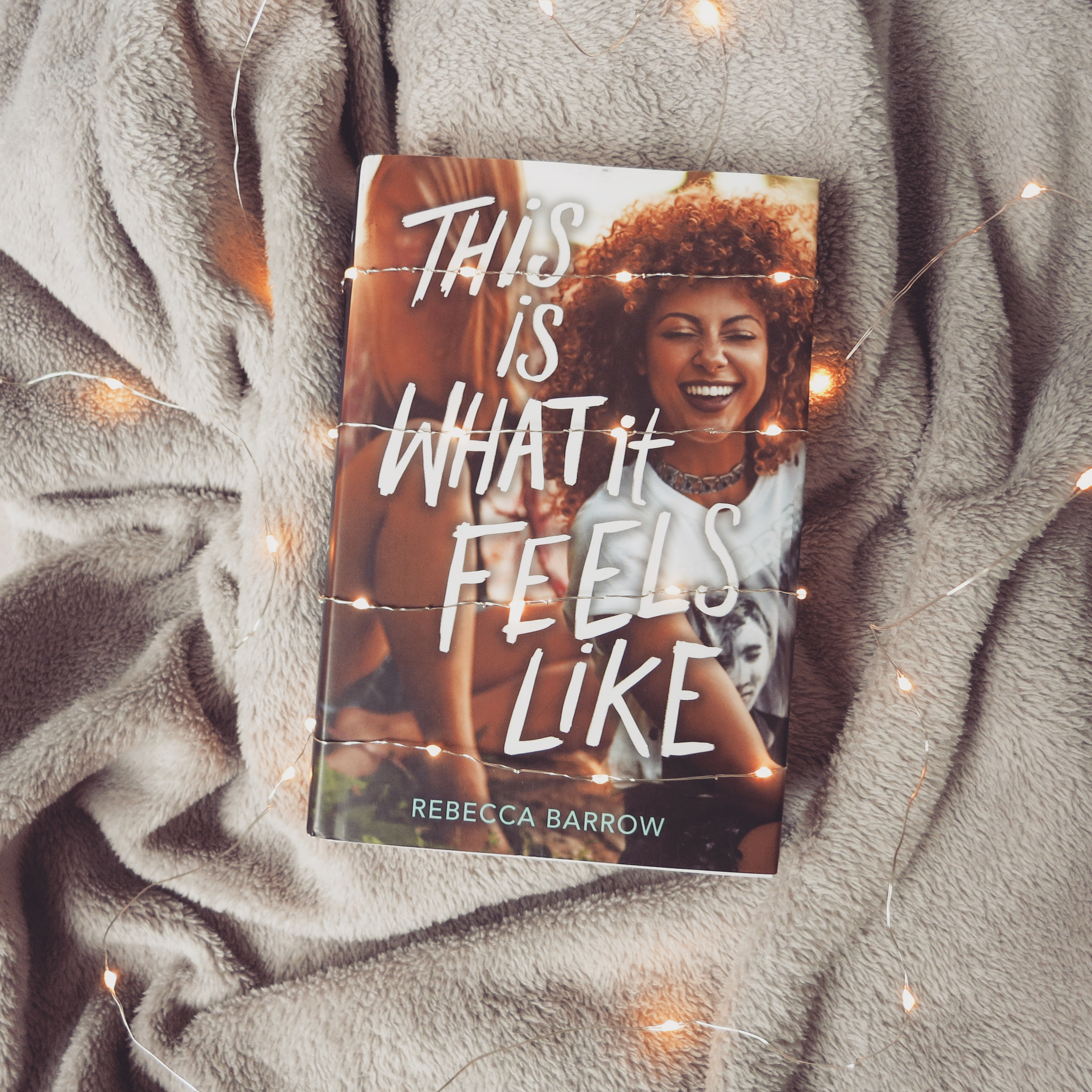 Goodreads | B&N | Book Depository | IndieBound | Bookshop
"She played for the girls they used to be and the ones they were now, and all their fallen-apart pieces that had gotten lost or ruined or discarded along the way."
This Is What It Feels Like is a really wonderful YA Contemporary, that has so many topics and issues packed into it.
At the centre of the story are three girls, Hanna, Jules and Dia. The three were in a band together for a long time but then two years before this story starts, a lot of things happened in their lives and they stopped making music together. The friendship between the three of them took a toll as well, although Jules and Dia remained best friends.
Jules is a Black lesbian and her love interest, Autumn, is fat and questioning her sexuality. I think that Dia is also Black but the book only mentions that she has deep-brown skin. She is also the mother of an almost 2-year old so this deals with raising a kid as a teen. Dia's good friend and love interest, Jesse, is also Black. Hanna went to rehab for her alcohol abuse and has been sober for over a year when the story starts.
So as you can already tell, this book dealt with so many amazing and important topics and I thought everything was handled incredibly well. Because all three of them have alternating POVs, we see everybody's perspective to all of the issues and it offers a really insightful and multi-layered discussion off all these things.
"Dia played a concert for her audience of one, under the clouds, and the moon winked in and out of sight, and she felt the anchor of the earth release her the slightest amount."
I was really happy to see this book deal with different parent relationships. It was so refreshing to see the parents so involved. Dia's parents are very supportive and help her raise her kid.
Hanna's parents are super well portrayed too. They are worried about Hanna and her alcohol abuse, even after her being sober for so long. I loved the way you could tell that they were coming from a good place, even if it wasn't received by Hanna that way or that, even when she does understand where they're coming from, she eventually just started feeling suffocated. I thought it was a very important and well portrayed child-parent relationship.
Hanna's sister, Molly, is also very involved and a lovely character. Seeing her relationship with Hanna, after everything they went through, was really precious.
I don't think I've ever read a book about a teen mum. I feel like usually books that feature teenage pregnancy or being a teen mum are focused on that and it will be the main topic of the story and in that case it doesn't really interest me. But seeing Dia and her relationship with her daughter was wonderful and really great to read. I also loved that it seems like most of her environment was pretty accepting. We never saw anyone make any inappropriate comments about her young pregnancy (although we know these comments do get made) and on the contrary, people seemed very supportive and I really enjoyed that.
Jules and her developing relationship with Autumn was another wonderful part of the novel. Seeing such a beautiful and wholesome f/f relationship in a book still gets me every time. There is also an incredibly well written sex scene between the two.
On top of that female masturbation is mentioned twice, although just in passing. But I'm always glad to see it in any YA as it is still a very taboo topic and truly shouldn't be.
"But being drunk made her feel invincible, gave her cover for so many things. She said whatever she wanted, she did anything and everything that she got the urge to, and when she fucked up, she'd brush it off: 'I was drunk! It's no big deal."
And then there's Hanna's alcohol abuse which might have been my favourite issue that was talked about in this novel. Now while I was never addicted to alcohol, I found so many of Hanna's reasons as to why she drank and how it got so bad, incredibly relatable and seeing this in a YA and how much this could open some teen's eyes? It was fantastic.
We shouldn't underestimate the power of alcohol, ESPECIALLY for teens. And as someone who grew up and lives in a country, where you can start drinking beer and wine with 16, this is a topic that is near and dear to my heart. While reading this novel, I thought a lot about how trivialized alcohol is. I remember a girl from my school who had to get her stomach pumped after a party and I thought a lot about how we talked about this back then, like it was just a funny mishap.. sometimes even like something to be proud of. Looking back at how this was handled back then absolutely haunts me until this day.
On top of all these topics and issues, that were handled so very well, this also had a great storyline about friendship and music and how it can bring people together and reunite them. I loved the portrayal of the bond that you form when you make music together, especially when it's in your "formative" years. The way these girls found their way back together through music warmed my heart immensely.
"Her skin felt raw, too tight for her body, every movement testing her limits, every rub of her clothes burning. And this whole place felt too small to contain her, pushing back against her, and how dare it, how dare it try to put a limit on what she was feeling right now."
­
And that is still not all. There is also the aspect of grief. And there is a wonderful m/f romance as well. And as I said, almost all of these topics get portrayed from different POVs. So while Hanna's addiction is obviously important in her storyline, we also see the way Dia and Jules feel about it, the way it impacted their lives and the decisions that they made.
Honestly I can't quite believe how many things were in this 400 page novel and I could probably write a 400 page novel about all of the things packed into this and how amazing they all were.
But I think you get the picture.
I'm really sad that this book never got the attention it deserved. It is a really beautiful summer-y Contemporary, filled with a lot of intense topics that all get handled well.
So please pack this onto your must-read list! It is so great and important and I hope many more YA books tackle issues in such an amazing and open way.
Trigger and Content Warnings for loss of a loved one, alcohol addiction, grief.
Goodreads | Instagram | Booktube Channel | Twitter
✨ Lea posts a review on Meltotheany every Friday! Read more of her reviews HERE! ✨