Hey, friends! I've been having a hard time getting into the Halloween spirit this year for some reason! So, I thought a good way that could help make me feel a little bit more spooky would be to share my love for the paranormal with you all! For five nights I'm going to spread a little love for my favorite eerie entities: Witches, Ghosts, Demons, Shifters, and Vampires! I hope you all enjoy and maybe pick up a new book that will make your Halloween feel a little more haunted! 🐾
---
➽ The Sisters of the Winter Wood by Rena Rossner


This is one of the most atmospheric books I've ever read in my entire life. It was also able to evoke such a visceral reading experience from me. I never wanted to put this book down! And I knew that this was going to be heavy on the Russian folklore, but I had no idea that this was also a reimagining of Goblin Market by Christina Rossetti. And I swear, I don't remember consuming any fruit while reading this, yet I am still completely under this book's spell. And I think you'll all love these shifting sisters.
---
➽  Clean Sweep (Innkeeper Chronicles, #1) by Ilona Andrews


This is actually a book that stars a witch, a vampire, and a werewolf, but I love the werewolf so much that I had to put this book on this list!  I was not expecting all the sci-fi developments, so that took me for by a very pleasant surprise. The concepts in this book were so unique; I've never read anything about "Innkeepers" before. I wouldn't be surprised if it was a completely new concept they created. Basically, if you're looking for a good PNR/sci-fi love child, I can't recommend this enough.
---
➽ The Last Wish (The Witcher #1) by Andrzej Sapkowski


The events in these seven stories take place before Sword of Destiny, which is another short story collection, and before Blood of Elves, the first actual full length novel in this series. Just like the video-games, The Witcher world is so magical, whimsical, full of twists, and it never disappoints. Two of these stories are so very important in understanding why Geralt feels the way he does about two very predominant characters that are talked about in much greater detail later in this world.
---
➽ Bloody Rose (The Band #2) by Nicholas Eames


Next, friends, I loved Bloody Rose even more than Kings of the Wyld! This book feels like stepping into a fresh Dungeons and Dragons campaign, where you get to play as a Lesbian bard who is allowed the honor of going on a few quests and ultimately telling the story of the most famous mercenary this side of the Heartwyld. And, I'm not sure I've ever wanted to play (or be) a character so much in my entire life. Brune is a Vargyr / Shaman! Wields Ktulu, that can separate into two weapons, kind of like Varian Wrynn's (my favorite character) in World of Warcraft. I didn't ask for these tears. Speaking of World of Warcraft, I have an extra soft spot for shamans, and Brune even shifts into what my shaman shifts into, so my heart is so very happy.
---
➽ Spice & Wolf by Isuna Hasekura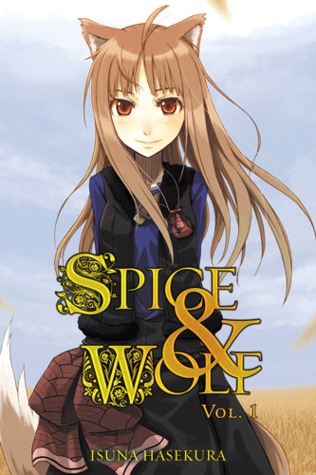 Lawrence is a traveling merchant that is very trusted throughout the land, even though that land is very heavily controlled by the church, who will do anything to make sure the gods from the past are no longer worshiped. This doesn't affect Lawrence what-so-ever, until he finds one of these old gods sleeping in his wagon cart after a Pagan harvest festival. The adorable god he finds is Horo, a wolf god! She can shift between forms, even though it's not the most convenient of ways, but in human form she is still left with cute little wolf ears and a tail. Her life depends on a sheaf of wheat that Lawrence has in his cart. This is my favorite manga of all-time!
---

Okay, friends! I hope you enjoyed! And I hope the end of your October is filled with all the amazing books! Tell me your favorite shifter story in the comments, please! And happy Halloween! Stay spooky! 🎃✨
Instagram | Bloglovin' | Twitter | Tumblr | Goodreads | Twitch| Wishlist