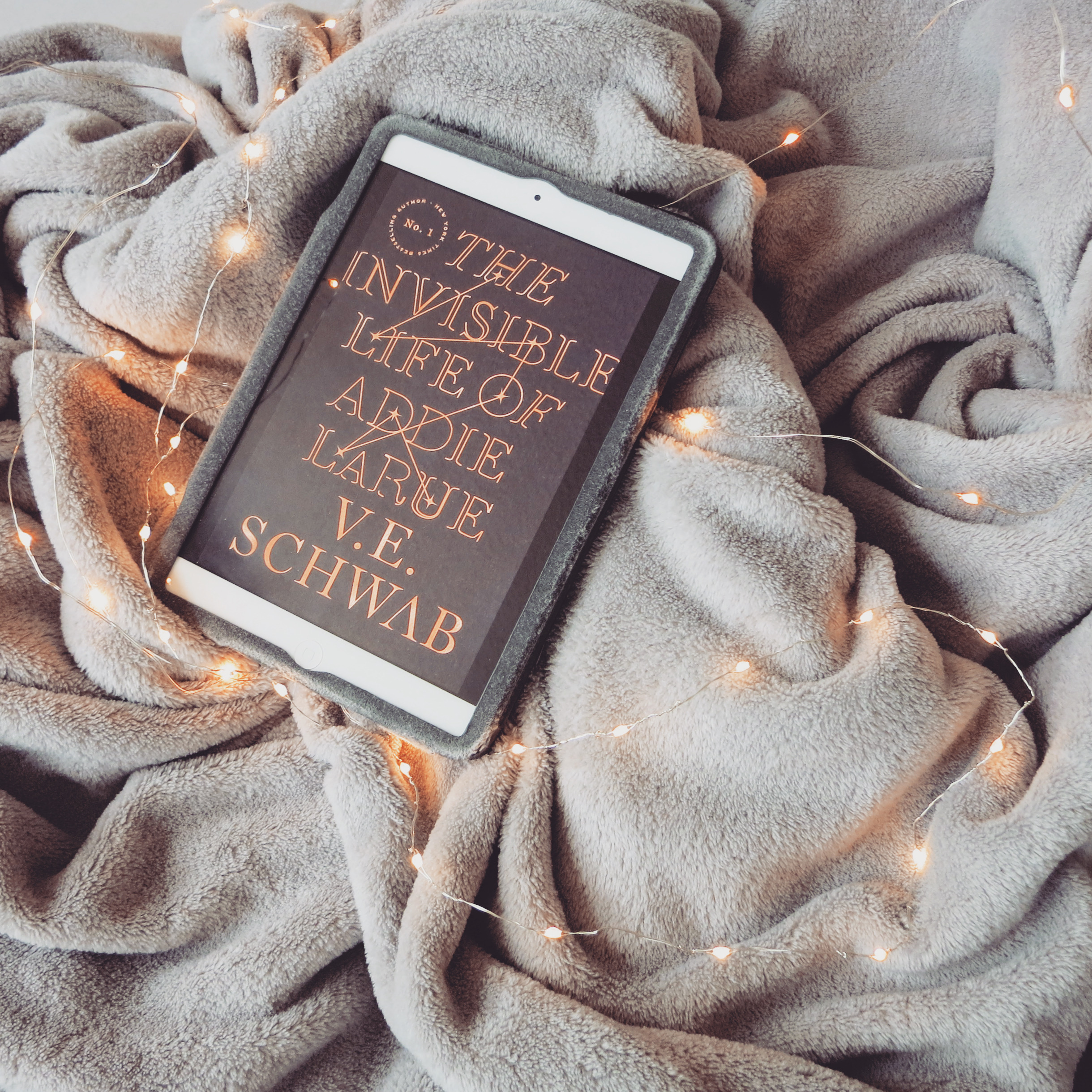 Goodreads | Amazon US | B&N | Book Depository | IndieBound | Bookshop
ARC provided by the publisher via Edelweiss
"It is the kinder road, to lose yourself. Like Peter, in J .M. Barrie's Peter Pan. There, at the end, when Peter sits on the rock, the memory of Wendy Darling sliding from his mind, and it is sad, of course, to forget. But it is a lonely thing, to be forgotten."
I have absolutely never made a secret of my love for Victoria Schwab and I think most people were well aware of the fact that THE INVISIBLE LIFE OF ADDIE LARUE was my most anticipated release of 2020.
When I got an ARC of this in April, I could barely believe it. Getting to read mine and so many other's most anticipated book of the year by my favourite author six months before its release is truly one of the most exciting things that has happened to me.
And I am not even going to tease you. This book was absolutely everything. I loved it with every fibre of my being and it somehow managed to even exceed my expectations which had been quite high in the first place.
But that is precisely the reason why it took me such a long time to write this review. How do you put the beauty of THE INVISIBLE LIFE OF ADDIE LARUE into words? How do you express how meaningful this book is and how much of a bright light it is and will be in so many people's lives, especially in current times? Honestly.. I have no idea.
"He is all restless energy, and urgent need, and there isn't enough time, and he knows of course that there will never be. That time always ends a second before you're ready. That life is the minutes you want minus one."
But I will try my hardest to write about my thoughts and feelings about this book to the best of my ability, knowing damn well that what I say could never live up to the masterpiece that this book is.
The only way for you to really understand is to just read the book yourself.
This is also why I am not going to give you much of a synopsis of this book. I honestly often struggle with giving a good synopsis in my reviews anyway but for Addie LaRue I genuinely just think that the best way to go into this book is knowing as little as possible.
If you are intrigued by the thought of a story about a desperate girl who makes a pact with an evil god who ends up cursing her to be forgotten by everyone she meets, until 300 years into this curse, someone remembers her, you simply need to give this book a try.
"Addie is so many things, thinks Henry. But she is not forgettable. How could anyone forget this girl, when she takes up so much space? She fills the room with stories, with laughter, with warmth and light."
Since Schwab has been my favourite author for a couple of years now, I have been following the journey of the creation of Addie LaRue and knew about the fact that this book has basically been in the making for 10 years. I know that this book means a lot to Schwab and I think that you could absolutely tell while reading this story. It really seemed like Schwab poured so many parts of herself into this story and I think that there is vulnerability to all of these characters because of that.
It is interesting to me in general how story-wise, this book is very different from other books by Victoria Schwab, while in some ways being so very similar too. Because at their core, all her books are character driven. They are always about what it means to be human. But because this book is exclusively set in our world, this aspect shines even more than it usually does and the speculative element that exists really only helps to express precisely that.
All the characters in this story are so very realistic, with so many layers to them. They read so much like actual people that I sometimes find myself surprised about the fact that they are not.
Their motives and actions in these stories are so human and relatably written. I think that even if you are very different and cannot relate to the characters themselves, this story is written in a way that makes it so very easy to understand why these characters behave and act the way that they do.
"They say people are like snowflakes, each one unique, but I think they're more like skies. Some are cloudy, some are stormy, some are clear, but no two are ever quite the same."
Addie herself is truly one of the most intriguing characters ever written. She is one of those characters that you call strong because she is so flawed and vulnerable but she chooses who to be vulnerable with and it almost becomes a powerful tool for her throughout this story.
The way she takes her story and her fate into her own hands, even though it seems like it is not hers at all, is so incredibly powerful. She uses her vulnerability, her anger, her sadness to her advantage and her becoming aware of these feelings is what makes her become a stronger person.
This book was very cleverly crafted when it comes to going back and forth in time and it really helps Addie's character development stand out so much more. It is fascinating to follow Addie on her journey to come to terms with the deal that she has made, to understand and know the consequences and what it means for how she lives her life and then to see her turn so many of the things that are seemingly obstacles into advantages for herself.
"Seven freckles. One for every love she'd have, that's what Estele had said, when the girl was still young. One for every life she'd lead. One for every god watching over her. Now, they mock her, those seven marks. Promises. Lies. She's had no loves, she's lived no lives, she's met no gods, and now she is out of time."
And then there is Henry. Sweet, precious, "I need him protected at all costs"-Henry. I think that Schwab has a very special ability to write these wonderful, "cinnamon-roll" male characters and Henry is just another great example for that.
But Henry isn't just a sweet love interest. He isn't just there as the guy who remembers Addie. He has his own fleshed out storyline and it truly is so, so heart-wrenching but beautifully written too.
"It would be years before Henry learned to think of those dark times as storms, to believe that they would pass, if he could
simply hold on long enough."
And these two lives and storylines come together so very well. The impact that Addie and Henry have on each other's lives is absolutely beautiful to read about and their dynamic is fascinating. I think that the relationship between these two could've been weird because Henry is obviously someone who has very special place in Addie's life, only just for the fact that he remembers her, but Schwab wrote the story in a way that made their dynamic incredibly well balanced.
And on top of those amazing relationship dynamics, I loved the casual queerness of this book a lot. Both Addie and Henry mention very clear multiple gender attraction and that they've been with partners of different genders. While there are no labels used in this book, from the context it definitely reads like Henry is pansexual. We also have a whole bunch of side-characters who are queer and POC.
"She leans back against him, as if he is the umbrella, and she the one in need of shelter. And Henry holds his breath, as if that will keep the sky aloft. As if that will keep the days from passing. As if that will keep it all from falling down."
And then there is the relationship that Addie has with Luc, the evil god that she made a deal with, and there is so very much to unpack in their dynamic. He still visits her regularly and in the beginning it is very clear that even though Addie wants to defy him, he is the one who leads the game, however much she thinks she has him figured out. But with time we see Addie starting to understand the rules and how to play Luc's game, so that you get a feeling she starts to get under his skin too.
"You have grown teeth, he said, and Addie will show him how sharp they have become."
The character of Luc is intriguing and mysterious and Schwab's way of portraying him is incredibly clever. We see him from the perspective of Addie, and he can be oh-so charming, which makes it very easy to fall for him.
But there is obviously a huge, unbalanced power dynamic between these two and while there are scenes between them that seem romantic, Schwab never lets us forget about who Luc is and the power he possesses, even when there are moments where Luc seems more human or it looks like Addie has the upper hand. At the end of the day, while this is a relationship with a god, it portrays the very human experience of an abusive relationship with those same manipulative cycles.
"She sees the truth, and he doesn't know how, or why, only knows that he doesn't want it to end. Because for the first time in months, in years, in his whole life, perhaps, Henry doesn't feel cursed at all. For the first time, he feels seen."
All those amazing characters and relationships are supported by the breathtaking prose in this book. I truly think that this is one of the most beautifully written books that I have ever read and I highlighted so many paragraphs (as is also evident by the heavy use of quotes in this review) because I simply could not get enough of the words that Schwab used to weave this story together.
This storyline in and of itself is so stunning as it is but there is something very special about the writing that really makes this book stand out so much more. To me, this is truly one of the most unique books out there.
"And despite the doors and walls between them, she can feel the weight of what she left behind, and she wishes she could have stayed, wishes that when Henry had said Wait, she had said, Come with me, but she knows it is not fair to make him choose. He is full of roots, while she has only branches."
But genuinely, even after everything I just said, my review could never live up to the beauty, could never ever describe the masterpiece that is THE INSIVIBLE LIFE OF ADDIE LARUE. Not only is this easily one of my favourite books by Schwab, it is also my favourite book of the year and one of my favourite books of all time. And while I am biased towards lots of Schwab's other works, I believe that, objectively, this is the best book that Schwab has written so far.
Truly all that is left for me to say is thank you to Victoria Schwab, for once again providing me with yet another favourite book and a story that makes my life a better place. I am immensely grateful to the joy (and pain) her words have brought me and especially this book in these times. I will not stop thinking about this story for a long, long time and I am already looking forward to rereading this so many times in the years to come.
I will always remember Addie.
Goodreads | Instagram | Booktube Channel | Twitter
✨ Lea posts a review on Meltotheany every Friday! Read more of her reviews HERE! ✨